Philadelphia Eagles Predictions: Week by Week Season Breakdown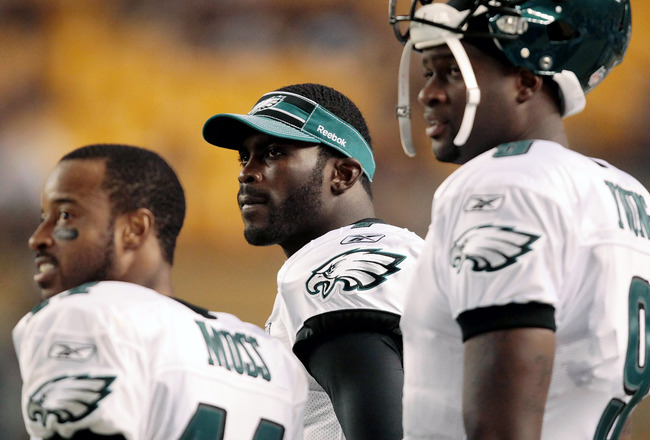 Jared Wickerham/Getty Images
The final Preseason games are soon to be played, and, before we know it, September 8th will be upon us and the 2011 NFL season will have kicked off.
There are many teams that are expected to be improved this season, such as the Green Bay Packers, Atlanta Falcons and New England Patriots, just to name a few. But no team has higher expectations than the Philadelphia Eagles, who have been dubbed the "Dream Team" by Vince Young, sportswriters, and fans.
Despite what the media might want us to think, the Eagles are far from a lock for the Super Bowl. Any team can win on any given Sunday, and in the end, determination and heart are everything. But the Eagles are certainly going to be a tough team to beat if Michael Vick can keep up his strong play and if the defense can play even marginally better than it did in 2010 (and it is expected to be substantially better).
But football, with only 16 games per season, should be approached game-by-game when predicting a team's success. Here is a week by week breakdown of each of Philadelphia's opponents in 2011 and how each matchup can be expected to turn out.
Week 1: Eagles at Rams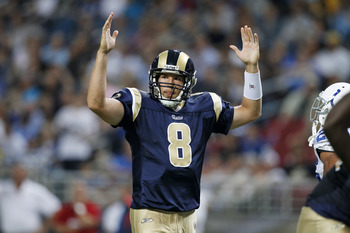 Joe Robbins/Getty Images
While the St. Louis Rams have the benefit of home-field advantage, they are entirely outmatched in their season opener. Sam Bradford's development will likely be curtailed due to the lockout preventing him from having an entire training camp to practice. He also has a pathetic receiving corps to throw to against the best secondary in the league, Nnamdi Asomugha, Asante Samuel, and Dominique Rodgers-Cromartie.
The lone edge that the Rams may have is their offensive line, which should help slow down the Eagles pass rush. But, if the Rams' receivers can't get open, even the best O-lines in the league cannot hold up for more than six seconds against Trent Cole, Cullen Jenkins, and Jason Babin.
Considering that a weak Rams defense must try to stop one of the most explosive offenses in the NFL, this game is not only expected to favor the Eagles, but anything short of a blowout would be a great disappointment for the birds.
Edge/Prediction: Eagles (1-0)
Week 2: Eagles at Falcons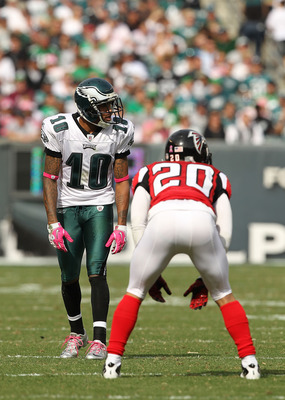 Al Bello/Getty Images
The Falcons were a great team in 2010 and will be a great team again in 2011. The addition of Julio Jones should help open up room for Roddy White to make big plays. Michael Turner is one of the best and most all-around running backs in the game. Matt Ryan is a good quarterback and only getting better.
But they will be hard-pressed to hold back a potent Eagles offense. Yes, the Eagles offensive line is an area of great concern as the Falcons have feared pass-rushers John Abraham and Ray Edwards. But the Falcons defense has many holes. They have a good cornerback tandem in Dunta Robinson and Brent Grimes, but the rest of their secondary is weak. DeSean Jackson is too quick and explosive to be covered one-on-one, and Jeremy Maclin is a rising star. The Eagles will put up big points against this team through the air. And, with their lone playmaker at linebacker being Curtis Lofton, LeSean McCoy can be expected to have a big day as well.
While Roddy White and Julio Jones are playmakers, they will be limited greatly by the Eagles' shutdown secondary. This will force the Falcons to turn to their running game. Last season, the Eagles excelled at stopping the run, often limiting the production of superstar backs such as Chris Johnson, Maurice Jones-Drew and, most importantly, Michael Turner. They will likely be able to slow down Turner again.
Though this game is in the Georgia Dome, it will not be as significant of an advantage for Atlanta as it usually is. Many fans will show their support for Michael Vick and show up with their #7 jerseys. That, combined with how easily Andy Reid game-planned against Atlanta last season, means the Eagles are favored to win this one.
Edge/Prediction: Eagles (2-0)
Week 3: Giants at Eagles
Al Bello/Getty Images
An inconsistent Eli Manning throwing to his lone playmaker at receiver, Hakeem Nicks, will be hard-pressed to score against the likes of Nnamdi Asomugha and Asante Samuel. While Ahmad Bradshaw is a potent running back, he is inconsistent and fumbles the ball often.
Other than a fearsome defensive line, the Giants defense is largely overrated. The secondary is mediocre at best and the same can be said about their linebackers.
Combine all that with the fact that it is a home game for the Eagles, and that the Eagles have won their past six games against the New York Giants, and the Eagles will likely win this.
Edge/Prediction: Eagles (3-0)
Week 4: 49ers at Eagles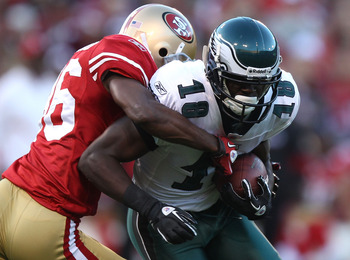 Jed Jacobsohn/Getty Images
Similar to the Rams matchup, the Eagles are superior in almost every category here. Against a bust at quarterback, poor receivers, and a mediocre defense, the Eagles can soar to an easy win. While Frank Gore and the pass rush can cause problems for a subpar Eagles run defense and offensive line, the Eagles should be able to emerge victorious against this team.
The Eagles have always had trouble covering tight ends and Vernon Davis could create a few problems for the Eagles defensively. Frank Gore too is one of the finest running backs in the league. But the Eagles should be able to score enough points on the 49ers to minimize any damage Davis and Gore could possibly do and force them to complete longer passes, in which the game would be all but over with Alex Smith at quarterback.
Edge/Prediction: Eagles (4-0)
Week 5: Eagles at Bills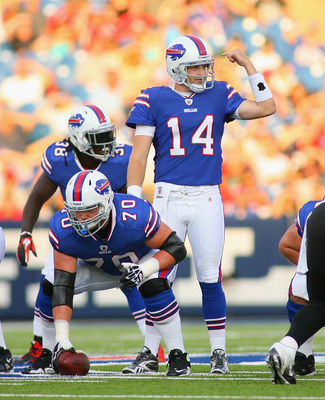 Rick Stewart/Getty Images
No need to go into much detail here. The Eagles are without question the far superior team. There is not a single position where the Bills have an advantage or an edge. The only playmaker on that team is defensive lineman Kyle Williams. A loss here would be nothing short of humiliating.
Edge/Prediction: Eagles (5-0)
Week 6: Eagles at Redskins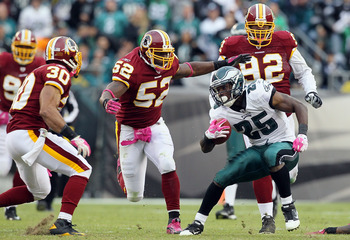 Jim McIsaac/Getty Images
The Washington Redskins may have had a chance to win this game had they retained Donovan McNabb at quarterback. But with the likes of John Beck and Rex Grossman leading their team, the Eagles will soar to an easy victory. After the Bills, a case could be made for the Redskins as the second worst team in the league, as the entire team is aged and many star players have left the roster.
The team has no serious running threat to challenge the Eagles' linebackers and no strong pass rush to take advantage of the Eagles' weak offensive line. Their advantages lie in their good secondary, which can help to slow down the Eagles' explosive receivers, and their great linebackers, who can potentially limit LeSean McCoy's production. And, as the contests between the Eagles and the Redskins have historically been close, the Redskins do have a shot to pull off the upset.
But it would take an incredible game plan, as well as a lot of luck, to take down a far superior Eagles team.
Edge/Prediction: Eagles (6-0)
Week 8: Cowboys at Eagles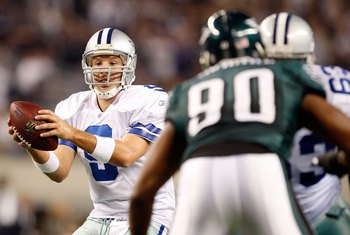 Ronald Martinez/Getty Images
The Cowboys will likely be much improved from last season with the return of Tony Romo as the starting quarterback. Dez Bryant is expected to take a great leap forward this season and Jason Garrett will likely improve the team's performance.
But this game is right after the Eagles' bye week. And Andy Reid is 11-0 in games right after the bye week.
This will be a close game, as the Cowboys will be likely contenders in 2011. DeMarcus Ware is the best pass rusher in football and can disrupt Vick's calmness in the pocket. Felix Jones, when healthy, can be deadly if playing at his best. From a speed standpoint, he can keep up with any running back in the league. Jason Witten will be a difficult force to stop as the linebackers on the Eagles are average at best.
However, the Eagles have many advantages. They have a formidable defensive line to pressure Romo into mistakes, and stud receivers to abuse an aging Cowboys secondary. Their star secondary can certainly take advantage of any poor passes Romo might throw.
This will be a tough game, but Philadelphia can emerge on top if it creates a brilliant game plan, which it will have an extra week to do with this game immediately after the bye.
Edge/Prediction: Eagles (7-0)
Week 9: Bears at Eagles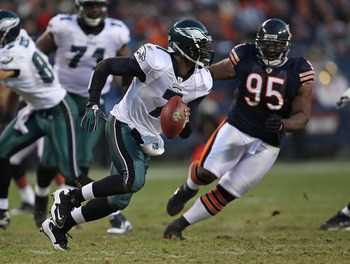 Jonathan Daniel/Getty Images
While the Eagles are the clearly superior team on paper, this game, to me, has upset written all over it.
Yes it is true that the Bears lack good receivers and have a poor offensive line. Brian Urlacher is also aging and not the player he once was.
But still, the Bears have a stout defense and a good running game in their young running back Matt Forte. Last season, their defense caused many problems and seemed to confuse Vick at times. At 7-0, it would seem likely that the Eagles could see a letdown game. Vick will be consistently pressured by Julius Peppers and unable to get the offense going fast enough.
Edge/Prediction: Bears (7-1)
Week 10: Cardinals at Eagles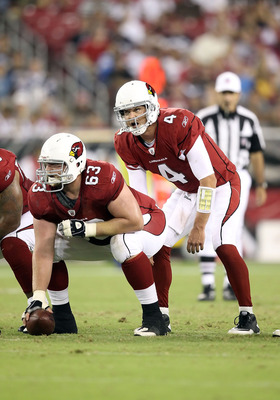 Christian Petersen/Getty Images
Eager to make up for their loss against the Bears, the Arizona Cardinals will be a team that the Eagles will cruise by.
The Cardinals have a strong secondary, and the best wide receiver in all of football in Larry Fitzgerald. Their passing game in general will be improved with the addition of Kevin Kolb.
Yet, the Cardinals do not have many other strong positions. The Eagles have them outmatched at every other position and the matchup is not good.
All the more so when Andy Reid was the one who developed Kolb enough to trade him for Dominique Rodgers-Cromartie. Reid will surely know the best way to render Kolb ineffective: pressure him constantly. He will have Eagles defensive coordinator Juan Castillo devise a game plan to consistently pressure Kevin Kolb into throwing errant passes and possibly interceptions.
Edge/Prediction Eagles (8-1)
Week 11: Eagles at Giants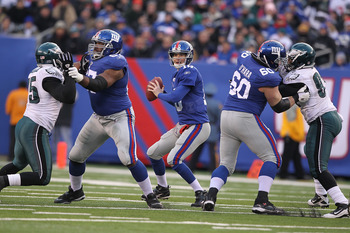 Al Bello/Getty Images
The analysis was already given comparing the two teams. While the Eagles are favored, the Giants are still very familiar with the Eagles and will know how to game-plan against them. A seven game winning streak against the Giants will be truly difficult to maintain.
Miracle at the Meadowlands II is still fresh in the memories of all Giants fans, and I cannot see the Giants allowing themselves to be bested by the Eagles twice in a single season like they did in 2009 and 2010.
Edge/Prediction: Giants (8-2)
Week 12: Patriots at Eagles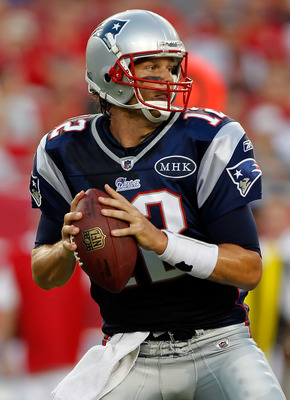 J. Meric/Getty Images
If there is any team in the league that is well-designed to beat Philadelphia, it's the New England Patriots.
Tom Brady can thread his needle through any defense in the NFL. Now that he has Chad Ochocinco at his disposal he will be able to get the ball out even quicker. In this case, Brady is incredibly accurate when completing short and medium range passes, and that is precisely the strategy to defeat the Eagles. Complete many short passes and move the chains, letting the clock wind down ever so slowly.
If Albert Haynesworth can become the formidable force he was in the prime of his career, then it will be difficult for Vick to complete good passing plays when his pocket is collapsing around him. The game will still be a shootout, but in the end it is the Patriots who will likely come out on top.
Edge/Prediction: Patriots (8-3)
Week 13: Eagles at Seahawks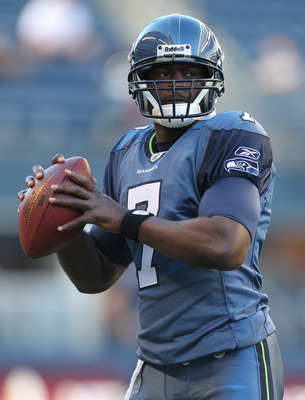 Otto Greule Jr/Getty Images
The Seahawks have a few decent positions, such as at linebacker and at cornerback, but the rest of the team's roster is devoid of talent. The departure of veteran presence Matt Hasselbeck at quarterback will soon make this even more apparent.
With Tarvaris Jackson at the helm (assuming he was not replaced at this point in the season) the Eagles' secondary will have an astounding day, grabbing many off-target and ill-advised passes for turnovers.
Edge/Prediction: Eagles (9-3)
Week 14: Eagles at Dolphins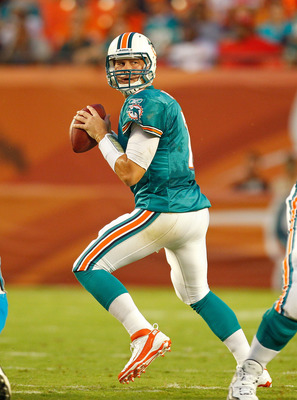 Mike Ehrmann/Getty Images
With the departure of Ronnie Brown, the Miami Dolphins are without a reliable running back. Chad Henne looks like he will be given one more chance to improve before the Dolphins move on without him. Unless he has a breakout season, the Eagles will have little problem beating him.
The Dolphins cornerbacks are good, but not great. They will not be able to stop the potent Philadelphia offense and will be unable to generate enough points to keep up with the Eagles' quick scoring.
Edge/Prediction: Eagles (10-3)
Week 15: Jets at Eagles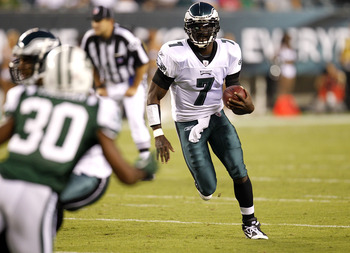 Jeff Zelevansky/Getty Images
The Jets are a good team, but are carried almost entirely by the dominant play of their defense. It is a great defense indeed, capable of stopping even the Eagles offense. Darrelle Revis can shut down DeSean Jackson and Antonio Cromartie will limit Jeremy Maclin, forcing Vick to throw to his slot receiver and running back. Additionally, the linebackers are excellent and can slow down LeSean McCoy.
However, the Jets offense is so feeble it's almost laughable.
Their running game is inconsistent and Shonn Greene's inability to produce forced the Jets to turn to an over-the-hill LaDainian Tomlinson to start at running back in 2010. Yes, the Jets now have Plaxico Burress and Derrick Mason to complement Santonio Holmes. But Burress has been away from football for two years and is getting old. It is unlikely he will resemble the player he once was. Also, their quarterback is still Mark Sanchez, who is very inconsistent and perhaps the most overrated quarterback in the entire NFL.
The offense is too weak to score many points against the new revamped Eagles defense. While the Jets can certainly hold back the Eagles offense for perhaps most of the game, sooner or later the plethora of talent will allow a few scores. It will possibly be enough to win the game for the Eagles.
Edge/Prediction: Eagles (11-3)
Week 16: Eagles at Cowboys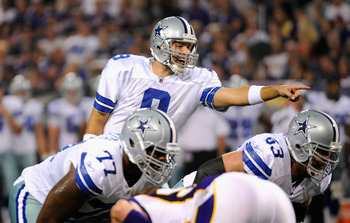 Hannah Foslien/Getty Images
While the Eagles would normally have an edge, similarly with the Giants, it is reasonable to expect the Eagles to split the season series with the Cowboys, especially at the Cowboys' new stadium, where the Cowboys will have a significant home-field advantage.
Edge/Prediction: Cowboys (11-4)
Week 17: Redskins at Eagles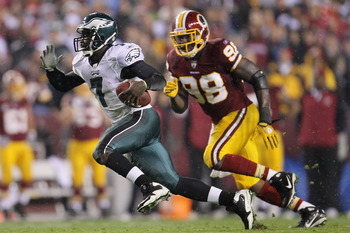 Chris McGrath/Getty Images
Conversely for the Redskins, the Eagles have way too much talent to lose to the Redskins in 2011. The Redskins will be facing a tough Philadelphia crowd and they will be disadvantaged further. The team will, at this point, have little to play for and will likely only be playing the role of spoiler, while the Eagles will be fighting for home-field advantage or a higher seed.
Edge/Prediction: Eagles (12-4)
Conclusion
Ronald Martinez/Getty Images
As you can see, the Eagles are not exactly going to cruise to a 16-0 season. But they are very talented and have a relatively soft schedule. They may be able to get off to an 8-0 start with the way their opponents are matched up.
The NFC is likely going to be very competitive this year, with many teams improving. 12-4 may be enough to secure the top seed in the conference and grant the Eagles home-field advantage. It will then be up to them to show the most heart and determination and finally deliver a Super Bowl win to Philadelphia.
Keep Reading

Philadelphia Eagles: Like this team?