Philadelphia Eagles Could Cut Some Familiar Names When Final Roster Is Set
August 31, 2011
Nick Laham/Getty Images
The Eagles current roster has 80 players and it will end up with just 53.  That is a lot of players to release from a talented team.  Inevitably, some talented players will be let go.
Personally, I think we could see a lot of familiar faces cut by the Eagles this season.  The Eagles gave Vick his money, but they still have to cut some salary to get DeSean Jackson his money.
So who are the odd men out?  Well, there is a lot at stake this Thursday in New York for several players.
Looking at the offense, it appears Dion Lewis is going to be the team's third running back.  That means Eldra Buckley, who was on the Eagles last season, will get cut.   Cornelius Ingram is likely to be cut at tight end, so the once-promising prospect will have to find another team. 
The most interesting offensive position to watch for final cuts is wide receiver.  I do not really see how Chad Hall can possibly make this team in 2011.  With Higgins returning kicks and Sinorice Moss in the mix, Hall seems like a long shot. 
The Eagles will keep at most six wide receivers, with Jackson, Maclin, Avant, and Cooper all locks to make the team.  Steve Smith also will likely make the team unless he shows nothing coming off his injury.  So that leaves Higgins, Moss, and Hall competing for one spot. 
In that scenario, I'd have to give the edge to Johnnie Lee Higgins.  I would not be shocked if Steve Smith gets cut if he does not show that he will be able to be a meaningful contributor. 
The Eagles really like Jason Avant and Riley Cooper, so if Maclin shows he is healthy, they could choose to let Smith go.  It's a long shot, but it could happen.
On the offensive line, I think Jamaal Jackson could get cut by the Eagles.  If Kelce wins the starting center spot, and they keep Mike McGlynn, who can play guard or center, there is really no need for Jackson.  I would not be shocked to see Jackson sent packing when the roster is trimmed down to 53.
Defensively, the defensive line is intriguing.   Personally, I think Derek Landri deserves a spot on this team.  He has been impressive in preseason.  However, the Eagles have a ton of depth on the defensive line, so Landri may end up on the practice squad. 
Also, I think Trevor Laws will be cut and Philip Hunt will be cut at defensive end, as Daniel Teo'Nesheim might make the team, but he could be let go as well.
At linebacker, you really only have three locks in Chaney, Matthews, and Foku.  No one else has really stepped up.  A surprise cut could be Akeem Jordan, who I think most assumed would be a definite to make the team, but now is on the bubble.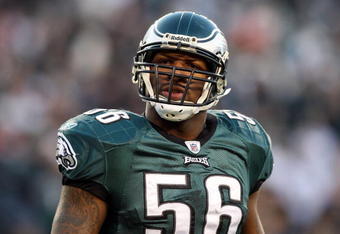 Jim McIsaac/Getty Images
Jorrick Calvin and Colt Anderson are both likely to be cut from the secondary as well. 
Thursday night's game could change something, if a bubble player has a huge day, it could save him.  My next piece will be done after the game Thursday where I will update this prediction, but as of right now, here is my prediction for the field of 53 players who make this team (5 more will be added to the practice squad).
PUP - R. Harris (Will not count towards the 53-man roster, will have to sit out first six weeks)
QB (3) - Vick, Young, Kafka
RB (3) - McCoy, R. Brown, D. Lewis
FB (1) - O. Schmitt
TE (3) - Celek, D. Lee, C. Harbour
WR (6) - Jackson, Maclin, Avant, Cooper, Higgins, S. Smith
OL (10) - Peters, Herremans, Kelce, Watkins, Dunlap, Mathis, McGlynn, Howard, Wells, Justice
LS (1) - Dorenbos
K (1) - Henery
P (1) - Henry
DL (10) - Babin, Cole, Jenkins, Dixon, Patterson, Hargrove, Teo-Neishem, Tapp, Parker, Landri
LB (5) - Matthews, Chaney, Foku, Clayton, Jordan (barely)
CB (5) - Asomugha, Samuels, Rodgers-Cromartie, Hanson, Lindley
Safety (4) - Coleman, Page, Jarrett, Allen