Seattle Seahawks: Will TE John Carlson Ever Play for the Seahawks Again?
August 31, 2011
Otto Greule Jr/Getty Images
As many readers now know, John Carlson will have surgery on his torn labrum in his shoulder. This surgery will end John Carlson's season. This season is the last remaining year that John Carlson has on his NFL rookie contract which he signed in 2008.
With his production dip last season, the emergence of tight ends Cameron Morrah, Anthony McCoy and the new signing of high-profile tight end Zach Miller, the question that comes to mind is will John Carlson be a Seahawk next season?
I like John Carlson, I really do. I liked him coming out of Notre Dame. He put up impressive numbers and always seemed to hustle and do his job well when called upon. He played in a pro-style offense under Charlie Weis and had a first-round caliber quarterback throwing him the football (Brady Quinn).
His first two seasons in Seattle confirmed my belief that he would be a solid tight end for years to come in Seattle. He put up the two highest single-season reception totals of a tight end in the Seahawks' history in his first two seasons with the team.
Last year, though, Carlson, along with the Seahawks' offense, was less than stellar. Carlson's receptions dropped by over 40 percent of what they were the previous two seasons. Not to mention, his role on offense was even diminished at the end of the season to being not a tight end, but a fullback on occasions. Many believed that he could only thrive in situations where he had Hasselbeck throwing him the ball.
Last season also saw a rise in the tight ends Cameron Morrah and Anthony McCoy (who Pete Carroll had coached at USC). Coming into this season the Seahawks knew that they had two tight ends with potential and John Carlson. It seemed beyond a doubt that Carlson would be the starter and that the Seahawks would simply work multiple tight ends into the offensive game plan. That seemed to be the case when they signed Zach Miller to a five-year $34 million contract.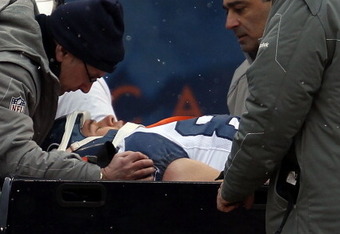 Jonathan Daniel/Getty Images
Suddenly, Carlson was not the star and was thought of as a backup. Nonetheless, Pete Carroll said that the team would be "really counting on him having a fantastic year for us," as well as that "John had a great start to camp."
That was until John Carlson went down with a season-ending injury. Now we will see the multiple tight end sets with Zach Miller, Anthony McCoy and Cameron Morrah instead of Carlson. Miller is expected to do well, but what if McCoy or Morrah is able to exceed expectations and become a solid role player in this offense. Is Carlson then expendable?
It seems that the Seahawks then would be unlikely to re-sign him to a new contract next season and would instead let him walk to free agency. Pete Carroll has been known for cutting players from his team, even past stars such as Lofa Tatupu. What would make Carlson different?
I do hope that Seattle re-signs Carlson. I believe he will be more than adequate alongside Zach Miller and would be essential for a young or inexperienced quarterback (*cough draft a new QB next year cough*) in that quarterback's development. Yet perhaps the even better question is, would John Carlson want to re-sign with the Seahawks?