76ers: Player Violence and the NBA Lockout
August 31, 2011
Mike Ehrmann/Getty Images
Will one of the Philadelphia 76ers be next on the list of NBA players who are accused of alleged acts of violence during the NBA lockout? I hope not. Consider this piece my warning to keep your noses clean.
I don't like the disturbing trend of professional basketball players getting caught up in fire flares both on and off the court. From Rucker Park to Ruger-sounding gunshots, some players have been all over the bad news headlines during the bottleneck between the NBPA and NBA owners.
There have been face shoves, fisticuffs, marijuana busts and injuries overseas. Now, a young woman's sudden death has become one of the main focuses of media coverage surrounding the NBA.
Former Los Angeles Laker and Washington Wizard Javaris Crittenton was arrested by the feds in L.A. while allegedly trying to return to Atlanta. The FBI executed a murder warrant. Crittenton's  lawyer stated Javaris was going to turn himself in to the APD.
It would have helped if he'd have done it sooner; police spokesmen in Atlanta weren't buying it. This negative attention isn't doing any good; first, for the family of the victim.
Then the innocent NBA players, who are doing good things in their communities, and for one another, such as the 76ers, are subject to being included in the outrage and negative public perception. This isn't a good time, unfortunately, to be associated with the NBA.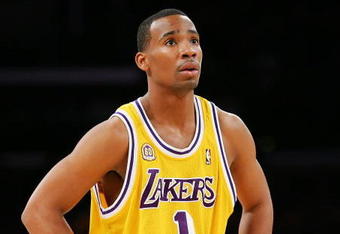 Lisa Blumenfeld/Getty Images
It positively highlights the fact that both the owners and union need to sit down and work out a deal before someone else winds up in serious trouble with the law. Crittenton positively maintains his innocence, to be sure, and he's innocent until proven guilty.
But, being mentioned in such a heinous crime is unacceptable. While the Sixers are rocking together as a team and holding conditioning sessions, some other teams' players are seemingly going off their rockers.
Instead of garnering accolades for working screen-and-rolls, Matt Barnes, Michael Beasley and Javaris have all had their names blasted across HDTV screens via the news and You Tube via computer screens.
Some NBA owners probably wished they'd better screened these players. But are the owners really to blame? I'm sure some people will find a way to blame them for this summer of player indiscretions. It's all on the players, in my opinion.
The fact that most players have stayed out of trouble with so much free time on their hands is virtually no media outlet's lead story. Should there be more of these stories? It seems to me that it's getting to be that players who stay out of trouble are actually more newsworthy.
The latest negative news is, of course, centered around Crittenton. A native of Atlanta, he'd been relegated to playing in the D-League with his current team—the Dakota Wizards—but he definitely has NBA talent.
He left Georgia Tech after his freshman season and was drafted by the mighty Los Angeles Lakers at No. 19 overall in 2007. L.A. has a keen eye for talent, and Crittenton had talent both on and off the court.
He played alongside Dwight Howard as a sophomore at Southwest Atlanta Christian Academy. The Atlanta area is home to some goons, but Howard isn't one of them.
So, what went wrong with Javaris? He was a McDonald's All-American, Georgia's Mr. Basketball, an honors student and a member of the Future Business Leaders of America.
He was busted and suspended for 38 games from the NBA in 2009-10, along with an immature veteran teammate, Gilbert Arenas, for bringing guns to the arena. Crittenton pleaded guilty to a misdemeanor gun charge on Jan. 25, 2010.
He got probation in court and his release from the Washington Wizards. The Michael Jordan-owned Charlotte Bobcats released him last October and Crittenton went home to Atlanta where he was reportedly robbed in April.
The A.T.L. area is home to some goons, and Crittenton is allegedly one of them. Authorities are reportedly blaming him for the death of an innocent victim—the young woman. 
I find it sadly ironic that the NBA guard who fell to the D-League because he couldn't shoot straight is now living a nightmarish symbolic tragedy—a reality of his professional life.
As a professional, I don't want to have to write about stuff like this ever again. Sadly, I think I'll have to. I hope it's not a Philadelphia 76er.
Lake Cruise is a writer, period. Contact him at lakecruise@att.net