College Football 2011: Andrew Luck and 7 Players Who Will Disappoint This Season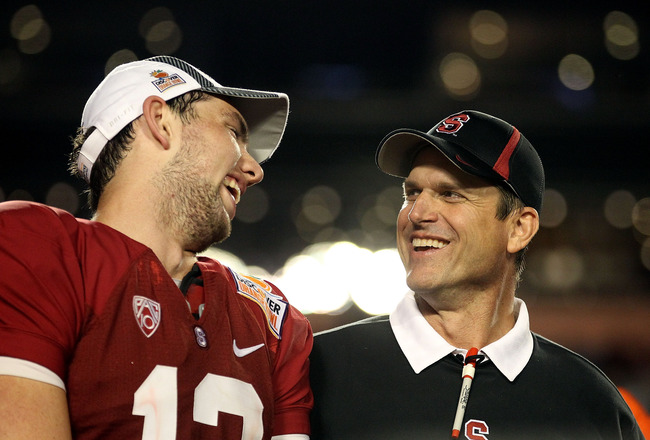 Streeter Lecka/Getty Images
With less than a week until the start of the 2011 College Football season, expectations for some players may be too great leading to disappointment.
Some players are left with the expectation of leading to their team to the national championship game.
Without any more delay, let's look at the eight players who will disappoint in 2011.
8) Denard Robinson, Michigan Wolverines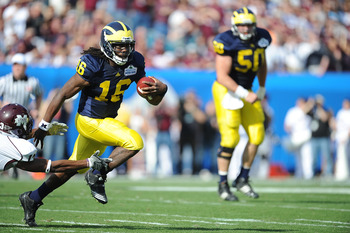 Rick Dole/Getty Images
Expectations for the Junior Denard Robinson have skyrocketed after a very productive sophomore season.
In 2010, Robinson passed for 2,570 yards, 18 touchdowns and 11 interceptions. He also rushed for 1,702 yards and 14 touchdowns.
The Wolverines finished the regular season 7-5 in 2010, but got blown out in the Progressive Gator Bowl 52-14 by Mississippi State.
Brady Hoke was brought in and the Wolverines expect to win now. There are a few things making this difficult to obtain.
Robinson was dealing with injuries throughout the 2010 season and that will be a major concern in 2011. Michigan's offensive line is near the top of the Big Ten according to espn.com and will be key in 2011.
7) Kellen Moore, Boise State Broncos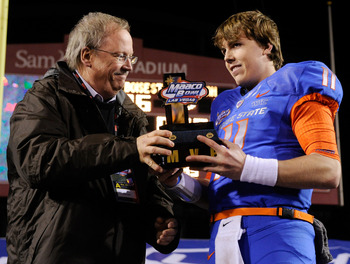 Ethan Miller/Getty Images
Anything less than a perfect season and a Heisman Trophy would be a disappointment in 2011 for Kellen Moore.
In 2010, Moore led the Broncos to an 11-1 regular season record and a 26-3 win against Utah in the Maaco Bowl.
Playing in the MWC does not help Moore's chances at winning a Heisman Trophy as the Broncos schedule is on the weaker side in 2011.
Kellen Moore had the highest quarterback rating of anyone last season at 182.6. He passed for 3,845 yards, 35 touchdowns and six interceptions.
Moore was top 10 in nearly every passing category and it will be tough for him to outdo himself in 2011.
The Broncos are ranked No. 5 in the nation but only play two ranked teams. The Broncos have a tough test Week 1 at No. 19 Georgia, and a loss would mean a disappointing season for Moore.
6) Alshon Jeffery, South Carolina Gamecocks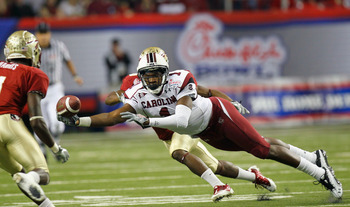 Kevin C. Cox/Getty Images
The Gamecocks finished the regular season 9-4 last season with a disappointing 56-17 loss against Auburn for the SEC title. They then went on to lose the Chick-fil-A Bowl to Florida State 26-17.
Jeffery had a monster season in 2010 catching 88 balls for 1,517 yards and nine touchdowns. Jeffery was fourth in the NCAA in terms of yards last year.
There is no denying that Alshon Jeffery is an absolute stud. There is also no denying the big expectations placed on Jeffery and South Carolina in 2011 as well.
South Carolina plays in the tough SEC and Jeffery's quarterback Stephen Garcia can be very inconsistent at times.
Garcia has seen his interception total rise in each of his past three seasons and entering his Senior year Garcia is expected to bring home the SEC title.
With a somewhat shaky offensive line and more double coverages coming to Alshon Jeffery, 2011 will be a disappointment for the Junior.
5) Landry Jones, Oklahoma Sooners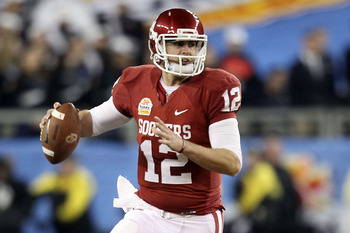 Christian Petersen/Getty Images
Landry Jones and the Sooners are coming off a great 2010 regular season where they went 11-2 and won the Tostitos Fiesta Bowl.
In 2011 the Sooners boast the No. 1 ranking and most of that pressure will reside on Landry Jones.
Jones put up 4,718 yards, 38 touchdowns and 12 interceptions in 2010. Jones was second in the NCAA in 2010 in terms of passing yards.
The Sooners are set up for a National Championship or bust scenario in 2011, and the schedule is not all that forgiving.
The Sooners will face No. 6 Florida State on the road in Week 2, then will face No. 21 Missouri at home the week after.
Jones is certainly in the Heisman Trophy talks, although a rough start could derail that quickly.
4) Marcus Lattimore, South Carolina Gamecocks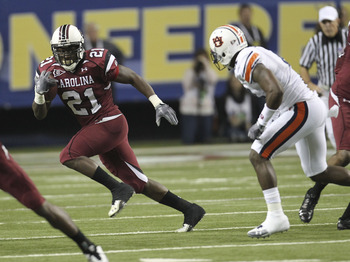 Mike Zarrilli/Getty Images
There is no denying just how talented sophomore running back Marcus Lattimore is.
First off, I am not a South Carolina hater. I just believe that the expectations may be too high for this team in 2011.
Lattimore rushed for 1,197 yards and 17 touchdowns in 2010. He also caught 29 passes for 412 yards and two touchdowns.
Playing in the SEC is no easy task for any team. The Gamecocks take on the Bulldogs on the road in week two and that will be a huge test as to how the Gamecocks will finish their season.
The Gamecocks have a three game road trip where they will face off against No. 20 Mississippi State, Tennessee and No. 15 Arkansas.
An SEC title is the expectation for the Gamecocks in 2011, and there are more than a few tests facing them.
I mentioned earlier that the Gamecocks o-line is questionable as espn.com has them ranked at ninth in the SEC, meaning Lattimore could struggle a bit in his sophomore season.
3) Trent Richardson, Alabama Crimson Tide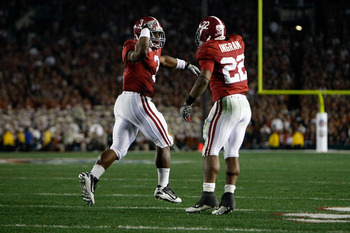 Jeff Gross/Getty Images
Yes, the picture above is of Mark Ingram and Trent Richardson. Ingram brought home the Heisman Trophy in 2009, and Richardson is expected to do the same in 2011.
The Crimson Tide finished 2010 with a 9-3 record and whooped Michigan State 49-7 in the Capital One Bowl.
Richardson had a solid 2010 campaign posting 700 yards and six touchdowns on the ground. He caught 23 passes for 266 yards and four touchdowns as well.
The expectation is for Richardson to have a breakout year in 2011 behind the second best line in the SEC.
The reason Richardson lands here at number three is the fact that he always was behind Mark Ingram. Mark Ingram is no longer in Alabama as he moved on to the NFL.
Also, starting quarterback Greg McElroy has moved on to the NFL. With a new starting quarterback in Alabama, expect defenses to stack the box often to contain Richardson.
2) LaMichael James, Oregon Ducks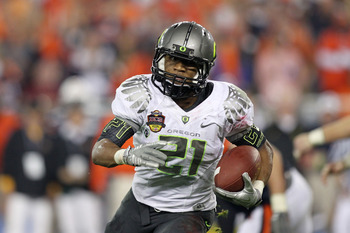 Jonathan Ferrey/Getty Images
For the second straight season, LaMichael James is arguably the favorite to win the Heisman Trophy. Anything less than a Heisman Trophy and a national championship would be seen as a disappointment for James and the Ducks.
James rushed for 1,731 yards and 21 touchdowns in 2010. He also hauled in 17 receptions for 208 yards and three touchdowns.
After losing the national championship to Auburn last season, the Ducks are expected to take it all in 2011.
The stat that worries me the most is how unproductive James was in the National Championship game. He had 13 carries for 49 yards to go with four receptions for 39 yards and two touchdowns.
You take away the two touchdowns and James was a non factor. It was James' lowest rushing total of the year by 42 yards.
Granted this was vs a fierce Auburn defense, but 2011 won't be a cake walk for James and the Ducks. They will be tested right away against No. 4 LSU in Week 1.
1) Andrew Luck, Stanford Cardinal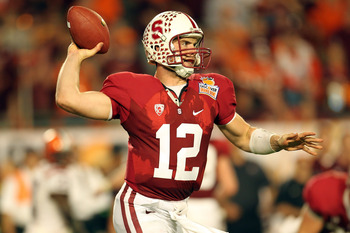 Mike Ehrmann/Getty Images
Andrew Luck was the runner-up for the Heisman Trophy in 2010 and is arguably the favorite to win it in 2011.
Luck had an amazing 2010 campaign as he threw for 3,338 yards, 32 touchdowns and eight interceptions. Luck was also able to rush for 453 yards and three touchdowns.
The Cardinals finished 11-1 during the regular season, then pounced on Virginia Tech 40-12.
Following a great 2010 season the Cardinal boast the No. 7 ranking in the nation. The Cardinal's success could be attributed to ex-head coach Jim Harbaugh.
Harbaugh is a coach that knows how to teach quarterbacks and really molded Luck into an NFL quarterback.
Luck is obviously the best quarterback in the NCAA, but without Harbaugh, I see Luck struggling in 2011.
Keep Reading