Broncos vs. Cardinals: TV Schedule, Live Streaming, Radio, Game Time and More
August 30, 2011
Garrett Ellwood/Getty Images
A couple days from now, the Denver Broncos and Arizona Cardinals will put the finishing touches on a preseason that has been very intriguing for both of them.
In Denver, many of the preseason storylines revolved around the quarterback spot. Kyle Orton established himself as clearly the best option for the starting job, but it's been pretty interesting to watch Brady Quinn and Tim Tebow duke it out for the No. 2 spot.
Meanwhile, Arizona's own quarterback position has also generated some storylines. They traded for Kevin Kolb shortly before the preseason got underway and he has proceeded to look very good in leading the Cardinals' offense.
With these two teams set to do battle on Thursday, let's take a good look at what we can expect to see.
Where: University of Phoenix Stadium
When: Thursday, 10:00 p.m. ET
Watch: NFL Network, 9NEWS in Denver and ABC15 in Arizona, streaming online at NFL.com (must purchase preseason package for $4.99). Replay on NFL Network Saturday at 1:30 a.m. ET.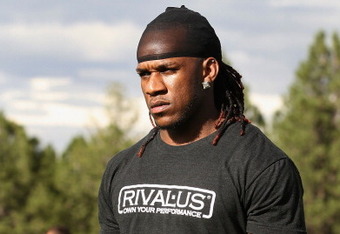 Christian Petersen/Getty Images
Listen: 850 KOA AM and SIRI Internet 875 for Denver, KTAR 620AM and Sirius 94 for Arizona.
Broncos' Key Addition
I like the moves the Broncos have made to bolster their defense (i.e. drafting Von Miller and signing Ty Warren), but the man responsible for making it work is new head coach John Fox. He's a defensive-minded coach, and the Broncos are hoping that he's the key to turning around a defense that was the worst in the NFL last season. In addition to bringing in players, Fox installed a 4-3. We'll see if it works.
Cardinals' Key Addition
This one's easy. It's Kolb by a long shot. Arizona's problems at quarterback last year were well-documented, and the team went out and acquired Kolb from the Philadelphia Eagles in hopes that he will be the guy who turns it all around. He's looked up to the task in the preseason, but it's going to be interesting to see if he can get it done in the regular season, too.
Broncos' Biggest Loss
I actually think trading wide receiver Jabar Gaffney to the Washington Redskins could come back to bite the Broncos. He was the team's second-leading receiver behind Brandon Lloyd in 2010, hauling in 65 catches for 875 yards. If Lloyd regresses -- and I think he will -- Orton is going to miss having Gaffney to throw to.
Cardinals' Biggest Loss
Losing rookie running back Ryan Williams for the season is going to hurt. It was his presence that allowed the team to feel comfortable in trading Tim Hightower, and now the running back depth chart is quite thin with Williams out. A lot of pressure is going to be on Beanie Wells to be a consistent producer, which is something he hasn't been in his brief career.
What They're Saying
Jeffri Chadiha of ESPN.com wrote a great piece on Broncos defensive end Elvis Dumervil that discusses how he's overcome doubts about his relatively small stature.
"For years, the 5-foot-11, 260-pound Dumervil had been told directly or indirectly that his diminutive stature would be a hindrance in the league," writes Chadiha. "This season he's finally entering camp with the belief that such questions are actually behind him. Dumervil already had 43 career sacks -- including a career-high 17 in 2009 -- to prove what a little man could do in a big world."
If you'd rather read more on Kolb, Kent Somers of The Arizona Republic recently wrote about Kolb's preference for longer sustained drivers over those that end in big plays.
"The shots are nice. We want a couple of those per game," said Kolb. "But that's when you're whipping somebody. When Beanie gets involved, O-line is pounding them. We're dinking and dunking them. Taking a shot here and there. That's the kind of offense we have to have and that's my style of play."
In other words, Kolb's new team is going to be a little different from his old team.
Broncos Player to Watch
This one's a no-brainer. It's Tebow all the way. The word from The Denver Post is that Tebow is still the No. 3 quarterback behind Orton and Quinn, but he should see a lot of action against the Cardinals. Orton is not going to play, and Quinn is only going to play a few series, and that will leave Tebow to pick up the bulk of the playing time.
Cardinals Player to Watch
Keep an eye on rookie cornerback Patrick Peterson. With Greg Toler gone for the season after tearing his ACL against the San Diego Chargers on Saturday, the word from the Associated Press is that his spot could be Peterson's to lose. Peterson is still learning, but his pick-six of Philip Rivers on Saturday showed that he is more than capable of making plays.
Broncos' Key Position Battle
Take a wild guess. It's all about the quarterback spot. Even though Orton has the starting job wrapped up, the No. 2 spot is probably going to be up for grabs all season. Quinn has the inside track now, but it should not be taken for granted that he is going to hold on to the job all season. Tebow is going to stay in the picture, and it's conceivable that he could grab hold of the No. 2 spot with a strong performance against the Cardinals.
Cardinals' Key Position Battle
Once again, keep an eye on the cornerback position. With Toler out, Peterson could start, but Cardinals head coach Ken Whisenhunt has yet to come out and say that he will. Peterson has been backing up A.J. Jefferson, and Whisenhunt may prefer to keep him there. If he does, he will use Richard Marshall as a starter instead.
Key Storyline
With so many starters likely to rest, this game is probably going to be a little lacking on storylines.
Obviously, how Tebow plays in his final regular season tune-up is going to get a lot of attention. And no matter which side of the fence you're on when it comes to Tebow, there's no denying that it's hard to look away when he's on the field.
On the other side of the field, the Cardinals seem to have things pretty well figured out at this point. This game will be all about watching players jockey for roster spots and starting jobs.
Prediction
Cardinals, 14-13.