Philadelphia Eagles: Michael Vick's Redemption Song
August 30, 2011
Jim McIsaac/Getty Images
The physical act of redemption can have a variation of meanings and precedents while trying to decide what it can be construed as.
What are the parameters in the act of one redeeming him or herself? Are there boundaries on who is allowed to be redeemed? What about murderers, rapists or other criminals? Where do you draw the line? 
The answers to those questions aren't as clear-cut as a completed pass or a touchdown in football. Different people are going to have different interpretations and beliefs. Especially when it comes to the subject of Michael Vick, who was the recent recipient of a six-year, $100 million contract extension from the Philadelphia Eagles.
There is a unique side to the Michael Vick story, one that can almost be romanticized and coveted by those that wish to use him as an example of what can happen when you never give up.
Throughout a tumultuous 10 years, Vick has seen the highest of the highs and the lowest of the lows.
Coming out of Virginia Tech in 2001, Vick was a highly sought after draft pick who had a unique skill set and eventually went No. 1 overall in the NFL draft to the Atlanta Falcons.
It didn't take long for Vick to flash off his arsenal of unorthodox skills at the quarterback position. Between his cat-like quickness outside of the pocket and his terrorizing left arm that was capable of firing off a round with a simple flick of the wrist, Vick posed as a dual threat for defenses across the league.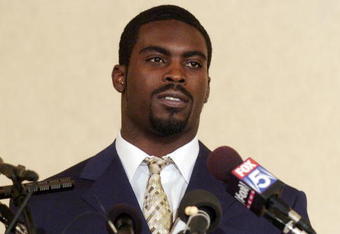 Jonathan Ernst/Getty Images
Even though Vick was by far the most athletic and physically gifted quarterback during his time, he never could put the pieces together to become the perfect storm at the quarterback position.
The type of player that would make defenders around the league say to themselves, "Oh shoot, how the hell do we defend this guy?!" when he squatted under center.
A search warrant exercised in 2007 on Vick's Virginia property would unveil an entire closet of skeletons, and all the rest is history. He would serve 18 of his 23-month sentence in prison for orchestrating an illegal dog-fighting operation.
Who would have thought an 18-month stint in prison would have been the best thing for not only Michael Vick the human being, but Michael Vick the football player as well? Thanks to the tutelage of Eagles head coach Andy Reid and the talent surrounding him, Vick was finally able to become that "perfect storm" quarterback.
It just didn't make sense. People aren't supposed to disappear from their occupation for nearly two years and come back exceedingly better at it. 
Not only was he still beating teams on the ground by finding the fountain of youth in his speed (which never even left him in the first place), but he was also surgically dismantling teams by utilizing Reid's West Coast Offensive scheme.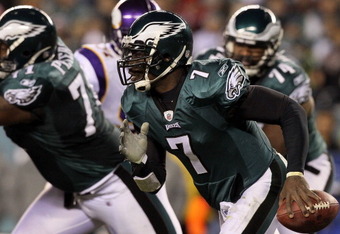 Jim McIsaac/Getty Images
Because of this, not only did the Eagles ship off their biggest quarterback prospect in Kevin Kolb to the Arizona Cardinals, but they also armored Vick with the aforementioned nine-figure deal.
Anyone that is familiar with how NFL contracts work will be aware that Vick, more than likely, will never see that $100 million due to the basic structure of an NFL contract and how a player can be cut/traded at any time.
However, more important for Vick is the $40 million in guaranteed money he will accrue, even though 66 cents of every dollar he makes goes towards creditors and owed taxes. I'm sure Vick will be more than happy to pocket $13 million-plus for himself though.
People can view Vick however they want. There really isn't a wrong perception about the guy as he essentially fits the entire spectrum of the dictionary from a redeemer to a monster.
But one thing is for sure, and that is that Vick earned every single situation that he has ever experienced. Whether it was through diligent, hard work on the football field, or oblivious ignorance in his extracurricular affairs off of it.
He now finds himself playing the most important position in the game and the cornerstone, franchise player on a team with loaded expectations after a voracious offseason.
Who knows what Vick's legacy will be 10 or 20 years from now? Will he go down as a sub-human individual that slaughtered innocent animals or will he be known as one of the greatest salvation stories of all time?
One thing we do know is that Vick went through all 360 degrees of life's compass and came out a better man after it.
That, you have to respect.