Desmond Jennings: Why the Tampa Bay Rays' Stud Outfielder Is the Real Deal
August 31, 2011
Jed Jacobsohn/Getty Images
Every time a player tears up major league pitching for a short time, cynics always point to the same phrase.
Sample size.
So it is easy to write off Desmond Jennings' stunning shock-and-awe on the American League as simply a fluke. The numbers he is putting up are unsustainable, they say.
Maybe they're right. In fact, they probably are right.
After all, Jennings is hitting .343 with eight home runs, 19 RBI and 14 steals after just 36 games. At this pace, a full season would result in a .343 average, 37 home runs, 88 RBI, and 65 steals.
The last player to do that? No one.
Why, then, is it so easy to watch Desmond Jennings play and believe that he isn't just Carl Crawford's replacement, but Carl Crawford's upgrade?
To appreciate what Jennings has done this season and the capacity for him to continue such production into the future, we must look to sabermetrics. There are plenty of statistics that can measure a player's impact on the game.
First and foremost is BABIP. That long, funny-sounding acronym stands for Batting Average for Balls in Play. A typical BABIP is somewhere around .285. For Desmond Jennings, it is .394.
To give an illustration of how astronomically high that is, a full season with a .394 BABIP or above has occurred only 43 times in baseball history. Rogers Hornsby, Ty Cobb, Babe Ruth and Rod Carew are among the ones who have achieved this feat.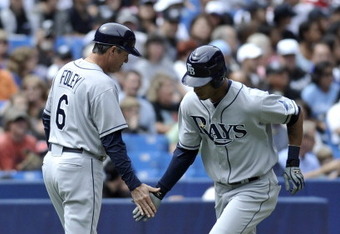 Brad White/Getty Images
A high BABIP typically means one of two things—either the player is extremely lucky or he is extremely fast.
There's always a good chance that Jennings has been somewhat lucky. But there is no doubt that Jennings fits the latter category.
But when looking at a BABIP to determine how much is luck (which, by the way, has a lot to do with a defense) and how much is speed, we have to see what kind of contact Jennings has made.
This season, Jennings has hit 17.6 percent line drives and 49 percent ground balls. Neither number is particularly high. If his line drives were, say, 25 percent, some flags would be raised.
It is clear, however, that Jennings' high BABIP has a lot to do with his ability to get on base with his feet. What would normally be a ground-out becomes an infield single. What would normally be a double play turns into a fielders' choice.
Jennings' numbers validate this—he has yet to ground into a double play this year, and an astonishing 10 percent of his ground balls result in infield singles.
Just as impressive as Jennings' BABIP is his wRC+. In English, that translates to "weighted runs created compared to league average." Through Tuesday, Jennings' wRC+ is 196. How good of a number is that?
Well, for one, if Jennings had played a full season, he'd be this year's MLB leader, ahead of Jose Bautista, Curtis Granderson, Ryan Braun and Adrian Gonzalez.
Only 44 players in history have had a higher full-season wRC+ than 196. All of them except for Barry Bonds are Hall of Famers.
This is very surprising, considering that Jennings has been scouted his entire career as a prototypical leadoff hitter. He gets on base a lot, runs like the wind and puts pressure on the defense.
But his brief 2011 season has showed that his skill set goes far beyond speed.
He has hit for power at a clip beyond what anyone expected. Jennings has hit one home run per 20 at-bats, a rate you would expect more from a cleanup hitter than a leadoff man.
In short, the power and run-producing ability that Jennings has shown is baffling.
The value of Desmond Jennings is undeniable. In just 36 games this season, he has posted a WAR (Wins above Replacement) of 2.3. This is unspectacular for a full season, but a full season at this rate puts Jennings at 10.4 WAR. The last player to have a season with that WAR was Sammy Sosa in 2001, a year in which he hit .328 with 64 home runs and 160 RBI.
This is not to say that Jennings will continue this level of production. In fact, a regression can be fully expected. After all, you cannot predict a career based on 36 games. It's all about sample size, right?
Even with a 15-percent regression across the board, which could be reasonably expected, these would be Jennings' full-season stats.
| | | | | | | | | | | |
| --- | --- | --- | --- | --- | --- | --- | --- | --- | --- | --- |
| Hits | Avg. | OBP | Slugging | HR | RBI | R | SB | BABIP | wRC+ | WAR |
| 185 | .292 | .370 | .527 | 31 | 75 | 90 | 55 | .335 | 167 | 9.0 |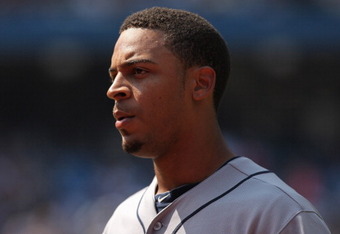 Tom Szczerbowski/Getty Images
Wow. If you are a Rays fan and don't get excited about those stats, there is something wrong with you.
There's always a chance he could regress more than that, especially in terms of run production. But having a guy who can get on base 37 percent of the time and steal 55 bases is a very exciting prospect.
You can argue sample size, and you can argue that what Jennings has done in 2011 is a fluke. And quite honestly, until we see him play a full season, his performance this year must be taken with a grain of salt.
But until he proves otherwise, it is perfectly appropriate to throw sample size to the wind and let your jaw drop.
Desmond Jennings is the real deal.