USC Football: What Impact Will True Freshman Marqise Lee Make in 2011?
August 31, 2011
USC Trojan true freshman WR Marqise Lee had a breakout fall camp. He not only earned his high school No. 9, but became one of the top three receivers and may get a chance to start in the Minnesota Golden Gophers season opener.
The most amazing part of his story is that USC may have the most talented wide receiving corps in the nation, and few believed that Lee would last more than a few days before being switched to safety, a position that USC has greater need in the future.
Lee joins fellow Gardena Serra high school receiving stars sophomore Robert Woods, who was a USC Freshman All-American last season, and five-star freshman George Farmer, who many believed would earn the starting role opposite Woods. Farmer was rated the best high school receiver in the nation in 2010.
Their high school football coach, Scott Altenberg, knew they would earn college scholarships.  He told Gary Klein of the LA Times that he never thought they would become USC receivers.  "I'm a UCLA graduate," Altenberg said, laughing, "so that would have been a nightmare, not a vision."
Lane Kiffin's vision will create a nightmare for UCLA and many other colleges.
While Farmer may take a little longer than Lee to develop, there is no question that he will be a tremendous receiver for USC. He has the greater size, speed and strength than either Woods or Lee. Once he learns the playbook and improves his technique, watch out.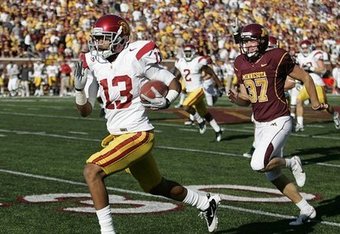 No one expected Robert Woods to start in 2010. But, he had the same type of fall camp that Lee had this year and became the 2010 Pac-10 Offensive Freshman of the Year and earned many Freshman All-American honors. He is also an outstanding kickoff returner.
How good is Lee?
Lee was named the California High School Athlete of the Year for his body of work in football, basketball and track and field. 
USCFootball.com reported that Lane Kiffin put Lee in special company: "Reggie Bush, Dwayne [Jarrett], Robert [Woods] last year," Kiffin said. "One of those unique players who continues to do it every day. It's the same thing."
Earlier in fall camp, Kiffin compared Lee to former Trojan Damian Williams.  But he is a larger, stronger and faster version with a loose, wide, easy gait that gets him to the open area without looking like he is trying hard.
Some Trojan fans think he is similar to former Trojan Steve Smith, but he is faster and a 24'8" long jumper with only a few jumps on his resume showing natural foot speed.  Lee seems to have incredible feet and short area quickness like Smith plus DeSean Jackson-level body control.
Lee has soft but strong hands.  He has a real burst and can change directions quickly with a spin move that has him full-speed before the first foot hits the ground.  He can dunk the ball on an 11-foot basket so he can jump over people and get to the ball. 
Lee is good enough that Woods could move back to the split end position that he played last year and allow Lee to start at flanker so they could both be on the field at the same time.
Woods will get double coverage and spreads the field. Defenses cannot double cover both Woods and Lee. USC could also use 3 or 4 WR sets. Imagine Woods, Lee, redshirt senior Brandon Carswell and redshirt junior Brice Butler on the field at the same time.
USC has one of the best quarterbacks in the country in junior third year starter Matt Barkley. If the OL can give him time to find the open receiver he will have a field day.
If this happens, then Lee may also be partially responsible for Barkley leaving early for the NFL next year.
Oh well; it can't be all good news.