Tim Tebow : An Attempt at Objectivity in the Fury of a Media Storm
August 30, 2011
Garrett Ellwood/Getty Images
It seems everyone has a side when it comes to second-year Denver Broncos' quarterback Tim Tebow. In fact, the sides are so clear, so defined, it's hard to find middle ground in the debate.
A rift between analysts on national sports coverage shows is evident, and now a division is taking place between Denver Broncos fans. A following that has always widely been criticized by outsiders as being "fair-weather" fans are now hurting their own cause by separating themselves from well, themselves.
It's impossible for me to decide exactly where this began, or why it's gone so far—so I won't try. Another task that seems hopeless is bringing these two sides together.
What's missing in all the Tim Tebow talk? An objective look at his past, his play, and his place on the Denver Broncos.
First of all, Tim Tebow has a very impressive college resume. There isn't a soul on earth that can deny what Tebow did for the Florida Gators. Two national championships and a Heisman trophy really brings together a list of experience in the field of football prowess.
Tebow played in a spread offense for the Florida Gators and was noted mostly for his ability to run and pass the ball efficiently, on his way to a 55 touchdown season in 2007.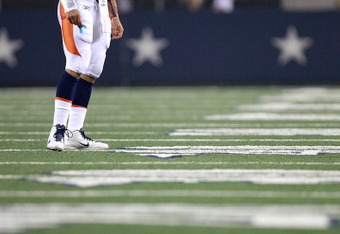 Ronald Martinez/Getty Images
These are the facts. Nobody seems to argue with these. Let's move on.
After an impressive college career we move onto his body of work in the NFL. As much as some Tebow fans would love to ignore this, his play in the NFL is the only thing that can decide if he will win a starting position at some point in his career.
Tim Tebow came in as the Denver Broncos' starter for the final three games of last season. While he only won a single game, he played with a level of energy that the Broncos had not seen much of during the 2010 season.
Tebow's three games in 2010 featured one come-from-behind win, and one 300-yard passing game. Tebow also led the team in rushing that same game with 66 yards on the ground.
A long off-season followed, including the 2011 NFL Lockout, and an entire change in regime for the Denver Broncos' organization.
So far 2011 has not been a great year for Tim Tebow. His preseason play has been criticized endlessly, and his name ends up in the news every 10 minutes from every corner of the country.
So where does Tim Tebow stand in the organization now? After Josh McDaniels was fired, Tebow lost his only support in the front office. It was widely believed that McDaniels "reached" by drafting Tebow as high as he did.
If Tebow was drafted in the fourth or fifth round, like he was expected to be, maybe there wouldn't be so much talk of what he can or can't do, or what he should or should not be doing in the league right now.
At this point, Tebow is still a member of the team, even after rumors of being put on the trading block in Denver. He fills the No.2/No.3 quarterback slot for the Broncos, his actual place on the depth chart is unsure at this point—Head Coach John Fox has not yet announced his official back-up QB.
If Fox continues to be secretive as to his backup quarterback, it may actually work out better for Tebow. The introduction of a few new rules in the NFL makes it possible for Tebow to be the No. 3 quarterback (unbeknownst to officials during game-time,) but still be able to come in at any time during the game in special packages—Brady Quinn could still come in as Kyle Orton's back-up.
So together we see an athlete with an impressive list of credentials, drafted by a head coach that didn't last, left to fend for himself in an organization that may not have the time for him. But, he's still on the team and getting paid. The must be the most anybody could hope for for a second-year special-needs quarterback. So why all the hype?
Wouldn't it make more sense to let the Tebow situation play out in the organization the way it's meant to? The coaching staff and front office of the Denver Broncos have a better idea of what they plan on doing with Tim Tebow than any member of the media does—Merrill Hoge and Boomer Esiason included.
Like any other successful quarterback in the NFL's modern-era, Tebow should be left alone to do his job, progress, and eventually move into a starting role in the NFL is he shows the proper ability to do so.
So isn't this the entire situation? Isn't this all there is to it? I certainly believe and hope so.
Of course it may prove futile to convince the fans or the media to leave the Tim Tebow debate alone for now.
Personally, I'll be happy to move into the regular season and put this all behind us until next year.