Wisconsin Badgers' Week 1 Opponent UNLV Looks to Improve on 2-Win Season
August 29, 2011
Ethan Miller/Getty Images
When UNLV head coach Bobby Hauck left his post with the Montana Grizzlies for the desert in late 2009, he made the jump from an FCS super power to an FBS also-ran with just three winning seasons since 1986.
Coaching with a roster full of players recruited by his predecessor, Hauck compiled a 2-11 record during his rookie campaign.
Loss one of 11 came at the hands of the Badgers when UNLV fell to Wisconsin 41-21 in Las Vegas.
This year, Hauck and the Rebels will try to avoid a similar fate when they again open their season against the defending Big Ten champs before a national TV audience Thursday night in Madison.
The Rebels, who were picked to finish next to last in the eight-team Mountain West during the conference's media days earlier this year, return seven starters from an offense that struggled to score points last season on a consistent basis.
If UNLV is going to improve in Hauck's second year, they are going to need big output from sophomore tailback Tim Cornett and senior wideout Phillip Payne.
Cornett lead the team in rushing with 546 yards and six scores as a freshman last season.
Payne is the Rebels' lone selection on this year's preseason all Mountain West team following last season's 29-catch, seven-touchdown performance.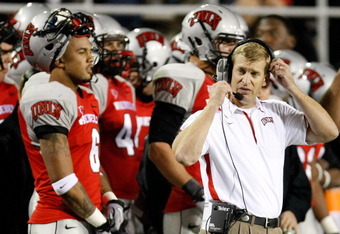 Ethan Miller/Getty Images
For either to be successful, UNLV is going to need above-average performances from an offensive line that is starting two freshmen and a first-year fullback who was playing linebacker up until this week.
On the defensive side of the ball, the inexperienced Rebels return just four starters from last year's squad.
Hauck and defensive coordinator Kraig Paulson are expected to rely on a number of newcomers, including JUCO transfer Princeton Jackson at linebacker and former USC safety Daniel Harper.
In 2011, expectations are higher for the coach who promised "he was going to make good things happen" at UNLV the day he was hired.
While it is reasonable to expect the Rebels to win more than two games this season, it isn't likely that a victory over the 35.5 point-favorite Badgers will be one of them. 
Please follow me on  Twitter.