Jets vs. Giants: 4 Things We Learned from Monday Night Football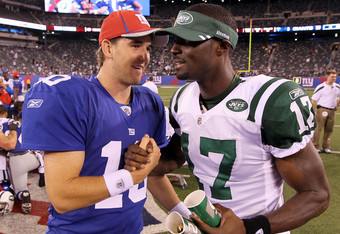 The Jets took on their rivals from across the Hudson River in the first annual Snoopy Bowl tonight, winning 17-3. It was a sloppy (preseason) game of many turnovers in the first half, with Eli Manning throwing two interceptions and the Jets taking a lead into the locker room as a result.
Here are four items of note from the game and how they will translate over into the regular season:
Eli Manning will continue to struggle with consistency and interceptions
Eli Manning threw 31 touchdown passes last season. Unfortunately, he also tossed a career-high 25 interceptions to go along with them.
In tonight's game, Manning picked up where he left off, throwing two interceptions in the first quarter-and-a-half of the game. One was an awful throw into coverage, and the other was a poor job of reading the defense and a LB David Harris interception.
Manning has always been an inconsistent quarterback, but the Giants defense is not as good as it was in year's past. If he continues to turn the football over this season, teams will dominate time of possession and make Big Blue pay.
Mark Sanchez must be better in reading defenses
In the first half – sans one drive late in the half when he was sharp – Sanchez was blitzed early and often by the Giants and it completely took him off his game and out of any rhythm. At one point he had completed only three of nine passes for 12 yards (one fumble).
The Jets have kept Sanchez's reads relatively simple in his first two seasons, utilizing quick slants and check downs in the open field. However, the Jets also had one of best power rushing attacks in that time period, too, which set up the pass nicely and took the pressure off the quarterback.
Now, the pressure is on this season, and Sanchez must improve reading defenses and picking up the blitz to stay in a rhythm. He is best when he is poised and comfortable. The first half of tonight's game illustrated what happens when he isn't.
Jets run game will regress this season
The Jets rushed for 143.8 yards per game on average last season. However, in the offseason the team lost run-blocking specialist LG Damien Woody, and recently lost OT Robert Turner to injury (broken leg) .

Tonight, Jets RB duo of LaDainian Tomlinson and Shonn Greene carried the ball 12 times for 42 yards – a subpar performance. Tomlinson is likely in his final season with the Jets, and showed signs of slowing down in the second half of last season.
A lot of pressure will be on the young running backs Greene and McKnight this season if Tomlinson can't regain his elusiveness which was what made him so great in year's past. Good vision only goes so far.
Jets offensive line is not opening up holes for the running backs as they did in year's past.
Brandon Jacobs is still a head-case
In the offseason, we were told Jacobs and HC Tom Coughlin mended their broken relationship and were no longer screaming at eachother.
Unfortunately, Jacobs put on a show on how to play as dirty as possible in tonight's game.
It all started early in the third quarter, with Jacobs carrying the ball. He was running alongside Jets S Emanuel Cook who went to tackle him. Jacobs then grabbed Cook's facemask as he was going him to tackle him, and dragged him by it as he was going down.
But he wasn't done. Just a few plays later, he threw two punches right at DE Muhammad Wilkerson's face.
Both players were ejected, with many viewers questioning why Wilkerson was also thrown out of the game. Regardless, the fact remains: Jacobs is still a walking time bomb that can explode at any moment.
But on the positive side, at least he didn't throw his helmet tonight!
Most recent updates:
This article is
What is the duplicate article?
Why is this article offensive?
Where is this article plagiarized from?
Why is this article poorly edited?

New York Jets: Like this team?