Jets vs. Giants Monday Night Football: Live Reaction to Game's Biggest Stories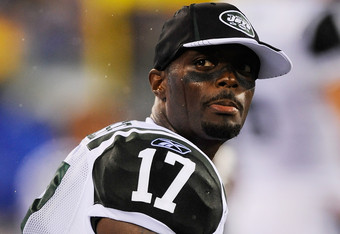 Patrick McDermott/Getty Images
The New York Jets and New York Giants will square off in MetLife Stadium in front of a national audience on Monday night for all the marbles.
And by all the marbles, we mean the Snoopy Trophy, which was thrown into the mix for the first time this year. New Meadowlands Stadium was renamed to MetLife Stadium just last week, and in the spirit of tradition, the two Hudson River teams will now face off annually and play for the trophy. The game will be known as the "MetLife Bowl."
But it's the bragging rights that are most important, right?
The New York Football Giants have long been hailed as the more successful, professional franchise. The Jets, on the other hand, were nicknamed "little brother", after sharing Giants Stadium for 26 years as they didn't have a stadium to call home after leaving Shea Stadium.
Times are changing, though. And right now, it appears the Jets are in a better position to win a Super Bowl than the Giants are. Led by a ground-and-pound rushing attack which racks up yards and controls time of possession, and an athletic QB Mark Sanchez who excels in play-action passing. On the other side of the ball, Rex Ryan's aggressive, blitz-heavy defensive unit disrupts even the most potent passing attacks and fields one of the top three defenses in the NFL.
Come to think of it, this Jets team actually resembles the 2007 Giants team that won Super Bowl XLII.
And Jets new WR Plaxico Burress knows all about them, as he was instrumental for that team, catching the game-winning touchdown against New England in the biggest game of his career thus far.
Tonight, Burress will go up against his former team that released him. Could revenge be on his mind?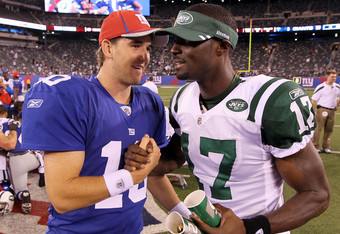 The Jets took on their rivals from across the Hudson River in the first annual Snoopy Bowl tonight, winning 17-3. It was a sloppy (preseason) game of many turnovers in the first half, with Eli Manning throwing two interceptions and the Jets taking a lead into the locker room as a result.
Here are four items of note from the game and how they will translate over into the regular season:
Eli Manning will continue to struggle with consistency and interceptions
Eli Manning threw 31 touchdown passes last season. Unfortunately, he also tossed a career-high 25 interceptions to go along with them.
In tonight's game, Manning picked up where he left off, throwing two interceptions in the first quarter-and-a-half of the game. One was an awful throw into coverage, and the other was a poor job of reading the defense and a LB David Harris interception.
Manning has always been an inconsistent quarterback, but the Giants defense is not as good as it was in year's past. If he continues to turn the football over this season, teams will dominate time of possession and make Big Blue pay.
Mark Sanchez must be better in reading defenses
In the first half – sans one drive late in the half when he was sharp – Sanchez was blitzed early and often by the Giants and it completely took him off his game and out of any rhythm. At one point he had completed only three of nine passes for 12 yards (one fumble).
The Jets have kept Sanchez's reads relatively simple in his first two seasons, utilizing quick slants and check downs in the open field. However, the Jets also had one of best power rushing attacks in that time period, too, which set up the pass nicely and took the pressure off the quarterback.
Now, the pressure is on this season, and Sanchez must improve reading defenses and picking up the blitz to stay in a rhythm. He is best when he is poised and comfortable. The first half of tonight's game illustrated what happens when he isn't.
Jets run game will regress this season
The Jets rushed for 143.8 yards per game on average last season. However, in the offseason the team lost run-blocking specialist LG Damien Woody, and recently lost OT Robert Turner to injury (broken leg) .

Tonight, Jets RB duo of LaDainian Tomlinson and Shonn Greene carried the ball 12 times for 42 yards – a subpar performance. Tomlinson is likely in his final season with the Jets, and showed signs of slowing down in the second half of last season.
A lot of pressure will be on the young running backs Greene and McKnight this season if Tomlinson can't regain his elusiveness which was what made him so great in year's past. Good vision only goes so far.
Jets offensive line is not opening up holes for the running backs as they did in year's past.
Brandon Jacobs is still a head-case
In the offseason, we were told Jacobs and HC Tom Coughlin mended their broken relationship and were no longer screaming at eachother.
Unfortunately, Jacobs put on a show on how to play as dirty as possible in tonight's game.
It all started early in the third quarter, with Jacobs carrying the ball. He was running alongside Jets S Emanuel Cook who went to tackle him. Jacobs then grabbed Cook's facemask as he was going him to tackle him, and dragged him by it as he was going down.
But he wasn't done. Just a few plays later, he threw two punches right at DE Muhammad Wilkerson's face.
Both players were ejected, with many viewers questioning why Wilkerson was also thrown out of the game. Regardless, the fact remains: Jacobs is still a walking time bomb that can explode at any moment.
But on the positive side, at least he didn't throw his helmet tonight!
This article is
What is the duplicate article?
Why is this article offensive?
Where is this article plagiarized from?
Why is this article poorly edited?
Last season, fantasy football owners witnessed Hakeem Nicks' coming out party. In just 13 games, Nicks hauled in 79 catches for 1,052 yards (11 touchdowns). And this was when Steve Smith was on the team high on the depth chart.
Now, Nicks will likely be Eli Manning's go-to receiver in key downs and situations, and should see a lot of balls thrown his way this season. In tonight's game against the Jets, he hauled in five catches for 71 yards (one touchdown) on seven targets.
Most similar to WR Miles Austin, Nicks possesses great vertical speed with an athletic, muscular frame to play defensive backs physically. He poses the ability to stretch the field and can accumulate yards after the catch.
The main issue with the receiver is his injury history. He has missed seven games in his first two seasons in the NFL, and last year struggled while fighting a knee injury late in the season. However, he has not undergone any major surgeries, and it would not be a stretch to say he can start for the full 16 games in 2011.
Nicks will see more targets than any other receiver from QB Eli Manning and his big-play ability makes him worthy of a late first-round pick. This season, the sky is the limit, as Giants will need to score a lot of points to counteract issues in their secondary defending the pass.
Keep him high on your fantasy draft clipboard, especially if he is still available early in the second round.
This article is
What is the duplicate article?
Why is this article offensive?
Where is this article plagiarized from?
Why is this article poorly edited?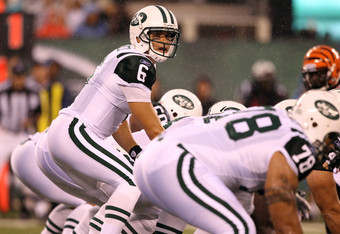 The first half of Jets-Giants is one that Gang Green's offensive unit would probably like to forget.
The Jets have looked anemic on offense, and QB Mark Sanchez has completed only three of nine passes for 12 yards. The Giants have been blitzing early and often and have disrupted his timing. And worst of all, he just fumbled during the Jets best field position of the night in Giants territory (following a David Harris interception).
Sanchez, entering his third season in the NFL, will be facing his biggest test in the 2011 season. In his first two years in the league, the Jets operated behind a run-heavy offense and the young quarterback's role was to be a game manager. Gang Green ran to setup the pass, which made Sanchez's job a lot easier with the pressure off him.
Now, with a plethora of receiving targets around him, OC Brian Schottenheimer has said he's going to remove the handcuffs from Sanchez and look to the air more this year. But how will Sanchez respond?
Critics have said Sanchez has relied on a dink-and-dunk gameplan, sticking to check-downs and quick slants. Until he expands his vertical passing repertoire, they will continue to be critical of his game.
Sanchez does present the ability to extend the play with his athleticism, which is one of his best traits. His accuracy in the short passing game is solid too -- when he is in a rhythm. And right now, midway through the second quarter in tonight's game, the Giants pass rush has taken him out of sync.
This article is
What is the duplicate article?
Why is this article offensive?
Where is this article plagiarized from?
Why is this article poorly edited?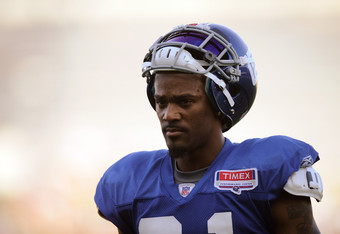 Coming into the 2011 season, the Giants secondary was already thin and lacked depth.
They lost CB Prince Amukamara in the beginning of August to a foot injury that will sideline him until early October for the latest. And last Monday night, they suffered an even bigger blow, losing stud CB Terrell Thomas for the season due to a torn ACL injury.
So how will the lack of depth shake up their defensive schemes?
The beginning of the season will likely be a transitional period with a lot of kinks and mis-communications to work out. It is rumored that S Antrel Rolle will move over to nickel back and play in the slot, but his coverage skills are suspect, and being matched up against a speedy slot receiver could be troublesome.
Right now, CB Aaron Ross will be bumped up on the depth chart and is now forced to play outside -- a position that he has struggled in immensely over the years. While Ross is athletic, his small frame has caused him to struggle in covering bigger, physical receivers. It will be interesting to watch him cover Plaxico Burress tonight.
In order to combat the liabilities in coverage, the Giants will likely blitz more, from all levels of the defense. While Ross struggles in coverage, he is quick off the edge and gives Big Blue a great zone-blitzing option.
The NFC East is a pass-heavy division, and the Giants secondary will be tested all season long. Teams will look to cash in and beat them over the top for the big play when they can, especially early in the year before the unit has time to jell.
This article is
What is the duplicate article?
Why is this article offensive?
Where is this article plagiarized from?
Why is this article poorly edited?

New York Jets: Like this team?