Vitali Klitschko vs. Tomasz Adamek: Why Vitali's Guaranteed to Knock out Adamek
August 30, 2011
Following in the fashion of his younger brother, Vitali Klitschko's upcoming fight will be against a glorified cruiserweight.
The WBC heavyweight champion will line up against Poland's Tomasz Adamek on Saturday, September 10, in what will be the seventh defence of his title.
Although Adamek may be lining up against Vitali in the same ring, the reality is that the two boxers are worlds apart.
Standing at a height above two metres, Dr. Ironfist is 13 centimetres taller than his Polish counterpart, who measures at 1.89 metres.
The difference in height goes hand in hand with Vitali's considerable reach advantage. Although Adamek's reach is a commendable 1.91 metres, his Ukrainian opponent has a reach of 2.3 metres.  
Such a gulf between the statures of the two opponents has also helped give Dr. Ironfist gain a considerable weight advantage.
At 101 kg, Adamek weighs 12 kg less than Vitali. David Haye has shown in the past that such a chasm between the weights of opponents is not fatal, but that was against a lacklustre Nikolai Valuev. Klitschko is a different ballgame altogether.  
Although Adamek is currently undefeated in the heavyweight division, he faces a monstrous challenge in Vitali Klitschko.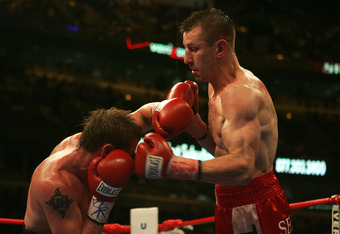 Technical issues and fighting style aside, Vitali should win the bout by merit of his body size.
Taking technical issues and fighting style into account, the facts are equally as unflattering for Adamek.
Although Adamek was a big puncher in the light heavyweight and cruiserweight divisions, such technical talent is rendered useless in the heavyweight division.
Instead, Adamek will have to resort to the similar hit and run tactics David Haye deployed against Wladimir, which ended in failure.
In order to beat Vitali, Adamek will have to get close and avoid the Ukrainian's monstrous jab. This goes completely against the tactics he has deployed in the heavyweight division so far, and even if he was to get close enough to land some big blows, Vitali would be able to ride them.
Adamek has earned the reputation for having a solid chin; indeed he has taken a lot of punishment in the past. The problem is Vitali will continually pound away at the Pole's chin; eventually forcing him into submission. It is difficult to see how Adamek could weather Dr. Ironfist's jab for 12 rounds.
Vitali's fighting style is simple. In fact, it is as basic as it comes, but the Ukrainian knows his strengths and sticks to them. He will not have to change his game to beat Adamek, instead it is the Pole that needs to adapt.
The obvious mismatch between the two athletes is evident in Vitali's press conferences. The Ukrainian boxer claimed that it is impossible for Adamek to beat him.
"I don't think police will let him bring a gun. Maybe a baseball bat? No, not even this can help him!" he said.
However, the Ukrainian did put forward some praise for his Polish adversary:
"Adamek moves around the ring perfectly, and he also has a big fighting heart. He is better than David Haye and our struggle will certainly be better than my brother Wladimir's clash with the British fighter. I'm bigger, but I have to be faster and have better stamina."
"However, remember that I am the heavyweight boxer and I hit hard. Adamek says that speed is his advantage. So we'll see in the ring, which of us will be faster," he concluded.
Adamek cuts an equally as confident figure. "I moved up to heavyweight, and I still continue to win," he said.
"I am aware that Klitschko is the most difficult obstacle in reaching my goal of winning a world title in a third division, but I believe in myself and the work I've done under the supervision of Roger Bloodworth," the Pole added.  
Regardless of the talk, there is a very real risk that the fight will not be dissimilar to Wladimir's bore-fest against Britain's David Haye.
The fight looks set to be an ugly mismatch.
Adamek needs to stay away from Klitschko's jab. To do this, he needs to run. Given the fact that Vitali is not particularly aggressive, there is a danger of it turning into a boring, forgettable bout.