Alexa Flutie: Will Doug Flutie's Daughter Be a Good Luck Charm for Patriots?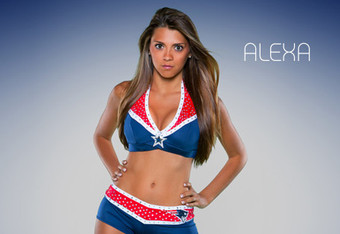 Despite some flashes here and there, Doug Flutie's NFL career never did amount to anything special. He did, however, give football fans plenty of things to remember him by in his time.
And Flutie is not done giving. He may be long gone from the NFL, but his daughter is just breaking in.
No joke. The former Heisman Trophy winner's 23-year-old daughter, Alexa, recently made the cut to become a cheerleader for the New England Patriots, one of the many teams her pop played for during his career.
She's a rookie, but Alexa already has her very own page on Patriots.com. It only reveals her first name, but no doubt you can see the family resemblance. In fact, it's a little uncanny.
The obvious fear here is that Alexa earned her spot on New England's cheerleading roster simply because the organization wanted to honor her father. But Alexa is no slouch. She has a BA in dance, and she actually hopes to become a dance choreographer for music videos and the like. Being a cheerleader is not a spur-of-the-moment thing. It's part of her career path.
Besides, Alexa revealed to Shutdown Corner that she was rejected four times before finally making the squad this spring. In addition, she says she didn't even try to call attention to herself during tryouts.
"I didn't want to bring attention to my last name [during tryouts] because when I do audition, I want it to be about me and my goals and my career… I want people to know me for me, not my dad," she said.
So yeah, Alexa is legit. And just like her pop, it sounds like she has a competitive chip on her shoulder.
Does that mean Alexa will have any influence on what goes on out on the gridiron. Probably not. She may be legit, but she's not that legit.
But then again, you never know. The good folks of New England have infused the Flutie name with plenty of good vibes over the years. At this point, the family name must have a reserve of positive energy. If you're into Marvel movies, picture what the Cosmic Cube would look like if it was a Flutie.
At some point, that energy is going to need an outlet. Maybe that outlet can be Alexa, and maybe she can pass it on to the Patriots.
Hey, it may sound silly. But if and when the Patriots win the Super Bowl this year, I'll wager it will have everything to do with Alexa's presence.
Because, you know, there's only so much Tom Brady can do.

Most recent updates:
This article is
What is the duplicate article?
Why is this article offensive?
Where is this article plagiarized from?
Why is this article poorly edited?