Gilbert Arenas Twitter Battle: Comedian Joe Mande Makes Arenas Look Like a Clown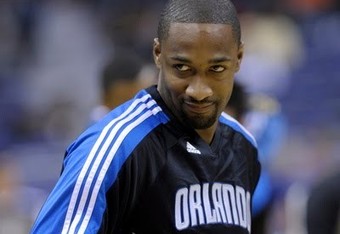 If you haven't heard, New York comedian Joe Mande just posted a breakdown of Orlando Magic guard Gilbert Arenas' Twitter profile pictures.
And it's hilarious.
Given Mande ripped into Arenas, it's understandable that the only logical thing left was a Twitter battle between the two.
And so we got one.
The Twitter battle is lengthy, but Big Lead Sports posted a pretty good breakdown of the heart-to-heart between the two, which mostly consisted of Mande correcting Arenas' grammar.
My personal favorite?
Arenas: "If u were the normal jackass media I would have let it slide but ur not even good at ur job!!"
Mande: "Look up your 10-11 stats."
Oh, burned!
Now, I'll admit I follow Arenas on Twitter, mainly because of the period of time when he was "planking" on sets of dumbbells. But while he will inspire a laugh or two from time to time, it's the sheer ridiculousness of his persona that is the main reason he's an attraction in the Twitter world.
But it's all fun and games until someone gets hurt, which is what I would have told Arenas for planking on dumbbells. Now Arenas, who knows he's an oddball and plays the part pretty good, isn't the funniest comedian, and he just doesn't know what to do. In fact, he's the subject of a joke when he's used to making all the jokes himself.
The sooner Arenas realizes the way he acts projects him as a clown, the less likely someone like Mande will come around and destroy him on the stage.
He's just too easy of a target.
Most recent updates:
This article is
What is the duplicate article?
Why is this article offensive?
Where is this article plagiarized from?
Why is this article poorly edited?