New York Jets: Is Vernon Gholston Biggest Draft Bust in Jets History?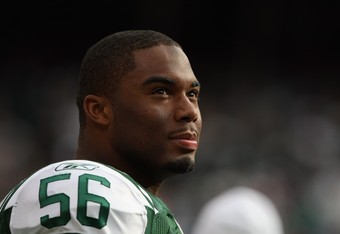 Nick Laham/Getty Images
Each franchise has had their fair share of busts in the NFL, but Vernon Gholston may very well be the biggest in the history of the New York Jets.
According to NFL reporter Jason LaCanfora, Gholston has been released by the Chicago Bears.
Back in March of 2011, Gholston was released by the Jets, signed by the Bears after the lockout and didn't even make it through the preseason.
In order to determine how big of a bust Vernon Gholston is, we must do some digging.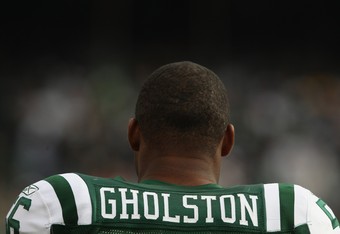 It's Really No Surprise as the Chicago Bears Released Vernon Gholston After Only One Month
In the 2008 NFL Draft, the New York Jets selected Vernon Gholston as the No. 8 overall pick.
He lasted three seasons, totaled only 24 tackles, and zero sacks.
Yes, he counts as one of the biggest busts in recent history, and definitely one of the biggest in Jets' history.
So, how big of a bust is he?
Well, let's first examine a few other busts in Jets' history, and then compare the awful stats.
One that quickly comes to mind is Ron Faurot, also a DL, but he even played in less games than Gholston (20), and only recorded two sacks.
Faurot however, was selected No. 15 overall, and actually contributed more than Gholston.
Moving on we see TE Johnny Mitchell who did have one solid year with the Jets in 1994, but left to test the market after the '95 season.
He returned in 1999, only to last one day.
This next guy is much like Vernon Gholston, as he only lasted three years with the Jets.
RB Roger Vick compiled only just over 1,200 yards and less than ten TDs.
He was chosen No. 21 overall, but it's still some sad numbers, but still nothing like Gholston.
Next up we have RB Blair Thomas, who was the No. 2 overall pick in 1990.
He barely reached 2,000 yards in four years, only five TDs, and was gone after the '93 season.
Another No. 2 overall pick comes in the form of WR Johnny Jones, who had the speed of a cheetah, but hands the opposite of gold.
With only 13 TDs in five seasons, it's no secret as to why he's a bust.
One more DL to speak of, and the last of the biggest busts, which is Dewayne Robertson from Kentucky.
As for the No. 4 overall pick, Robertson significantly under-performed by amassing 174 tackles and 14.5 sacks through four years.
Had he not been drafted at No. 4 overall, and much lower, then it these numbers wouldn't look so bad.
In comparing how Gholston performed to all these other Jets' busts, I'd say he'd be No. 3 on the list.
When you're the No. 8 overall pick, and you don't record one sack in three years, you quickly move to the top of, or at least near, the pedestal of New York Jets' busts.
Head coach Rex Ryan should get to stamp the words "fail sticker" on his Gholston's forehead as evidence by his sad performance in the pros.
Be sure to check out John on Bleacher Report.
And you can follow him on Twitter @ Sportswriter27.
This article is
What is the duplicate article?
Why is this article offensive?
Where is this article plagiarized from?
Why is this article poorly edited?

New York Jets: Like this team?