Arsene Wenger Needs to Stay: Why Letting Him Go Would Devastate Arsenal
August 29, 2011
Arsenal Football Club is in a state of crisis. There is no denying that fact. After being hammered 8-2 at Old Trafford on Sunday, Gooners everywhere are starting to believe that manager Arsene Wenger's time at the club has passed its expiration date.
Wenger, who was brought on as manager of the club in 1996, has won three Premier League titles, four FA Cups and oversaw Arsenal's move to Emirates Stadium after a 93-year run at Highbury. He coached the famous "Invincibles" side of 2003-2004, that did not lose any league matches. There is no denying what the Frenchman has done for Arsenal.
At the same time, however, there are many issues at the club that need to be addressed. Over the summer, captain Cesc Fabregas left North London to rejoin his boyhood club Barcelona. One of last year's standout players, Samir Nasri, made the move to Manchester City. These two departures left major gaps in Arsenal's midfield that have yet to be filled.
Wenger's stubborn approach to the transfer market makes the requirement of plugging the gaps a much more difficult task, because of his belief in academy players. There is no question that if Arsenal are to compete at the level that they desire, they will need to make some signings. With only two days left in the transfer window, fans seem skeptical that the necessary steps will be taken to secure some fresh faces.
On top of Wenger's stubborn transfer policy, at the moment it would seem unlikely that any high profile players would desire a move to the Emirates. After losing Fabregas and Nasri, and after the horrid display at the weekend, the Arsenal name does not carry the same prestige it once did.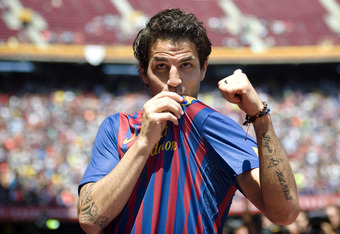 If the transfer window closes without any new signings, and Arsenal's current form continues, there is fear that the top-class players who remain at the club, such as Robin Van Persie, will reevaluate their situation once the January transfer window rolls around. While unlikely, it would not be surprising, in the least, to see names like Jack Wilshere, Theo Walcott and Van Persie linked with moves away from Arsenal.
The current outlook at Arsenal is clearly not one of optimism. However, let's evaluate the situation if Arsene Wenger does leave his post at the Emirates. Arsenal would certainly struggle to find an equally qualified replacement. The likes of Martin O'Neill have been mentioned. However, as we saw with Liverpool and Roy Hodgson last year, a British manager that architects a quality mid-table team does not always succeed at a high profile club.
Once signed, the new manager will have less than two days to secure all the signings that the fans feel the club need, which would make for the busiest transfer deadline day in Arsenal's recent memory. 
The manager would then have to implement a new system of football into, not only the five new signings, but also the 23 squad members that currently reside at Arsenal. There is no one that can get more out of the players at Arsenal than Arsene Wenger. That is simply a fact. Wenger has instituted wholesale changes, from the youth level to the first team, which ensures that all players are on the same page. Bringing in a new manager at the current time would be unwise with just this fact alone.
Arsene Wenger is now in a career-threatening position, but he is not, and should not be treated as though, he is in a career-ending one. The team has played just three league games this season. Their heavy defeat at the weekend was to Manchester United, a team that is likely to win the league this year, just as they did last year. People are also quick to forget that Arsenal have qualified for the Champions League when, with just 45 minutes remaining, most everyone had written them off.
Arsene Wenger has earned his right to a full season, so Arsenal fans everywhere now must give him that. Let Wenger handle the club. He's earned that privilege.