MLB New York Yankees: So How About Getting Jose Molina Now?
August 29, 2011
So, it finally looks like GM Brian Cashman and the Yankees are going to move A.J. Burnett, one of the most inconsistent pitchers of the year, to the bullpen.
The 34-year-old signed to a five-year deal, which means unless he turns things around, he will be a No. 5 starter or a reliever for the next two years. So much for spending $80 million on the guy. 
Burnett had pitched great in 2009, and was a big piece of their championship roster. He went 13-9 with a 4.04 ERA that year, even after leading the majors in walks with 97.  
Then came the struggles. He pitched to an ERA over 5 in 2010, allowing more than a hit per inning.
And this year, he is only responsible for nine wins for the Yankees. Sure, he has allowed 160 hits in 161 innings, which isn't bad at all. However, he still has a bit higher ERA than last year, and is currently leading in runs allowed. 
Fans, including myself, are going to get what they deserve: Burnett moved to the bullpen. He might thrive in the role, or just be a waste of space. However, he's still a bust considering how much he gets paid.
But if Jose Molina is acquired, the problem will be solved. Hear me out.....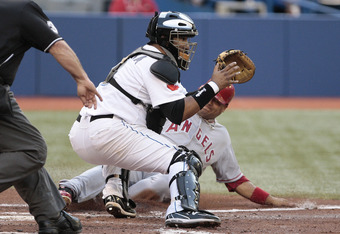 Before the 2011 Spring Training had started, I wrote an article about how Jose Molina can save Burnett. After all, he was a personal catcher for him in 2009, and held hitters to a .221 average for the season.
The reactions I got weren't too good, with most of the comments saying that the pitcher should improve himself, and that the catcher does not matter. There was also a saying that Francisco Cervelli should be behind the dish, because he can hit with guys on base and is a good defensive catcher. Cervelli has a .981 fielding percentage when he is a catcher, which isn't impressive at all. 
Well, Martin's the new guy behind the plate, and the Yankees got a new pitching coach with Larry Rothschild. The result is that A.J. still has not improved. 
To add another reason why Molina should be acquired is that Burnett posted a 3.28 ERA with him in 2009. 
The 36-year-old backup catcher is also hitting .295 with an OBP of .359. He has increased in offensive production and is an above average defensive player. The team that he plays for, the Toronto Blue Jays, aren't in a position to win, so it won't be hard for them to give him up during free agency.
Molina also does not cost much, as he is getting paid only $1 million this year.
There is also the argument that Jesus Montero should be the backup catcher next year. Well, the Yankees haven't even called him up yet. There is no need for a backup catcher if Molina does come in. Montero can instead be used as trade bait for a solid starter that the Yankees need mainly because we don't know what to expect from Freddy Garcia and Bartolo Colon next year (if they do come back). 
Perhaps Molina is a good idea this time around.