NFL Injury Report: Latest on Arian Foster, Wes Welker and Other Fantasy Studs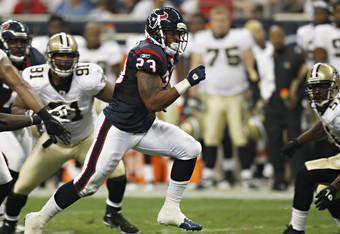 Bob Levey/Getty Images
Week 3 of the NFL preseason was a nerve-wracking adventure for some fantasy owners, as an assemblage of high picks found themselves on the injury report afterwards.
Houston Texans running back Arian Foster re-aggreviated a hamstring injury against the San Francisco 49ers, New England Patriots receiver Wes Welker had a neck scare on tackle on an interception return against the Detroit Lions and, speaking of necks, Indianapolis Colts quarterback Peyton Manning continues to surface in the news with his nerve injury.
Considering Foster is one of the top running back picks in this year's draft, Welker is an always-solid mid-round pick and Manning is a top-five quarterback, that's some serious fantasy injury news that went down in the past week.
There were plenty of other injuries that happened during the course of Week 3 and the preseason that fantasy owners need to keep their eyes on.
Stay here as we give you the fantasy updates you need on all the key injuries in the NFL right now.
Nick Laham/Getty Images
The season-ending ACL injury to New York Giants cornerback Terrell Thomas last Monday night against the Chicago Bears leaves the team dangerously thin at cornerback.
The Giants have already lost first-round pick Prince Amukamara to a foot injury, and Thomas was widely considered New York's best at the position.
With Thomas out of the mix, the Giants will rely heavily on Aaron Ross and Corey Webster at cornerback. They are both veterans, but there's a reason New York drafted Amukamara. They weren't comfortable at the position.
How does this effect the Giants in fantasy football terms?
It won't kill their defense and special teams, but it does hurt. The Giants defense is predicated on rushing the passer and creating turnovers, and any subtraction to the secondary hurts that cause.
However, they'll still a viable option because of that great pass rush. They'll create the sacks and fumble recoveries needed to be a defense you play on most weeks.
At the very least, the Giants are a very good No. 2 defense. If you have an equally good defense along with New York, you can mix and match weeks to play them based on match ups.
This article is
What is the duplicate article?
Why is this article offensive?
Where is this article plagiarized from?
Why is this article poorly edited?
Joe Robbins/Getty Images
The Indianapolis Colts might not think that Peyton Manning can start their regular season opener, but they were prepared to take Manning off the physically unable to perform list on Monday.
Manning, who is still recovering from offseason neck surgery, hasn't practice with the team and won't get the opportunity to play in any preseason games. However, it does open up the possibility of him starting the Colts Week 1 game against the Houston Texans.
Here's what Colts head coach Jim Caldwell told the Associated Press (via the Washington Post):
"He's been throwing. It's going to be a bigger amount, and I don't think it needs a whole lot of explanation. The statement speaks for itself."
Manning had this to say:
"This was one of my goals all along, to be back before the last preseason game. That gives you two weeks on the field to answer the questions coach Caldwell has and I have."
And finally, Manning said this regarding playing hurt:
"I have to be able to play competitively to play because I have too much respect for this game. I have to do what's fair for the team."
Manning has been on the PUP list since Aug. 1. If not removed from that list by the regular season opener, Manning would have had to sit out the Colts first six games. This was obviously a move to avoid that fate.
But it also gives Manning the opportunity to play against the Texans if the neck is right. He hasn't missed a regular season game his entire career—a streak that extends 208 games—and counting him out of any contest two weeks in advance isn't recognizing that fact.
Still, Manning needs to heal and heal fast. He could go without any practice time, but there's going to be some obvious rust. Remember back to 2008 when he used the preseason to recover from a bursa sac injury. He struggled in the season's opening weeks.
In terms of fantasy, this moves is encouraging. At least you know he now has the opportunity to play that first game. But will he? We likely won't know that answer until the last second.
This article is
What is the duplicate article?
Why is this article offensive?
Where is this article plagiarized from?
Why is this article poorly edited?
Elsa/Getty Images
New England Patriots receiver Wes Welker was injured Saturday night against the Detroit Lions as he was attempting to make a tackle on an interception returned. The initial prognosis was a neck injury—which looked somewhat bad on replays—but he told reporters after the game that the injury wasn't serious and his quarterback thinks he'll be fine.
According to Ian Rapoport of the Boston Herald, Welker said "I'm OK," as he walked out of the Patriots locker room after their 34-10 loss.
Tom Brady had this to say to Rapoport regarding Welker:
"He's a tough guy. There's nobody tougher than Wes Welker. He's mentally, physically, he's as good as there is. He's a huge part of our offense."
These are all seemingly good signs for Welker and the Patriots. If you own Welker on your fantasy football team, it doesn't sound like you need to be worried.
However, neck injuries are a tricky thing—as we've found out with Peyton Manning—and it's a situation that's worthy of paying attention to.
The hit looked like it could have been much worse (who teaches receivers how to tackle?), but for now, it doesn't sound like much. While he likely won't play in the Patriots preseason finale, that's par for the course in terms of starters in Week 4 of the preseason. Most typically sit that game out as they prepare for the regular season.
In terms of fantasy, keep on eye on when Welker returns to practice. The Patriots open the regular season on Sept. 11 against the Miami Dolphins, Welker's former team. If he's a full go in practice leading up to that contest, don't hesitate to start him as usual.
But until we know more from the Patriots regarding the full extent of the injury, this is certainly a situation to monitor moving forward.
This article is
What is the duplicate article?
Why is this article offensive?
Where is this article plagiarized from?
Why is this article poorly edited?
Bob Levey/Getty Images
Houston Texans running back Arian Foster re-injured his hamstring Saturday night against the San Francisco 49ers, sparking concern that Foster could be a fantasy risk as the regular season approaches.
Gary Kubiak, the Texans head coach, said Foster is day-to-day:
"Everything was positive today. It looks like we're dealing kind of with the same thing we were dealing with at the start of camp. Hopefully get him back on the rehab train and get him ready for opening day. He'll be day-to-day. I'll keep you guys up to date, but we feel like we're fortunate."
Day-to-day can mean a lot of different things in NFL lingo, especially coming from a head coach. Foster won't play again in the preseason, and it's probably a safe guess that he won't practice until we inch closer to the regular season opener. The Texans play the Indianapolis Colts Sept. 11 in Houston.
It's certainly something to keep an eye on from a fantasy perspective. Hamstring injuries can be a troublesome and they have a history of sticking around with a player throughout the season.
The injury will especially effect him in the early goings. Back in 2009, Ryan Grant of the Packers had problems with his hamstring in camp. While he recovered in time to start the season, he struggled out of the gates.
The Texans have plenty of running back depth behind Foster, so they can afford to be cautious with his return. Coming back from a hamstring injury too early can spell bigger problems down the road. Certainly the Texans don't want that for their reigning NFL rushing champion.
Overall, I still wouldn't hesitate to take Foster high in your draft, but you might have to expect a slow start to his 2011 season. That alone could be enough to drop him in most drafts. However, Foster should still be good for 1,200 yards this season, especially considering how explosive Houston's offense should be.
Keep an eye on the situation, but expect Foster to be ready for the Texans' opener with the Colts.
This article is
What is the duplicate article?
Why is this article offensive?
Where is this article plagiarized from?
Why is this article poorly edited?