Why the NFL Is Infinitely Better with a Healthy Peyton Manning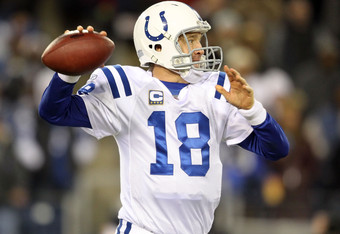 Andy Lyons/Getty Images
It's no secret that the Indianapolis Colts are vehemently better with Peyton Manning than without him.
Also, there's no arguing that he's one of the greatest QBs to ever take under center, as well as one of the best to ever play the game (regardless of position).
And according to Alex Marvez of Fox Sports, Manning has been activated from the PUP list.
So, how important is it that this occurred?
Well, very much so for the Colts, but what about the NFL as a collective unit?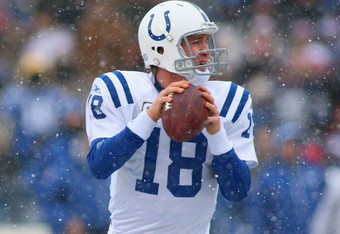 He's One of the Best to Take Snaps, But What About the Best in Marketing the NFL Brand?
Today, Peyton Manning was finally taken off the PUP list, and activated onto the Colts' roster.
It's without a doubt an extreme sign of relief if you're a Colts fan, but what about the rest of the NFL?
We'll begin in terms of what he does on the field, as that is his job and the reason why we all watch him when he goes under center.
Here's where the NFL gets a lot of exposure from Peyton Manning, the all-encompassed football fans that just love to watch a game, any game, as long as it's football.
If you're a fan like myself, having the pleasure and luxury of watching Peyton Manning year in and year out has been remarkable.
Each year he dominates opposing defenses, and does it with such ease.
Not to mention he's one of the few that has the power to call his own plays.
And you know who use to do that when they played for the Colts? Johnny Unitas.
Since Manning entered the league in 1998, he's thrown no less than 26 TDs each season, started 208 consecutive games entering 2011, and has thrown over 4,000 yards in 11 of his 13 years.
In addition, Peyton has played in two Super Bowls, winning one of them.
From the fans' perspective, you have to appreciate what you're watching because a player of his talent is extremely rare.
Now let's move on to his off the field perception.
Manning has hosted NBC's Saturday Night Live, guess voice on Fox's The Simpsons, and has appeared in numerous commercials for company's such as DirecTV, Sprint, Sony, and Mastercard, among others.
He is also a part of multiple charitable organizations, thus enhancing his own brand in addition to being the most marketable player in the NFL.
Now imagine how marketable the NFL and/or Manning would be if he were to be injured more often than not.
Well for starters, Colts and football fans everywhere would not have had the luxury of watching him set all those records, win four NFL MVP awards, take Indy to nine consecutive playoff appearances, and get voted to 11 Pro Bowls including eight All-Pro selections.
Then in the world of pop culture, if you weren't a football fan, you would not have known who he was while also becoming more aware of the NFL.
Which in turn, would have made the commercials less appealing, as well as his TV appearances, that is, if they would have even occurred.
Pretty weird, huh?
Luckily for us football fans and for those that are well aware of his off the field appearances, Manning is back to work because that's how he came about in the first place.
As we know, professional athletes are very marketable, but when they excel on the level that Peyton has, they can take the league in which they compete to a whole nother level.
And to think, he's done all of this in a small market city called Indianapolis.
Now that is impressive.
Be sure to check out John on Bleacher Report.
And, you can follow him on Twitter @ Sportswriter27.
This article is
What is the duplicate article?
Why is this article offensive?
Where is this article plagiarized from?
Why is this article poorly edited?

Indianapolis Colts: Like this team?