WWE News: Kurt Angle "Insulted" Be WWE's List of Top 50 Superstars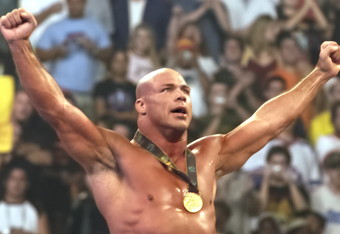 WWE News: Should Kurt Angle Be Surprised By His Placement on Top 50 List?
Kurt Angle is, in my opinion, one of the best wrestlers of all-time.
He has everything you want from a pro wrestler: The look, the charisma, the mic skills and, most importantly, the in-ring abilities. Perhaps that's why he didn't take too kindly to being ranked No. 34 on the WWE's recent DVD set, WWE: Top 50 Superstars of All Time.
Check out went Angle recently wrote on Twitter regarding the DVD:
I have never been More Insulted By Wwe top 50.#34 to Me Is a kick to the balls!Take Me out of ratings.please.U think fans will buy that crap... Shawn Michaels Deserves #1. He has Been Putting On Awesome Matches for Well Over 20something Years. I Will Not Complain. It is What It Is!!!
My first question to Angle is: Dude, did u just see the list? It was released almost a year ago.
My second—and more serious—question is: Do you think this list really means anything at all?
I mean, the WWE is the same company that never mentions Chris Benoit in any way, shape or form. I can't really say that I blame for that, but that's just one example of how the WWE manages to erase something from history if a WWE or former WWE star does something to piss them off.
The WWE's list of its "Top 50 Superstars of All Time" has so many inconsistencies that it's not even funny.
Jerry Lawler is listed ahead of Hulk Hogan, who is probably the most well-known wrestler in history and the biggest WWE star ever, but somehow fell to No. 23. Ric Flair is all the way down at No. 17, when Rey Mysterio is somehow ahead of "Macho Man" Randy Savage. There are also wrestlers on this list—like Lou Thesz and Jack Brisco—who never actually wrestled for the WWE.
This list does not have set standards as to why one superstar is better than another. Some are ranked where they are because of what they did in the ring, some because of what they did on the mic and some for God knows what reason.
Why Angle even lets this list faze him is beyond me. The vast majority of people who read that list or watch the DVD probably realize that Angle should be ranked in front of plenty of wrestlers who are actually ranked ahead of him.
The WWE is Vince McMahon's company, and I'm sure he had the ultimate say-so when it came to compiling these rankings. He was going to put the wrestlers where he—and he only—thought they should be.
I'm sure that, deep down, he knew both Angle and Hogan should be higher. But they both work for the competition (TNA) now. From Vince's perspective, it wasn't good business to boast about two guys who are now working for his No. 1 rival.
Angle should know that as well as anyone else.
Most recent updates:
This article is
What is the duplicate article?
Why is this article offensive?
Where is this article plagiarized from?
Why is this article poorly edited?