2012 NFL Draft Big Board: Chris Steuber's Top 25 Prospects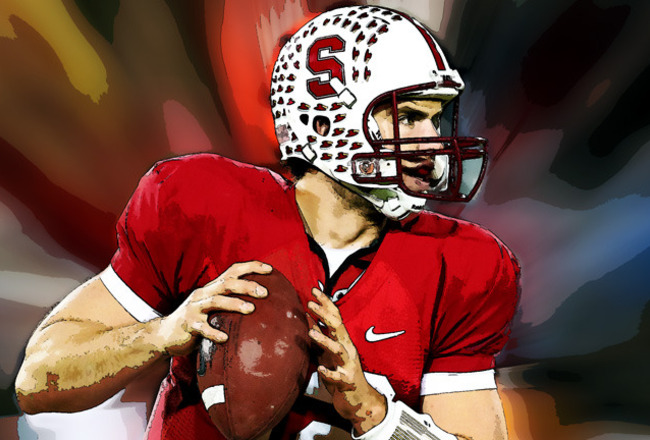 While the NFL endured four-and-a-half months of darkness looming over its $9 billion locked-up fortress, the college football palace has operated under cloudy skies with some turbulence along the way. And even though it wasn't a smooth ride for college football this offseason, thankfully, it was business as usual and no offseason workouts were forcibly missed.
We're all ready for the regular season to kick off in the NFL and college football, and later this week college football will officially get underway. But before it all begins, let's fast forward and take a peek at what's on the horizon for the 2012 NFL Draft.
Stanford quarterback Andrew Luck leads a potentially stacked crop of draft-eligible prospects, who may consider leaving school early; 18 of the 25 players featured in my Big Board are underclassmen. Many of the prospects listed in my Big Board are also teammates; seven teams (Alabama, Nebraska, North Carolina, Oklahoma, South Carolina, Stanford and USC) have at least two players listed.
Here's an early look at the top 25 draft-eligible prospects for next April's spring spectacle.

*Denotes underclassmen
1. *Andrew Luck, QB, Stanford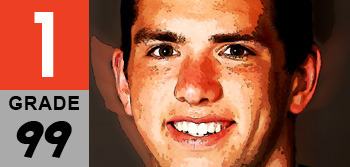 Not since Peyton Manning has a quarterback prospect been so highly touted in the collegiate ranks. And to some, including myself, Luck grades out higher than Manning did when he entered the 1998 NFL Draft.
As a player, Luck brings the complete package to the field. He's a highly accurate passer, who has the size, arm strength, intelligence, mobility and poise necessary to immediately lead a team at the next level. He finished the 2010 season completing an incredible 70.7 percent of his passes for 3,338 yards, 32 touchdowns and just eight interceptions.
2. *Matt Kalil, OT, USC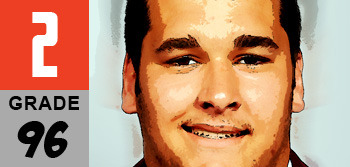 The rise of Kalil in 2010 was a pleasant surprise for the Trojans. He started his career at USC as a backup right tackle and quickly emerged as a dependable blindside protector. The brother of former USC standout Ryan Kalil, who's emerged as one of the NFL's elite centers with the Carolina Panthers, has an opportunity to be a top-five pick in the 2012 draft if he continues to improve on his craft and declares.
He has to improve his upper-body strength and technique, but from an athletic standpoint, and if you factor in his measurables and pedigree, Kalil will be a coveted prospect.
3. Quinton Coples, DE, North Carolina
Taking advantage of the unfortunate situation North Carolina was in last year with the suspensions of Robert Quinn and Marvin Austin, amongst others, Coples stepped up and emerged as a premier talent. As a starter in 12 of the Tar Heels' 13 games, Coples recorded 59 tackles, 15.5 for a loss and 10 sacks.
Regarded as the premier pass-rusher entering the 2011 season, Coples will have to cope with the opposition placing more attention on his every move. With that said, Coples' numbers could dip a bit this season, but he will still make an impact.
4. *Matt Barkley, QB, USC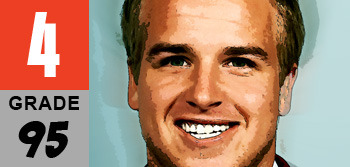 The progress Barkley made from his freshman year to his sophomore season was astounding. He went from an unsure and erratic quarterback to a poised superstar within a year. With each start, Barkley's confidence became greater and his ability as a passer and leader shined through. Last season, Barkley completed 62.2 percent of his passes for 2,791 yards, 26 touchdowns and 12 interceptions.
Expect a more complete player this season and, if he declares for the draft, he should emerge as the signal caller to be selected after Luck.
5. *Dre Kirkpatrick, CB, Alabama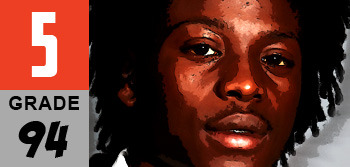 A big, physical corner, who possesses great ball and cover skills, Kirkpatrick, who was a first-year starter last season, put together a solid introductory campaign in a tough SEC collecting 53 tackles, four for a loss and three interceptions. He's regarded as an ascending player, who's only scratched the surface with his immense talent.If all goes well and he declares for the draft, Kirkpatrick should be the No. 1 cornerback off the board in April.
6. *Landry Jones, QB, Oklahoma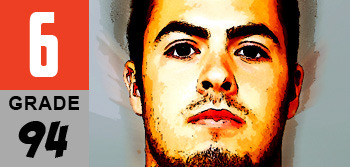 When Sam Bradford went down with a shoulder injury during the 2009 season, Jones got his chance to start and showcase his ability. He performed extremely well to the tune of a 58.1 completion percentage for 3,198 yards, 26 touchdowns and 14 interceptions. Last season, with Bradford out of sight and in the NFL, Jones truly arrived as the leader on offense and completed 65.6 percent of his passes for 4,718 yards, 38 touchdowns and 12 interceptions.
He proved to the scouting world that his name should be mentioned with the other top quarterbacks in the country, and that his play is worthy of first-round consideration next spring.
7. *Justin Blackmon, WR, Oklahoma State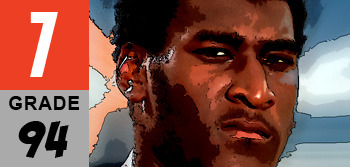 After a breakout (redshirt) sophomore campaign, Blackmon, who hauled in 111 receptions for 1,782 yards and 20 touchdowns, seemed destined to declare for the 2011 draft and cash in on his efforts. But, he surprised everyone when he announced that he would remain at Oklahoma State for his junior season. He's a big play, No. 1 threat, who works hard to make the game easier for his quarterback. Expect Blackmon to contend for his second consecutive Biletnikoff Award.
8. *Alson Jeffrey, WR, South Carolina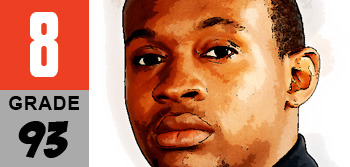 An imposing figure at the wide receiver position, Jeffrey has quickly become one of college football's best offensive threats. He's a mismatch for most of the defenders he lines up against, and gives opposing coaches headaches because they can't simulate his size and speed in practice. Jeffrey's offensive production from 2009 (46/763/4) to 2010 (88/1,517/9) doubled, and he's expected to equal or better his output this season. Jeffrey, if he declares and produces as projected, should be a top-10 pick next year.
9. *Jonathan Martin, OT, Stanford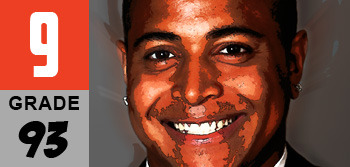 Luck is a special player and it's possible that even with a marginal offensive line he would still post the numbers he's produced. But with Martin protecting his blindside the last two seasons, Luck has developed into a phenom and Martin has benefited from his success. It helps that Martin protects Luck, but it's his athleticism, durability and toughness that distinguishes him as a top prospect.
10. *Trent Richardson, RB, Alabama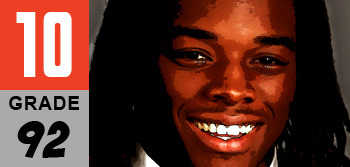 Richardson has featured back qualities, but has never had the opportunity to demonstrate them full-time, as he's shared carries with Mark Ingram the past two seasons. During his first two years at Alabama, Richardson has totaled 257 carries for 1,451 yards and 14 touchdowns. What makes Richardson so special as a runner is his balance and strength. He gives maximum effort on every carry and always pushes forward for tough yards.
11. Jared Crick, DT, Nebraska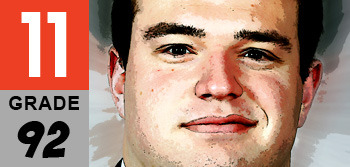 The departure of Ndamukong Suh had no effect on the production of Crick during his junior season; he actually mirrored his 2009 production in 2010. One of the elite trench terrors in the nation, Crick is a true penetrator and has a solid repertoire of moves to use against the opposition. Crick is versatile and will have great value as a five-technique in a 3-4 defense at the next level.
12. *Brandon Jenkins, DE/OLB, Florida State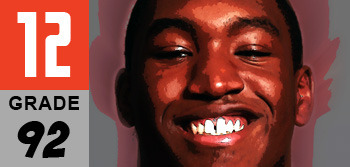 Jenkins is an undersized defender, who had a highly productive sophomore season for the Seminoles. As a first-year starter in 2010, Jenkins exploded on the scene and generated 63 tackles, 21.5 for a loss and 13.5 sacks. Some may say Jenkins is a one-year wonder, but he continues to get stronger and, if he declares for the draft, a top-15 selection could be in his future.
13. *Jerel Worthy, DT, Michigan State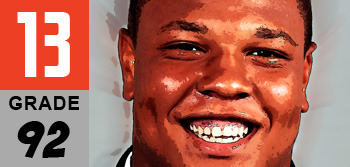 A strong interior presence, who already has two years experience as a starter, Worthy could easily increase his stock as the season progresses. In his two years with the Spartans, Worthy has been a consistent force and has accumulated 77 tackles, 17 for a loss and 8.5 sacks.
14. *Donte Paige-Moss, OLB, North Carolina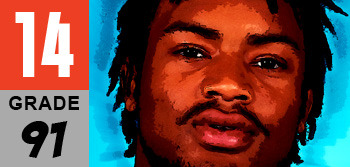 Just like Coples, Paige-Moss emerged in place of the suspended Tar Heels stars last season and recorded 49 tackles, 13.5 for a loss and seven sacks. He will draw interest from teams that run a 3-4 defense, but while he's rangy, he's also strong and can be a factor as a 4-3 defensive end. It's his versatility and upside that will make him a high draft pick.
15. Matt Reynolds, OT, BYU
In the mold of former Baylor offensive lineman and 2011 first-round pick Danny Watkins, Reynolds enters the season as a known prospect, but is being undervalued. As big and as tough as they come at the left-tackle position, Reynolds was bothered by and still played with a torn left shoulder in 2010, which hurt his play to a degree. He's healthy now, has lost 30 pounds and is ready to move up draft boards.
16. Chase Minnifield, CB, Virginia
As a first-year starter in 2010, Minnifield stepped up in place of the injured Ras-I Dowling and proved he was one of the country's best all-around cornerbacks. Minnifield also displayed toughness last season playing the final four games of the year with an ankle injury and still managed to produce 48 tackles and six interceptions.
17. Courtney Upshaw, LB, Alabama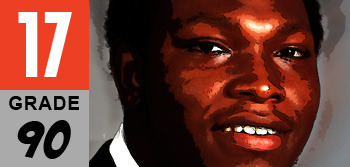 Upshaw is a hard-nosed, playmaking linebacker, who in his first year as a starter made huge leaps into the national spotlight last season. After totaling 52 tackles, which included a team high 14.5 tackles for a loss and seven sacks, Upshaw, with another big year, could improve his stock even more and emerge as a top-15 selection.
18. *Stephon Gilmore, CB, South Carolina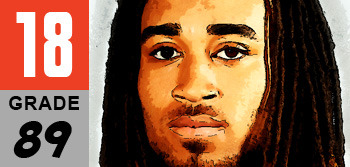 Entering his third year as a starter, Gilmore has quickly developed into a leader on defense for South Carolina. Gilmore is a hard worker, and that hard work paid off last year as he led the team in tackles (79) and interceptions (3), and also contributed to the team's sack total with three of his own. He's definitely a prospect who will continue to ascend up draft boards.
19. *Manti Te'o, ILB, Notre Dame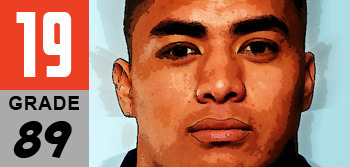 A highly touted high school recruit who's lived up to the hype during his first two seasons at Notre Dame, Te'o has proved to be a durable, productive playmaker for the Irish. He's coming off of a breakout sophomore campaign where he recorded 133 tackles, 9.5 for a loss, a sack and a forced fumble. The scary thought is that Te'o will only get better.
20. *Jayron Hosley, CB, Virginia Tech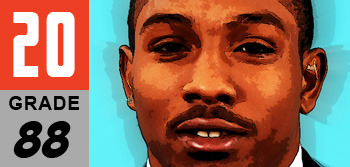 One of the most instinctive and exciting defensive players in the nation, Hosley is slight in stature and isn't physically intimidating, but he gives effort as a tackler and is improving in that area. As a first-year starter in 2010, Hosley led the nation in interceptions with nine and also contributed 39 tackles.
He probably won't be tested as much this year, due to his success and the exceptional route recognition he possesses. Overall, he should be rated higher, but the taller, more physical corners have greater value.
21. *Riley Reiff, OT, Iowa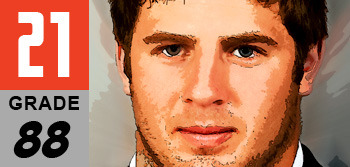 Reiff is another guy who will likely be rated higher on this board as the season progresses. There are many things to like about him; Reiff has the size, technique and experience scouts salivate over. He's been a starter the last two years at left tackle for the Hawkeyes, but does he translate to the left side in the NFL?
He's a maximum effort guy who loves the physical aspect of the game, but athletically, he's not very fluid. If scouts view him as a right tackle, that could affect his stock.
22. *LaMichael James, RB, Oregon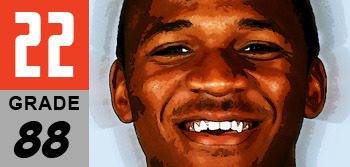 There's only one word to describe James and that's electric, but as an NFL prospect, James' size will come into question and the debate will be if he can be an every down back. During his career, he's displayed his durability, and last year he carried the ball 294 times for 1,731 yards and 21 touchdowns.
Yes, he's small, but when you watch the Ducks dandy his style is reminiscent of former NFL running back Warrick Dunn. Dunn was small; ended up being a first-round pick and had a very successful career.
23. *Luke Kuechly, ILB, Boston College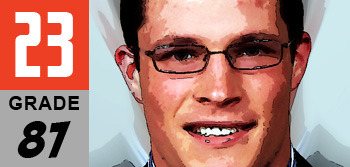 Kuechly is an outstanding football player, and he brings the consistency and leadership qualities NFL scouts covet. As a sophomore, Kuechly led the nation in tackles with 183, 10.5 of which were registered for a loss. He also recorded 1.5 sacks and three interceptions. He's a bit underrated on this board, but if he continues the production he's posted over the last two seasons he will find himself in the top 20 soon enough.
24. Alfonzo Dennard, CB, Nebraska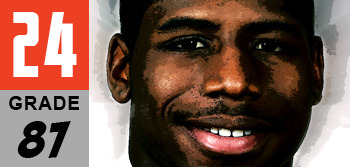 When the Nebraska secondary was mentioned last year, most of the conversation was based around Prince Amukamara, and that was expected. But as a first-year starter in 2010, Dennard out-played Amukamara and recorded 30 tackles and four interceptions. He locked down the opposition with his physical style, but without Amukamara, can Dennard take the next step and become an elite prospect? We'll see.
25. Ryan Broyles, WR, Oklahoma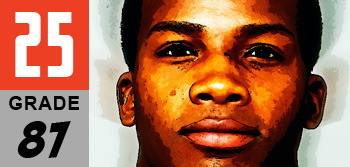 Broyles doesn't possess the desired size for a wide receiver and isn't a burner, but he's one of the most consistent playmakers in the country. All he does is catch passes and produce; last year, he had the quietest 131 receptions in college football history. His production is rarely discussed and it's unfortunate, especially since he amassed 1,622 yards and 14 touchdowns. He has first-round credentials.
Keep Reading