Manchester United 8-2 Arsenal: Why Sacking Wenger Is Not the Answer
August 28, 2011
This may be the most difficult piece of writing I have had to do during my short time at B/R. Indeed, for most of today, words have escaped me, and I am sure most of you, after the match this morning.
It's never easy swallowing a loss to your rivals, let alone United. It is unfathomable, however, to try and comprehend losing 8-2 against United, and I think most supporters are still in disbelief.  I have defended Arsene Wenger through good times and bad, and today may be the most difficult of times to do so.
Arsenal has suffered from its fair share of critics, with fans and others alike bemoaning the club's decision to sell Fabregas and Nasri and have no suitable replacements for them. It has also suffered criticism on the area of not buying a proper defender to help shore up a perennial weak spot of the team. Most of the criticism leveled at the club has been founded in decent logic, and I agree that we MUST buy quality players.
The transfer window closes on Wednesday. Wenger has had tough times before, but ultimately I believe that the days running up to the closing of the window will now be the most important of his Arsenal career.
Arsene, and the team's performances of late, have not helped quiet the critics and vocalize the supporters. Instead, a draw with Newcastle, a loss to Liverpool, and our destruction at the hands of United have now made some see sacking Wenger as the only answer to the club's problems. The small contingent of fans who wanted Wenger out are seemingly being proven correct, and their numbers may be rising to a certain extent.
This article, however, is not supportive of that view. This article is calling for calm and I believe that ultimately, Wenger cannot be sacked at this stage of the season. I'm sure many critics will laugh and gladly call me, and anyone who still believes in Wenger, as naive and stupid, but we must look at the facts objectively.
It is easy to call for Wenger's sacking after a defeat like this, but we must realize that it is a change in the manager's ideology and tactics, and not the manager itself, that is needed. Sacking the manager three games into the season will help no one, least of all Arsenal.
If he cannot change his ways by the end of the season, then and only then should we contemplate what the club will do moving forward.
I don't think any of us would have expected to play with so many injured players and suspensions to the squad. The likes of Wilshere, Gibbs, Vermaelen, Sagna, Frimpong, Gervinho, Diaby, et al missing is a big blow for the team. It is not an excuse for Wenger not buying quality replacements, but the fact remains that playing Francis Coquelin against an experienced United side is not a sign of good things.
This hammers in the point that Wenger needs to buy, but this does not hammer in the point that Wenger is a lost cause. Let's see what Arsenal does with the transfer window closing soon before we assume that we're going to be relegated.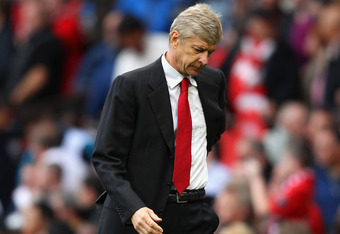 In a time like this, internal strife is not what is needed. Not in the team, or amongst the fans. This does not mean blind devotion, but when people start saying that they're done supporting the Arsenal, or that the team is finished, it helps no one.
There's a reason why when we were 3-1 down to United, you could loudly hear our 3,000-5,000 fans singing above United's 65,000+. Our fans, especially our travelling fans, are behind this team through thick and thin. For us to now criticize the team only hurts our chances for improvement.
If we can stand behind the team after a win, we must stand behind the team after a loss. For the fans to sing "We love you Arsenal, We do" for most of that game, repeatedly, tells you enough. Wilshere's tweet after the game sums it up perfectly when he said, "I heard all the Arsenal fans singing! You my friends are a f***ing...inspiration to Arsenal football club and I love you."
We've suffered a terrible loss today, one that we won't forget for a very long time, if ever, but we must now move on and get behind the team.
With the sacking of Wenger, I've come across some disturbing ideas. One writer on this very website suggested Rafa Benitez and Louis Van Gaal. While Van Gaal wouldn't be nearly as bad as Rafa, it's scary to think that some people view Wenger's ability so low.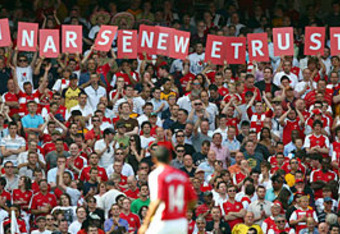 There is a reason why mostly all the Arsenal players, past and present, put so much faith in this manager, even during these troubling times. Are they content with what is going on? Absolutely not, but they know that he is the man that can, and must, get Arsenal out of this problem.
I thought Seaman had some interesting comments after the game. He made the excellent point on Twitter that when he played, trophies were expected and the current result was "not good enough." His comments were soon taken to assume that he meant Wenger should be removed, and he was quick to reply to the critics, saying, "Don't all have a go at the manager. ATTITUDE needs to be different!"
Henry Winter made almost the same point, saying, "Being asked by people if I feel Wenger should go. No...need a change of the manager's transfer policy, not a change of manager. Yet."
No one, least of all me, is saying that everything is fine at Arsenal and that Wenger is doing a fine job. But, when we call for Wenger's sacking three games into the season, we sound more like the spoiled Roman Abromavich than anything that resembles The Arsenal. 
The players still believe in this club, and the manager. Former legends still support this club and the manager. The least we can do is wait and see what happens. These next couple of days are extremely important for both the club and the manager, and will certainly help prove either our desire to remain at the top, or that changes should be contemplated.
Six years without a trophy, coming on seven. For most clubs, managers would have come and gone by now. Ultimately, with the flow of football, these periods are inevitable for a club. Look at Manchester United and you will find periods of history where they haven't won anything. Look at Liverpool and see the last team they've won the league.
Six years is a long time, no one would say differently, and the club has become used to success. The club, however, has become used to success in no small part because of the same manager that some "fans" want sacked. No one is untouchable, but Arsene Wenger must be given more time than three games into the season.
In the history of this football club, it is very likely that we will look back on this time and see that the club and it's fans were strengthened during this period. This is the time when we will find out who supports the club and who doesn't. This is the time when those 3,000 traveling fans must now be transformed into 60,000 at the Emirates and millions worldwide.
This is the time that "Arsenal till I die" means more than we've ever imagined.
We love you Arsenal. We still do, and always will.
Follow me and continue the discussion on twitter @pcammarata