Philadelphia Eagles: With Added Firepower and Pressure, Can They Succeed?
August 29, 2011
To start this article, I would like to thank Jeff Lurie.
After 14 years of suffering through offseasons where the Eagles could have signed big names such as Julius Peppers, this offseason they finally went out and signed many big-name free agents such as Cullen Jenkins and Nnamdi Asomugha to put the team in position as a Super Bowl favorite.
Now being the Super Bowl favorite comes with positives and negatives. One HUGE negative is the pressure. The media, other teams, and most of all, the fans, have all eyes turned to the Eagles. Especially with the nature of Philadelphia sports fans, the pressure increases. 
Even in a meaningless preseason game against the Steelers in which Mike Vick threw three interceptions, questions where flying about the new-look Eagles.
As much as it hurts for me to say, here are some reasons the Eagles will NOT live up to the expectations put on them:
1) The Lockout
The lockout really hurt the Eagles. Even though they signed many talented free agents, they have had very limited time to "gel" as a team.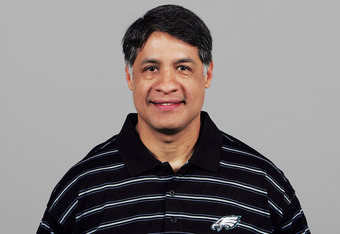 Training camp was shortened, and it may take some of the players a couple of games to get into "regular season form".
In the NFL, time and preparation are everything, and the Eagles didn't have much time to get the necessary preparation in for the regular season.
2) Juan Castillo
As a first-year defensive coordinator for the Eagles, Juan Castillo has the second most pressure on the team. Who has the most pressure, we'll get to that later.
Castillo played linebacker in his playing days, but has never coached on the defensive side of the ball. He brings a lot of energy to the Eagles revamped defense, but once again doesn't have the time with this Eagles defensive.
During the Steelers game, Castillo was experimenting with a zone that clearly didn't work.
Hopefully by the time Week 1 comes, he will be done experimenting.
3) Mike Vick
Yeah, Castillo may have a lot of pressure on him. But, Vick has the most pressure on him on the team, and maybe even in the league. As ESPN "First and 10" host Skip Bayless said on Twitter yesterday, Vick is a good NFL quarterback, but not a great one.
The season of the Eagles rides on Vick's shoulders, and that may be too much pressure for him. Vick has only played 16 games once in his career, and towards the end of the season last year, his play declined.
Many critics have criticized Vick's ability to consistently play at the same level for all 16 games of a season.
Hopefully for Eagles fans, Vick will prove critics wrong like he has his whole career. Also, Eagles fans hope that this version of the "Super Team" will turn out better than the Miami Heat did.