Saints vs Raiders Sunday Night Football: Live Reaction to Game's Biggest Stories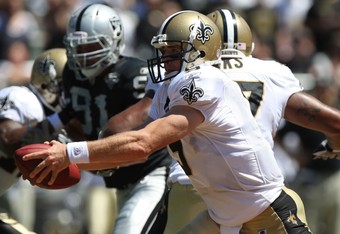 Jed Jacobsohn/Getty Images
Saints vs. Raiders highlights the Sunday night primetime feature for NFL Preseason Week 3 and features more than a few marquee names. Drew Brees, Jason Campbell, Darren McFadden, Mark Ingram and Terrelle Pryor all figure to get more than their fair share of face-time tonight, as New Orleans takes on Oakland at 8 p.m. ET on NBC.
In accordance with preseason practices, starters will more than likely play into the third quarter tonight. Oakland's post-Nnamdi Asomugha secondary should expect to face a great challenge from Brees and receivers Marques Colston, Lance Moore and Robert Meachem. Promising second-year tight end Jimmy Graham will also test the mettle of the Raiders secondary.
Oakland isn't exact toothless on offense itself, though, and the Saints defense has been inconsistent over its last few games. Look for a loaded backfield of McFadden, Michael Bush and Taiwan Jones to test the run-stopping ability of the Saints front seven.
Tonight also officially begins Pryor Watch at the professional level. Pryor, the controversial former Ohio State Buckeyes quarterback drafted by the Raiders in the third round of the 2011 NFL Supplemental Draft, is on the field for warmups today (with newly-signed Oakland cornerback Lito Sheppard) and will reportedly wear No. 6 for the silver and black. Pryor is not expected to play tonight, but don't be surprised if his name is brought up on the broadcast more than a few times tonight.
We will be updating with developments from this preseason showdown leading up to, during and after the game. Stick with us for all the latest Saints vs. Raiders news and analysis.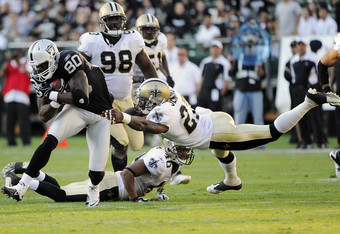 The Saints took the Raiders to the woodshed on Sunday Night Football, 40-20. Both teams looked to the air early and often so as to exploit the opposing team's secondary.
Here are five things of note we learned from tonight's match-up:
TE Jimmy Graham is going to be a big player in Saints' offense this season:
Graham was targeted eight times in tonight's game -- all in just three drives! He hauled in five balls and accumulated 73 yards. Graham lined up in the middle of the field as well as on the outside, so as to attempt to create match-up problems against the Raiders' defensive unit.
The athletic tight end has great hands and runs like a wide receiver -- any quarterback would be happy to have him at their disposal. Graham and Brees have good chemistry, picking up where the two left off last season.
Graham is a great fantasy football pickup, as he will see targets in the middle of the field, as well as in the red zone. Draft him in the middle rounds if you can.
Raiders' run game is potent:
No Darren McFadden? No problem. Even without their No. 1 running back, Oakland mustered 127 rushing yards on 24 carries tonight. Fourth-round draft pick, Taiwan Jones, showed off his excellent burst speed and rushed 13 times for 81 yards (one touchdown).
QB Jason Campbell will take on more responsibility this season:
The Raiders passed 34 times and rushed only 24 times in tonight's game. Could the reason be related to Campbell's development?
The quarterback looked comfortable in the pocket, completing 12 of 17 passes for 150 yards (one touchdown, one interception). He made smart decisions with the football, except for one pass he forced into double coverage at the end of the first half. The Raiders were in field goal range, but Campbell attempted to force one into coverage in the end zone -- looking for the touchdown instead.
Throughout Campbell's career, he has found himself in difficult situations. In Washington he endured the constant personnel changes and new offensive coordinators. And he was later traded to Oakland during a period of rebuilding.
Campbell was reunited with offensive coordinator Al Saunders in the offseason. Could this result in a career year for the seventh-year quarterback?
Saints will run more in the red zone this year:
New Orleans found themselves in the red zone many times in tonight's game, but employed a different strategy on offense than that of last season.
Rather than spreading teams out with their passing game and looking to the air when in the red zone, Saints packed it in and attempted to run the ball in between the tackles with running backs Mark Ingram and Pierre Thomas (each back garnered a touchdown).
This is the reason Brees racked up 189 passing yards but threw for no touchdowns tonight, as Saints' mantra was to run the football into the end zone when approaching the area.
-Matt Birch
This article is
What is the duplicate article?
Why is this article offensive?
Where is this article plagiarized from?
Why is this article poorly edited?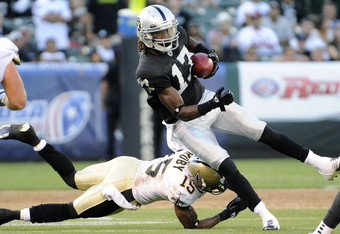 Last season, the Raiders ranked fourth in the NFL in rushing attempts per game (31.5). Their passing game was anemic and the offense was predicated on running -- first and foremost -- to setup the pass.
This year could be a different story.
While Raiders have a deep and talented backfield, they do operate behind a lackluster offensive line, which could really hinder their production. And the Raiders do have a young group of talented, speedy wide receivers that can accumulate yards after the catch with ease.
So maybe that was why they passed 34 times in tonight's match-up with the Saints, and ran just 24 times.
The Raiders have three quality running backs they can employ in their backfield: Darren McFadden, Michael Bush and Taiwan Jones. McFadden and Bush are strong runners in between the tackles while the speedy, change-of-pace Jones possesses big-play ability also.
Still, Oakland looked to the air often with quarterback Jason Campbell in the first half of tonight's game. Campbell completed 12 of 17 passes for 150 yards (one touchdown, one interception).
The Raiders were projected by many analysts to operate in a run-heavy offense. After watching tonight's game, it appears that may not be the case. Were the Raiders looking to play match-ups and chose to attack the Saints' secondary for a reason? Or was this just a preview of what is to come?
Offensive coordinator Al Saunders has always run a West Coast offense. We'll have to wait and see about what plans he has in store for the Raiders.
-Matt Birch
This article is
What is the duplicate article?
Why is this article offensive?
Where is this article plagiarized from?
Why is this article poorly edited?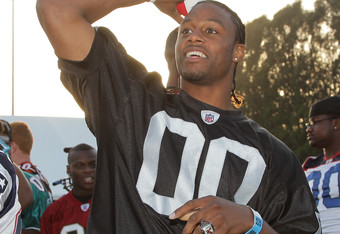 It's been nearly a decade since the Oakland Raiders had a capable starting quarterback. This area hasn't been Al Davis and Oakland scouts' strongpoint in recent years.
But damn, they are deep at the running back position! And it appears one of their new draft picks out of Eastern Washington University will be no exception.
Taiwan Jones -- who they selected in the fourth round of the 2011 Draft -- has already carried the ball 13 times for 81 yards (one touchdown) in tonight's match-up with New Orleans. The young running back has been a huge spark for Oakland since taking over for Michael Bush.
While his small frame renders him ineffective running in between the tackles, Jones offers a great change-of-pace option at running back for the Raiders and would complement Darren McFadden nicely. He can also be utilized in the screen game due to his pass-catching ability and great burst speed.
Jones does a great job of hitting holes and exploding through them. If the Raiders find themselves matched up against a team that struggles tackling in the open field -- such as the Bills or Jaguars -- the young running back could be an explosive weapon in Raiders' running game..
So could Jones be a fantasy football sleeper?
Definitely, as Jones possesses game-changing, big-play ability and can find the end zone at any given point in time during a game. And regarding the Raiders' depth chart, McFadden has a history of injuries and Bush is more of a short-yardage back. Jones offers more versatility for Oakland and could surpass Bush as the No. 2 option in the backfield.
At the Combine, Jones attracted attention as he ran his 40 in the high 4.2 range. The speedy, elusive running back can bust a big play every time his hands touch the football. He could be a great late-round (or even waiver wire) pickup in PPR leagues, so keep him on your radar.
-Matt Birch
This article is
What is the duplicate article?
Why is this article offensive?
Where is this article plagiarized from?
Why is this article poorly edited?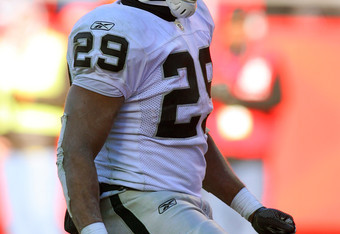 Oakland Raiders running back Michael Bush currently serves as the handcuff to starter Darren McFadden, but rookie Taiwan Jones might have something to say about that before the 2011 NFL regular season begins.
In his first drive in Sunday night's Saints vs Raiders preseason contest, Jones rushed nine times for 59 yards and a touchdown. On at least two of those runs, there was absolutely nothing in front of Jones after accepting the handoff but New Orleans linebackers, and Jones still managed to freeze the defenders and burst forward for a first down.
Jones appears to be a star in the making in his young Raiders career. He's quick, agile and decisive. He can shift into another gear once he gets past the line of scrimmage. And more importantly than anything else, he sees the field well. He has a great sense for the defense and his run-blocking -- particularly, where the blocking is breaking down.
So will he threaten to take over Michael Bush's carries during the 2011 NFL season?
In terms of pure talent, there's an argument. And Jones would certainly be a great compliment to Darren McFadden. The larger issue, though, is the health of McFadden, or rather the (low) likelihood that McFadden stays healthy for an entire season. More than likely, Oakland will need to employ a three-deep backfield anyway, so even if Jones does usurp Bush's primary backup role, both will likely still see significant carries at some point during the season.
It's also worth noting that for all the fawning over Jones -- and he deserves it; his skill is documented -- he is going against second-tier defensive talent and Bush has a proven track record against starting NFL defenders.
Still, Oakland has to be intrigued with Jones' skillset. If Jason Campbell can achieve some level of consistency, the Raiders likely own one of the more explosive offenses they have had since the Rich Gannon era.
The rest of the AFC West had better hope their defensive front sevens are up to the challenge of containing McFadden, Bush and Jones in 2011.
This article is
What is the duplicate article?
Why is this article offensive?
Where is this article plagiarized from?
Why is this article poorly edited?
In less than a half of play in Sunday night's Saints vs Raiders contest, New Orleans quarterback Drew Brees was able to go 16-of-26 for 210 yards against the Oakland defense, taking his offense up and down the field at will.
Brees' main targets were tight end Jimmy Graham, good for five receptions and 73 yards in the first half, and Robert Meachem, who caught three passes for 61 yards. Running backs Mark Ingram and Pierre Thomas added the Saints' scoring punches, adding a rushing touchdown each.
The Saints weren't particularly impressive running the ball in the first, but considering the way they moved the ball through the air, they didn't have to be. And though efficiency is nothing new to Brees, the countless methodical New Orleans drives do serve to raise more than a few red flags within the Raiders' secondary.
Oakland simply did not generate enough of a pass rush to slow Brees, and receivers were open down the seam and along the sidelines for the entirety of the first half. As much as Raiders fans have touted Chris Johnson and Stanford Routt, neither was able to emulate current Eagles cornerback Nnamdi Asomugha, who served as a shutdown corner for Oakland prior to free agency.
Should this be a concern heading into the 2011 NFL season?
Not necessarily. Oakland does have to generate more rush in response, and both Johnson and Routt will have to rise to the challenge of filling the void left by Asomugha's departure, but they still managed to hold the Saints to 17 first half points. With more offensive efficiency -- Raiders fans had to groan at Jason Campbell throwing a few questionable passes -- Oakland's starting secondary keeps them in the game against one of the NFL's elite offenses. Brees and the Saints are going to get their yards. Question is: can defenses limit their scoring?
Oakland did a respectable job of doing just that in the first half.
Now their offense has to respond.
This article is
What is the duplicate article?
Why is this article offensive?
Where is this article plagiarized from?
Why is this article poorly edited?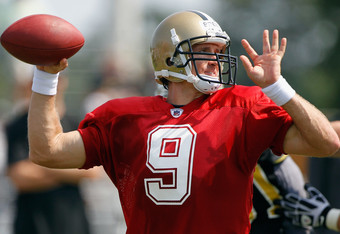 Drew Brees is one of the most elite quarterbacks in the National Football League, but is coming off a Super Bowl hangover season in which he tossed a career-high 22 interceptions. He will be looking to make better decisions with the football in order to put the Saints in a position to make a run in the postseason again this year.

Brees and the Saints wasted no time in tonight's game against the Raiders, as he found WR Devery Henderson for a 37-yard gain on the first play of the game. Later in the drive, head coach Sean Payton showed his confidence in Brees, electing to pass on a '4th and 2' situation. The Saints converted, and the end result was RB Mark Ingram running in between the tackles from one yard out for the opening touchdown.
The Raiders followed up the score with a touchdown drive of their own, as RB Michael Bush carried the ball five times for 32 yards. QB Jason Campbell would later find WR Derek Hagan for a 35-yard strike and the game-tying touchdown as Saints' CB Tracy Porter slipped on the pitch.
Raiders are projected to be a run-heavy team this season, but have exhibited balance on offense tonight -- passing eight times and running seven.
Brees responded to Raiders' drive as good quarterbacks usually do, leading the Saints down the field for another touchdown drive to take the lead, 14-7.

He has completed 12 of 16 passes for 165 yards, while his counterpart, Campbell has been sharp as well. The former Redskins castoff completed five of seven passes for 67 yards (one touchdown).
There has been a lot of offensive fireworks early in this game -- expect more to come.
-Matt Birch
This article is
What is the duplicate article?
Why is this article offensive?
Where is this article plagiarized from?
Why is this article poorly edited?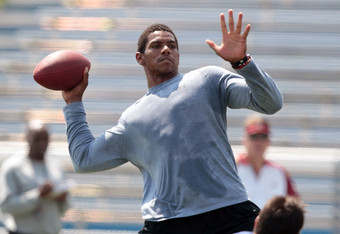 Former Ohio State Buckeyes and current Oakland Raiders quarterback Terrelle Pryor -- selected in the third round of the 2011 NFL Supplemental Draft -- is unlikely to play in Sunday night's Saints vs Raiders preseason matchup, but as mentioned earlier, will serve as a reference point for the NBC broadcast crew on more than a few occasions.
One question I'm sure Cris Collinsworth and Al Michaels will broach is: was Pryor really worth sacrificing a third-round pick in the 2012 NFL Draft? Of course, that question cannot be answered tonight, but rather is a lead-in to greater questions about Pryor's future with the Raiders. Is he a quarterback? Is he a tight end? Can Hue Jackson work with the young passer to hone his mechanics and prepare him for the pro game, or will he be stuck in letter jacket limbo, doomed to over-rely on his athleticism to compete against a higher level of competition?
Currently, it would appear that Pryor projects as a quarterback...at least until he doesn't. Despite the rawer aspects of the game, there are still plenty of things to like about Pryor: his size, speed and leadership ability, for one. Don't discount what he did at Ohio State. His name may have surfaced in a scandal that ultimately set the Buckeyes back, but when Pryor was under center for the Buckeyes, they were a dangerous team.
As Pryor is, however, still a project passer, one of the better questions to ask tonight may be whether or not he is a better project than Denver Broncos quarterback Tim Tebow.
Tebow, entering his second year in the NFL, managed a few highlight players in 2010 and for a while, appeared to be threatening to claim the Broncos' starting quarterback job. A disappointing preseason by Tebow, no doubt amplified by the NFL Lockout and Tebow's inability to work with Denver coaches, and an impressive showing by Kyle Orton quickly put those thoughts to bed, situating Tebow as second or third on the depth chart, just behind or ahead of Brady Quinn, depending on who you ask.
So, as both are unestablished in NFL terms, who rates as the better project?
They each have their merits in the argument. Despite Tebow's tumultuous preseason, he has proven he can make plays in the NFL. These plays weren't accidents. Tebow has next-level ability. Unfortunately for him, it just hasn't shown -- at least consistently -- in the aerial aspect of his game.
On the other hand, you have Pryor, who has yet to prove anything in the NFL. But given what Pryor showed at Ohio State, he projects better as a pro athlete. He has the hands to be a legitimate receiving threat should the Raiders switch him to a tight end role, and has ideal size-speed build for an NFL receiver. As a quarterback, at least mechanically, he is as limited as Tebow. There are throws each just cannot make yet. But in terms of overall athleticism, you have to like his chances of having worth beyond the quarterback position far more than Tebow's chances, despite the fact Tebow was once projected as a tight end candidate himself.
Expect these questions to continue lingering as Pryor serves a five-game suspension. He won't have a chance to answer any of them until Oakland's Week 6 home showdown against the Cleveland Browns.
This article is
What is the duplicate article?
Why is this article offensive?
Where is this article plagiarized from?
Why is this article poorly edited?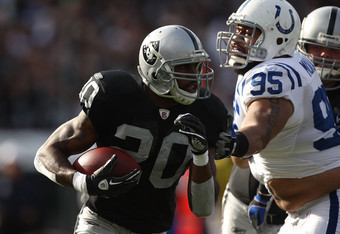 Sunday night's Saints vs Raiders game should give fantasy owners a telling barometer of where to draft several marquee players in their pre-opening week NFL fantasy football drafts.
Draft geeks should pay particular attention to Oakland's backfield. Jason Campbell projects to perform better in 2011 than 2010, if nothing else because he will be more comfortable with the offense and will have more developed (and dynamic) receiving options in Jacoby Ford and Louis Murphy, promising young players still developing their craft and laying the foundations for their NFL careers. Former New York Giants tight end Kevin Boss isn't a bad pickup either, especially considering the Raiders lost tight end Zach Miller to the Seattle Seahawks in free agency.
So why pay attention to the backfield? Simple. With Campbell more comfortable and offensive weapons more established, it is entirely conceivable that the Raiders could run the ball less in 2011 than they did in 2010. Additionally, the talented triumvirate of Darren McFadden, Michael Bush and Taiwan Jones still needs to figure out a fair split of backfield duties. You have to figure McFadden, one of the NFL's most dynamic backs, will receive the lion's share of carries, but players like Bush and Jones are too talented to keep off the field. They will fact into the backfield equation at some point in the 2011 NFL season, and consequentially, McFadden's stock should be monitored.
On the Saints side of the ball, it's also worth watching which receiving options emerge as primary targets. Drew Brees is a known commodity and an elite fantasy football quarterback, and it's likely a safe bet that versatile rookie Mark Ingram will be a safe draft pick as well, even if he still does figure to share carries with Pierre Thomas. But what about the receiving corps? Marques Colston is arguably the best receiver on the team, but far from a sure thing in terms of fantasy football value. Robert Meachem is a big-play threat, but was likely overhyped heading into the 2010 NFL season and consequentially taken too high in many fantasy football drafts. Lance Moore was the offense's most consistent weapon in 2010, but will still be fighting for looks with all the other talented receivers on New Orleans' offense.
Saints fans will tell you it's not a bad problem to have. Fantasy football geeks will tell you differently.
Saints vs. Raiders should reveal quite a bit in terms of what each team's starting offense will look like heading into the 2011 NFL regular season. Let's keep an eye on how some of these aforementioned players factor into each team's offense.
This article is
What is the duplicate article?
Why is this article offensive?
Where is this article plagiarized from?
Why is this article poorly edited?

New Orleans Saints: Like this team?