Atlanta Braves: 5 Potential September Call-Ups Who Could Be Difference-Makers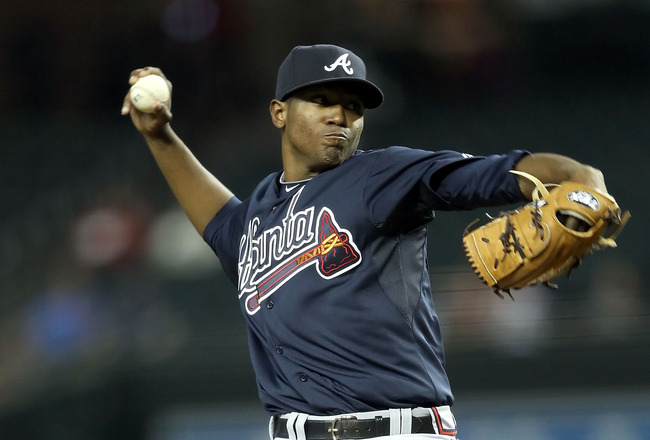 Christian Petersen/Getty Images
As the postseason draws near, playoff rosters are becoming a pressing matter for competing teams.
September callups can be very important to a team in the playoff race.
Luckily for the Atlanta Braves, they have one of the most impressive farm systems in baseball.
The Braves have many potential call-ups who could be difference-makers in their playoff race, who will be discussed in the following slides.
5. Cory Gearrin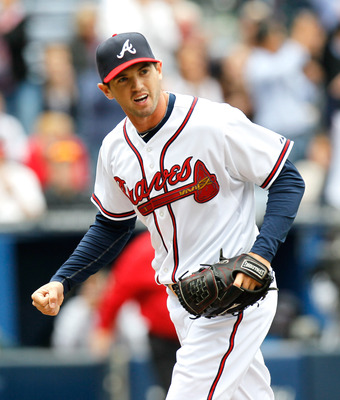 Kevin C. Cox/Getty Images
Cory Gearrin is a relief pitcher who has been very impressive in his past two years with Gwinnett.
This season, he has pitched 43.2 innings, and posted a 3-1 record and a 1.85 ERA.
In the major leagues this year, Gearrin has not been quite as fortunate; however, he has only pitched 18 innings.
He has pitched only two innings since the All-Star break, and has very much improved in the minor leagues.
And while the Braves already have one of the best bullpens in the league, another arm can always be of use, especially in a playoff race.
4. Matt Young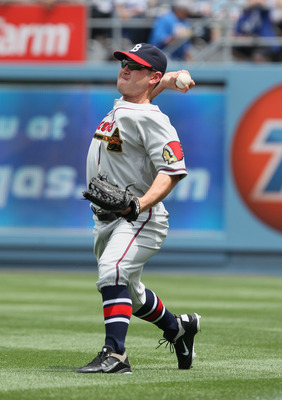 Jeff Gross/Getty Images
Matt Young is one of the Braves' top hitting prospects, and plays left field.
He has played in Gwinnett for just over two seasons, and has compiled a .282 batting average and a .369 OBP there.
He struggled in his first month in the major leagues, and though he hasn't played in the majors since June, he did post a .276 batting average that month.
Hopefully he has improved enough to play consistently in the majors. His bat could be very useful in the coming month, especially because of Jason Heyward's struggles.
3. Brandon Hicks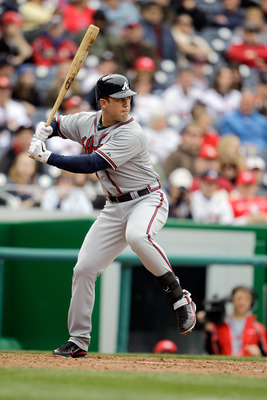 Rob Carr/Getty Images
Brandon Hicks has performed similarly to Matt Young this season.
While he has struggled in his few at-bats in the major leagues, he has been great in the minor leagues, and deserves a chance on the Braves' expanded roster.
This year, in Gwinnett, Hicks has a batting average of .260, as well as 16 home runs and 44 RBI.
His position at third base can be very helpful to give backup, or relief in case of injuries.
2. Randall Delgado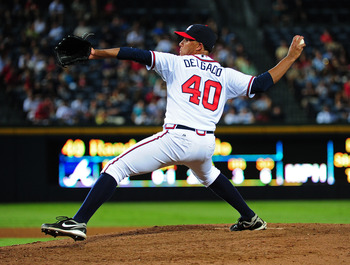 Scott Cunningham/Getty Images
Randall Delgado is one of baseball's top pitching prospects, and could be a great improvement to the Braves in the next few months.
This year, in the minor leagues, after 25 starts he has an ERA of 3.88.
In the major leagues, Delgado has made two starts, for which he has a 3.60 ERA. In the most recent of the two starts, he took a no hitter into the seventh inning.
He is likely to pitch mostly from the bullpen if he is called up, but could make a few starts if there is an injury or a struggling pitcher.
1. Julio Teheran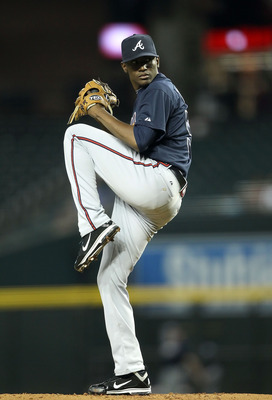 Christian Petersen/Getty Images
Julio Teheran is the No. 1 prospect in the Braves' farm system, and the No. 2 pitching prospect in all of baseball.
He has been completely dominant in the minor leagues, posting a 2.22 ERA and a record of 15-2.
And although he did not fare as well in his few innings in the major leagues, he has gained much experience and improvement in the past few months.
Teheran, like Delgado, will also pitch mainly from the bullpen, but could make a few starts.
Having Teheran on the Braves roster could make a huge difference in their playoff race.
Keep Reading

Atlanta Braves: Like this team?