Buffalo Bills
NFL Season Preview 2011: Buffalo Bills Roster Cuts, Projected 53-Man Depth Chart
ORCHARD PARK, NY - AUGUST 27: Tyler Thigpen #4 of the Buffalo Bills hands of to Bruce Hall #36 against the Jacksonville Jaguars at Ralph Wilson Stadium on August 27, 2011 in Orchard Park, New York .Buffalo won 35-32 in overtime (Photo by Rick Stewart/Getty Images)
August 28, 2011
Throughout the past three weeks of the 2011 NFL preseason, fans around the country have had the opportunity to watch not only their favorite starters get fine-tuned for the regular season, but also the underdogs fight for those last spots on the roster. 
With rosters expanded to 90 players per team, organizations need to determine which of those 90 men will end up being on the 53-man Opening Day roster—and which players ought to begin their search for another franchise. 
With the season kickoff just weeks away, it's time to look at what the Buffalo Bills depth chart will look like, who will get cut and which players will stick around with the practice squad. 
Quarterback
Ryan Fitzpatrick, Tyler Thigpen, Brad Smith
Expect second-year quarterback Levi Brown to be released; the versatile QB/WR/KR Brad Smith has been listed as the No. 3 option at quarterback.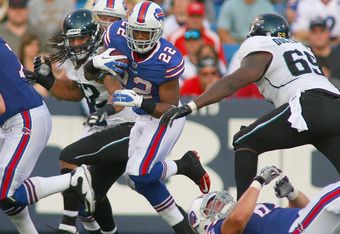 ORCHARD PARK, NY - AUGUST 27: Fred Jackson #22 of the Buffalo Bills runs against the Jacksonville Jaguars at Ralph Wilson Stadium on August 27, 2011 in Orchard Park, New York. (Photo by Rick Stewart/Getty Images)22
Running Back
Fred Jackson, C.J. Spiller, Johnny White
 While Anthony Elzy and Bruce Hall have made solid contributions throughout the preseason, the Bills are going to stick with their 2010 No. 9 overall draft pick and their fifth-round selection, Johnny White, in the backfield. 
Fullback
Corey McIntyre
Jehuu Caulcrick hasn't really made any "wow" plays during his play with the second and third teams, or on special teams coverage, so don't expect him to stick around very long. 
Wide Receiver
Steve Johnson, Donald Jones, David Nelson, Roscoe Parrish, Marcus Easley, Namaan Roosevelt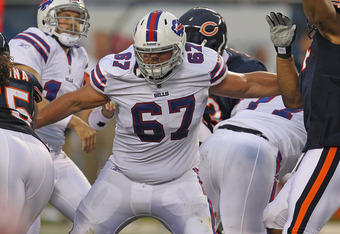 CHICAGO, IL - AUGUST 13: Andy Levitre #67 of the Buffalo Bills blocks against the Chicago Bears during a preseason game at Soldier Field on August 13, 2011 in Chicago, Illinois. The Bears defeated the Bills 10-3. (Photo by Jonathan Daniel/Getty Images)
After trading Lee Evans, the Bills are still deep at the wideout position. However, Buster Davis, Felton Huggins, Paul Hubbard and Kamar Aiken simply don't have a chance to compete with the players listed above. 
Tight End
Scott Chandler, David Martin
The Bills will finally give up on former fourth-round draft pick, Shawn Nelson, and will also release Mike Caussin and undrafted free agent Zach Pianalto. Chan Gailey doesn't utilize his tight ends as receivers, but more as blockers, leaving just two spots on the depth chart.
Left Tackle
Demetrius Bell, Ed Wang
ORCHARD PARK, NY - NOVEMBER 28: Kyle Williams #95 of the Buffalo Bills plays against the Pittsburgh Steelers at Ralph Wilson Stadium on November 28, 2010 in Orchard Park, New York. Pittsburgh won 19-16 in overtime. (Photo by Rick Stewart/Getty Images)
Left Guard
Andy Levitre, Chad Rinehart
Center
Eric Wood, Geoff Hangartner
Right Guard
Kraig Urbik
Right Tackle
Erik Pears, Chris Hairston
While the offensive line is shaky to say the least, the Bills seem set in their interior line with Levitre, Wood and Urbik. Bell and Levitre are competing for the left tackle job, but Bell's experience should allow him the starting role. At right tackle, Pears has been unimpressive; however, Hairston simply isn't ready to start on Opening Day.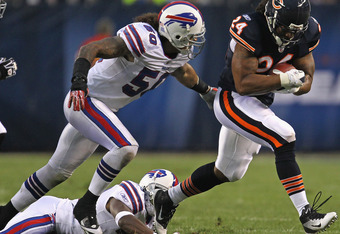 CHICAGO, IL - AUGUST 13: Marion Barber #24 of the Chicago Bears runs for yardage past Nick Barnett #50 of the Buffalo Bills close in during a preseason game at Soldier Field on August 13, 2011 in Chicago, Illinois. The Bears defeated the Bills 10-3. (Photo by Jonathan Daniel/Getty Images)
Left Defensive End
Marcell Dareus, Alex Carrington
Marcell Dareus has already shown explosiveness and playmaking ability at the 5-technique defensive end position, and last year's third-round draft choice, Alex Carrington, has been seeing reps at both end and outside linebacker. 
Nose Tackle
Kyle Williams, Torell Troup
Kyle Williams just signed a six-year, $39 million extension due to his dominating play as nose guard last season, and will only be better this year with Dareus alongside him. Troup still has some work to do, but he is showing improvement every game. Michael Jasper is an exciting story to watch, but I can't see him making the 53-man roster.
Right Defensive End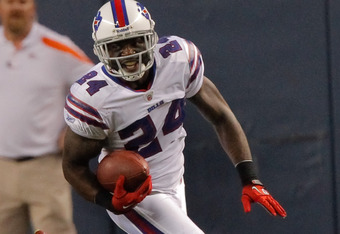 DENVER, CO - AUGUST 20: Cornerback Terrence McGee #24 of the Buffalo Bills in action against the Denver Broncos at Sports Authority Field at Mile High on August 20, 2011 in Denver, Colorado. (Photo by Justin Edmonds/Getty Images)
Dwan Edwards, Spencer Johnson
Dwan Edwards will retain his position as the starting defensive end opposite Marcell Dareus, and he has earned that. Spencer Johnson has played well throughout the preseason though, so I wouldn't be surprised to see the Bills use their "heavy front" with four of their big men on the line at times. 
Sam Linebacker
Chris Kelsay, Danny Batten
Chris Kelsay is out of position playing in the two-point stance at outside linebacker, but he can still rush the passer. Danny Batten has been playing well this preseason and has a chance to unseat Kelsay as the starting outside 'backer in due time. 
Mike Linebacker
Andra Davis, Kelvin Sheppard, Chris White
DENVER, CO - AUGUST 20: Running back Knowshon Moreno #27 of the Denver Broncos splits the defense of safety Jairus Byrd #31, Alex Carrington #92 and linebacker Nick Barnett #50 of the Buffalo Bills during the first quarter at Sports Authority Field at Mile High on August 20, 2011 in Denver, Colorado. (Photo by Justin Edmonds/Getty Images)
Davis has the starting role for now, due to Sheppard's nagging hamstring injuries that have sidelined him through preseason, but he has been a solid stop-gap in the porous Bills run defense.
Will Linebacker
Nick Barnett, Kirk Morrison, Arthur Moats
After losing Paul Posluszny to the Jacksonville Jaguars, the Bills quickly signed Nick Barnett from the Green Bay Packers and Kirk Morrison of the Jaguars. Still, I don't understand why Moats is being used inside, as he was one of the Bills' stronger pass rushers last season.
Jill Linebacker
Shawne Merriman, Antonio Coleman
"Lights Out" appears to be ready for a comeback in Buffalo, racking up two sacks in nine sacks in his preseason debut. If he can stay healthy, Merriman will bring much-needed help to a defense that has lacked a true pass rusher since Aaron Schobel's departure.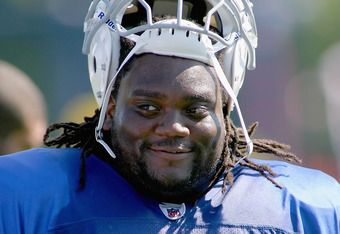 PITTSFORD, NY - AUGUST 08: Michael Jasper #69 of the Buffalo Bills takes a break during the Buffalo Bills Training Camp at St. John Fisher College on August 8, 2011 in Pittsford, New York. (Photo by Rick Stewart/Getty Images)
Left Cornerback
Terrence McGee, Leodis McKelvin
While McKelvin is fighting for a starting role, McGee's consistency earns him the top spot on the depth chart. With the improvement in Buffalo's front seven, expect some solid play from the secondary this year.
Strong Safety 
George Wilson, Bryan Scott, Da'Norris Searcy
With Donte Whitner bolting for the San Francisco 49ers, veteran leader and player rep, George Wilson, will step into the starting role at strong safety. Scott is pretty versatile as well, as he played time reps at linebacker last year in addition to safety. Rookie Da'Norris Searcy will see more time on special teams and dime packages before he is trusted with a starting role.   
 Free Safety
 Jairus Byrd, Jon Corto
Jairus Byrd had an off year last year after snagging eight interceptions in his rookie season, but with the bolstered pass rush, he should have more of an opportunity to use his ball-hawking skills this year. Corto isn't much in terms of defensive play, but he is a solid special teams player.  
Right Cornerback
Drayton Florence, Aaron Williams, Reggie Corner
Florence re-signed with the Bills after becoming a free agent, despite the selection of Aaron Williams in the second round of the 2011 NFL draft. The two will be battling for the starting role opposite Terrence McGee, but for now the job is Florence's, with Reggie Corner playing in dime packages.  
Punter
 Brian Moorman 
Kicker
Rian Lindell
Long Snapper
 Garrison Sanborn 
Cuts
 QB—Levi Brown
RB—Bruce Hall, Anthony Elzy
FB—Jehuu Caulcrick
WR—Buster Davis, Felton Huggins, Kamar Aiken
TE—Shawn Nelson, Mike Caussin, Zach Pianalto
OL—Cordero Howard, Jason Watkins, Mansfield Wrotto, Colin Brown, Isiah Thompson, Mike Switzer
DE—Lionel Dotston, Kellen Heard, T.J. Langley
DT—Michael Jasper
LB—Jammie Kirlew, Robert Eddins, Brandon Jefferson, Brandon Hicks
CB—Justin Rogers, Loyce Means, Doyle Miller
S—Rajaric Coleman, Sidney Glover, Josh Nesbitt
P—Reid Forrest
Practice Squad
 QB—Levi Brown
RB—Anthony Elzy
WR—Kamar Aiken
TE—Zach Pianalto
DT—Michael Jasper
LB—Robert Eddins
CB—Justin Rogers
S—Josh Nesbitt 
Like the new article format? Send us feedback!