San Francisco Giants: Diamondbacks Causing Problems for MLB World Series Champs
August 29, 2011
At the start of the 2011 Major League Baseball regular season, you would be hard-pressed to find an expert who thought that any team but the San Francisco Giants would win the NL West.
Now, as we approach September, the race for the division title is the most exciting and excruciating in all of baseball. Like any gladiator fight, it may be painful to watch at times, but is nonetheless entertaining.
How exactly did this happen? As a Giants fan, it is quite difficult to admit that my World Series champions could be bested by any team, let alone one with incredibly few recognizable names. Don't the Arizona Diamondbacks know the Giants just plowed through some of the best pitchers and teams in baseball on their way to a championship?
On the surface, it seems highly unlikely that the Giants could be caught so quickly by a team that has not won more than 70 games since 2008. Somehow, the D-Backs are already at that 70-win mark this year, and it's more difficult to explain than Brian Wilson.
The Giants have pitching (and a lot of it), with top-3 rankings in team ERA, quality starts, WHIP and batting average against. Comparatively, Arizona ranks 19th, 17th, 17th and 21st in the same categories.
The Giants showed last year that good pitching can be enough to go all the way, no pun intended. So what gives?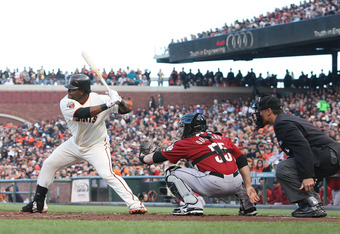 As it turns out, you really do need to score more than two runs per game if you want to have a chance to win. In 2010, the Giants had the second-best run differential in the National League at plus-114, trailing only the offensive Philadelphia Phillies (pun very much intended).
This year, San Francisco is working with a run differential of minus-17. Ouch.
The unfortunate season-ending injury to the 2010 Rookie of the Year, Buster Posey, is the easiest culprit. Without Posey in the heart of the order, the Giants are much less formidable foes with bats in their hands. It does not help that the team has had to endure injuries at nearly every position, including pitcher, or that most of the team has underperformed even when healthy.
Starting first baseman Aubrey Huff, a career .280 hitter, is batting a horrid .248 with 12 homers and 54 RBI. Fan favorite and leadoff hitter Andres Torres provided solid power last year and invaluable clutch-ness, but he's batting all of .228 and is injured. The only bright spot has been third baseman Pablo Sandoval, who has returned from a broken wrist to hit .308 with 15 jacks and 50 RBI.
While the Diamondbacks lineup may not be on the same level as the New York Yankees' 1927 Murderers' Row, it looks like a collection of deities when compared to the Giants. This team is in the top half of the rankings in runs scored, after all.
Mediocre pitching has essentially been offset by the speedy and powerful Justin Upton. He's currently sporting a line of .298/.370/.544 to go along with 25 homers and 77 RBI. Without Upton, I'd bet the D-Backs would be scuffling to tread water at .500. With him, they are a playoff team.
Put him on the Giants, and they would become a real threat to repeat. It really is that simple.  
Remember Carlos Beltran, the former New York Met? This guy was supposed to come in and give an instant boost to the Giants non-existent offense. Instead, he's already spent significant time on the disabled list and has posted as many hitless games as Huff.
Alright, it's not that bad, but Beltran has done next to nothing to help the Giants divide and conquer. Perhaps his recent return from the DL will spark the club, but I would not hold my breath.
Still, despite almost every possible thing going wrong for San Francisco and the reverse being true for Arizona, these teams are separated by four games. A race like this reminds me how truly amazing the game of baseball is.
Nothing is guaranteed over the course of a 162-game season, and every game really does count. The Diamondbacks looked dominant for a stretch, then came back down to earth. The Giants have struggled mightily, but they have kept their composure quite well since their fall from the top of the standings.
Remember, you can't have October baseball without September, and I cannot wait to see how this one plays out. Stay tuned.