Liverpool vs. Bolton Post-Match Analysis: Reds Smash Wanderers as Run Continues
August 28, 2011
After a confident performance from Liverpool that saw two of their new signings on the score sheet—Jordan Henderson for the first goal and Charlie Adam for the third goal—the Reds collected three points against Bolton at Anfield to temporarily go atop of the Premier League.
Liverpool went in with practically the same team that started against Arsenal in the league last weekend, except Luis Suarez started ahead of Andy Carroll with the team playing 4-3-3 again.
For Bolton, Gary Cahill started as usual with a front two of Ivan Klasnic and Kevin Davies to give them a real aerial threat in a standard 4-4-2 formation.
Right after kickoff, Liverpool began to assert their dominance against Bolton, continuing to play the pass-and-move football Kenny Dalglish brought back to the team, keeping possession well and pressing hard when Bolton had the ball.
It seems the victories against Arsenal last week and Exeter City mid-week have spurred the Reds on as they kept the majority of possession (60 percent) for the whole match and created an abundance of scoring opportunities.
The visitors, Bolton, on the other hand, struggled to get anything out of the game, mostly relying on the team's physicality and aerial presence to try to get anything past Liverpool. More often than not they resorted to a direct long ball which resulted in a scrappy contest between both teams' midfield.
As usual in football these days, the referee was at the centre of some controversial decisions, denying Liverpool a penalty for what at first seemed like a hand-ball inside the box and ignoring Luis Suarez's claims for a back-pass in the second half.
However, referee Lee Probert was spot-on for most of the day's decisions.
First Half
In the first half, Liverpool looked comfortable in the final third, particularly on the left wing where some crafty play by Jose Enrique and Stewart Downing allowed Liverpool to run rampant and create chance after chance.
In the centre, Charlie Adam struggled for space with the Bolton midfield exerting its strength, but he still managed to send in two good balls into the box only for them to lead to nothing.
Partly because Gary Cahill was particularly good for Bolton on the day and for me was their best player all match, justifying why Arsenal's £6 million bid for his services was deemed "derisory" by Bolton boss Owen Coyle.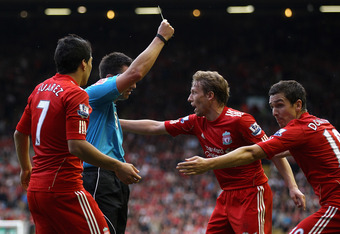 Liverpool's pass-and-move football was very impressive, with neat little one-two's and tidy passes keeping control of the game, coupled with Suarez's great movement up top resulted in a great goal for young Henderson.
A long cross from Suarez met by Downing was denied by Jussi Jaaskelainen's superb save and after Kuyt picked up the loose ball to cut back to Henderson, the attacking midfielder hit it where the spiders live, right in the top left-hand corner. A well-coordinated team effort from Liverpool.
Bolton, in contrast, played route-one football, which while Owen Coyle's side are proficient at, they are capable of more and, except for Martin Petrov's effort that Pepe Reina palmed away, they only really threatened from corners
3 Minutes of Adam
Whilst Bolton hadn't made it easy for Liverpool's midfield in the first half, Charlie Adam looked confident in the centre, but couldn't really find the space or time in the first half to add much to the game.
It was a three-minute period in the second half, however, where Adam effectively sealed the win for Liverpool.
After 50 minutes, his corner was met by the head of Martin Skrtel, substituted for an injured Martin Kelly, that resulted in Liverpool's second goal and three minutes later another Dirk Kuyt pass, this time to Adam, saw Liverpool score a third thanks to the Scotsman's well-struck shot from outside the box.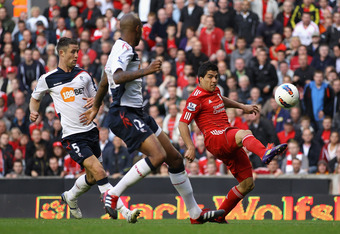 Suarez Styling
Whilst Charlie Adam may have confirmed Liverpool's win, it was Luis Suarez who ran the show, with a particularly impressive first half where he was unfortunate not to score from his chipped effort against Jaaskelainen.
As well as his quick feet and unpredictability that constantly proved too much for Bolton's Zat Knight and Nigel Reo-Coker to cope with, the central defender was constantly dragged out of position and the midfielder was left chasing the Liverpool striker's shadow with no hope of catching him.
It was perhaps Suarez's unpredictable movements and creativity that led to Dalglish starting the Uruguayan over Andy Carroll, as Suarez plagued the Bolton defence for every second of the 76 minutes he played.
It was maybe his own frustration at not scoring that saw him substituted for Carroll. However, it was his skill at drifting out wide and being able to link up play effectively that allowed Liverpool to play such fluid football at times against Bolton.
Bolton's Consolation
Right near the end of the second half, Liverpool were in full control of the match until Skrtel, with a bombing run from right back was caught way out of position and a Bolton long ball found Klasnic after Jamie Carragher's poor touch allowed the striker to smash in a close-range effort against Reina.
Full Time
It was another good performance from Liverpool, building from the Arsenal result and proof that all of Kenny's new signings are finally becoming comfortable with Liverpool's system. However, Liverpool were restricted at times to playing solely down the left flank after Kelly was injured just 30 minutes into the game.
With Skrtel replacing him, it meant Liverpool lacked pace down the right flank, but in the second half, the Reds varied their play with more pass-and-move play through the centre of the pitch which culminated into Charlie Adam's goal after 53 minutes.
This result, more than ever, demonstrates that Luis Suarez is clearly the focal point to Liverpool's attack at this moment in time. The Exeter City game proved the pair can be effective up front together, but Suarez's movement in the final third is world-class as Liverpool can't be without it if they are to challenge the top teams.
When Andy Carroll did come on he looked fresh and did make himself busy, but is most likely still struggling for fitness and confidence.
Questions, however, must be asked whether Jamie Carragher is an automatic first choice if both Martin Skrtel and Daniel Agger are fit. With new signing Sebastian Coates yet to come into the team, Liverpool have much younger and much better options than their veteran centre-back currently offers.
It was his blunder that has cost Liverpool the clean sheet and put a black spot on what was a good Liverpool performance against a tough side.