NFL Preseason Week 3: Recap of Buffalo Bills Victory over Jacksonville Jaguars
August 28, 2011
After suffering losses in their first two preseason contests, the Buffalo Bills took on the Jacksonville Jaguars in their first game at home on their new and improved field. The Bills' first team offense failed to score a touchdown in the first two games, but quickly clicked against the Jaguars early.
Quarterback Ryan Fitzpatrick was unstoppable, posting a perfect 158.3 quarterback rating, completing 11-of-12 passes for 165 yards and two touchdowns, without throwing an interception.
With receivers Donald Jones, Namaan Roosevelt, and Roscoe Parrish sidelined for the game, Fitz seemed to find consistency with wideout Marcus Easley, tossing an 11-yard touchdown to cap off an 11 play, 82 yard drive to put the Bills up 10-0 early in the first quarter. 
On the ensuing possession, Fitzpatrick connected with his favorite target, Stevie Johnson, on a 52-yard bomb that resulted in a touchdown in the first play of the drive. Johnson finished the game with four receptions for 76 yards and a score.
Easley showed why the Bills' coaching staff didn't give up on the former 2010 fourth round draft pick, as he caught five passes for 51 yards and a touchdown, while making some solid catches and exhibiting a strong knowledge of the offense.
The Bills running attack was productive as well, as Fred Jackson and C.J. Spiller were rotated throughout the first half, as Jackson rushed nine times for 33 yards, along with burning former Bill's linebacker, Paul Posluszny, for a 30-yard reception to set up a field goal. Spiller showed a lot of improvement, as he was patient behind his blockers, gaining 21 yards on four carries.
The first-team defense shined as well, despite Shawne Merriman, Nick Barnett, and Kirk Morrison among others who were sidelined. The Bills' hybrid defense brought the heat and forced Jaguars quarterback David Garrard into some bad decisions. Kyle Williams, who signed an extension with the Bills on Friday showed up to play, making three tackles, one for a loss, a sack, and a pass deflection.
The Bills front seven is definitely looking bigger, stronger, and faster than we have seen in recent years, and although it's preseason, it looks to be a strong unit as a whole.
Although the Jaguars rushed 32 times for 145 yards and two scores, most of those yards came in the second half, when the Bills had their second and third players on the field, while the Jags' continued with their first team offense.
The Bills second team offense didn't look too great, as quarterback Tyler Thigpen threw some passes that made me wonder why we are paying him $12 million. He finished the night completing 12 of 28 passes for a touchdown and two interceptions, one of those resulting in a return for a touchdown. 
The Bills notched their first victory, 35-32 in overtime with a Rian Lindell field goal to end the game, after Jaguars kicker, Josh Scobee failed to connect on a 53-yarder that would've sealed the deal.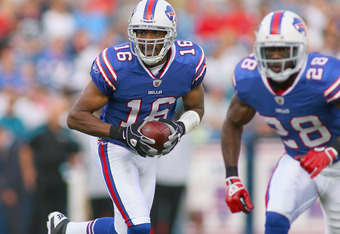 Players to Watch Next Week
I was stunned by the way running backs Bruce Hall and Anthony Elzy played, and while their isn't much room for running backs on the roster, Elzy rushed seven times for 26 yards, with Hal rushing seven times for 33 yards and a score. Elzy, however, showed a lot more awareness in pass blocking and receiving, basically putting up a highlight reel in overtime for Coach Gailey to keep an eye on.
Kamar Aiken is another guy I like, but I can't see him making the opening day roster, simply due to the depth at the wide receiver position, but if he can stay on the practice squad for a year, I think he can develop into a solid No. 2 option after his three reception for 32 yard performance, especially since it was Tyler Thigpen and Levi Brown passing to him.
Da'Norris Searcy made five tackles and had an interception, and continues to improve each week. I'm not saying he will be taking George Wilson's role at safety anytime soon, but if he keeps building on his play, he could give him a run for his money.
When #57 steps on the field, you need to take notice. Danny Batten simply pins his ears back and uses his high motor to get himself on every play. Filling in for Shawne Merriman last week, and playing with the second team unit tonight earned him some well deserved reps, and he should be able to find his way onto the field, even as a two-down pass rusher.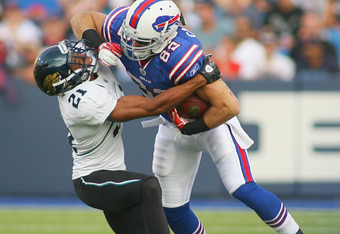 Stunning Stats of the The Night
The Bills ran 83 plays and allowed zero sacks; and this was the night Bills fans were dreading due to the constant shuffling of the offensive line. 
The Bills held onto the ball for over 40 minutes this game, almost double their average of roughly 24 minutes per game last season.
The Bills offense gained 443 total yards; 290 through the air, and 153 on the ground. And no, this wasn't a game of Madden.
The Bills had eight penalties for 117 yards, however, two questionable pass interference calls should've brought that number down significantly.