Miami Dolphins vs. Tampa Bay Buccaneers: What We Learned About the Phins
August 28, 2011
Well, the "most important game" of the preseason for the Tampa Bay Buccaneers and Miami Dolphins is in the books where the starters got the most action they will see before games count for real. The final score was Tampa Bay 17-13, but as we all know the final score is largely irrelevant in preseason.
This game was no exception, as the Buccaneers scored with a few minutes left in the game mostly with players that won't be on the team during the regular season. It depends largely on perspective, but the Dolphins arguably outplayed the Buccaneers especially in the first half.
Here is what we actually and tangibly learned.
1. Chad Henne played like a very good NFL quarterback!. Relax about your quarterback for now Dolphin fans. Henne, after a shaky opening preseason game against the Falcons, has had two outstanding efforts in a row. Against the Buccaneers, a good team, Henne completed 10 out of 13 passes for 175 yards and a touchdown in the first half. That's a passer rating of 143.9 folks. He looks confident even with a shaky offensive line. More on that in a second.
Two plays on Miami's opening drive made Henne look elite. He hit tight end Anthony Fasano down the seam for a 27-yard gain and then threw the ball up where Brandon Marshall outfought defensive back E.J. Biggers for the catch and then jaunted the rest of the way to the end zone for a 60-yard touchdown. Henne would have overthrown Marshall last season, instead he did just what he is supposed to do which is give his big receiver a chance to make a play, which he did.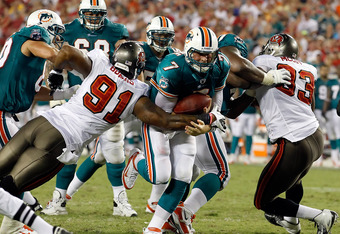 2. Hurry back Jake Long. Even that won't solve all of the Miami problems on the line. Right tackle Marc Colombo gave up a couple of sacks and a tackle for a loss. That was just a couple of the drives into the game. Lydon Murtha was often overpowered by a defensive end in Adrian Clayborn who arguably has one good arm.
Poor Reggie Bush. Here is a running back just looking for a little crease and he couldn't get it. His five carries for minus six yards is beyond misleading. He never had a chance. I suggested earlier this week that the Dolphins make a trade from their deep defensive line for an offensive lineman. I am even more convinced now and that lineman needs to be a tackle. I am a big proponent of cohesion on the offensive line and I think you have to go with what you have from guard to guard, but Murtha and Colombo have to scare Dolphin fans.
3. Kevin Burnett is everywhere on the field. He had five tackles and a pass defensed, but that really doesn't tell the story. What does is the tape, which shows No. 47 in your picture on virtually every play. His ability to drop in pass coverage has been missing from the Miami defense for years.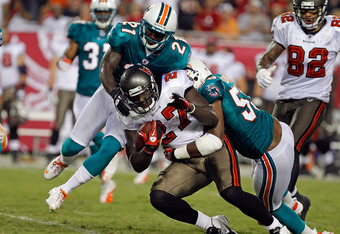 4. Miami needs to convert opportunities. The starters dropped three interceptions that they should have had. The Dolphins had first and goal at the Buccaneers two-yard line yet settled for a field goal. Brandon Marshall had a 30-yard catch and run but the ball was punched out by Tampa Bay. In the second half, Jason Taylor blew up a receiver drawing an illegal contact penalty which wiped out a safety on a corner blitz by Will Allen.
This game should have been a blowout in the first half not tied at 10.
5. Brandon Fields should be an All-Pro Punter in 2011. His boots of 59 and 62 yards backed up in the end zone were textbook kicks. His 69-yard boot in the third quarter could have drawn a flag for pigskin abuse.
6. The starting defense had a nice night minus the missed turnovers and the Bucs' touchdown drive late in the second quarter. Tampa quarterback Josh Freeman was a pedestrian 14 out of 29, albeit for 183 yards, and a 68. 6 QB rating. Freeman's stats were also padded by a prevent-type defense that gave up that late score.
7. Penalties, penalties, penalties. Both teams had six first-half penalties. Part of that is to be expected given the short time teams have had to get ready given the lockout. But, Miami is not the type of team that can not afford multiple trips backwards.
8. The new kickoff rules are costing Phillip Livas a shot to make this team. There is no guarantee that the diminutive Livas would make the squad anyhow, but when every kickoff is out of the end zone, it limits his chances to impress to a few punt returns.
9. Lousaka Polite did not have the night he needed to keep his roster spot. A holding call against Polite wiped out a nice run by Bush. Polite also failed to convert on one of his trademark short-yardage opportunities, a third and short on Miami's first possession of the second half.
10. The "best cornerback tandem" in the NFL of Vontae Davis and Sean Smith might be very talented, but Davis has to come up with that first half interception and Sean Smith has to wrap up LeGarrette Blount before he tries to a punch ball out on the Buccaneers' 51-yard gain.
11. Marlon Moore had catches of 23 and 18 yards in the fourth quarter that probably extended his tenure in Miami by a week or longer.
12. Jason Trusnik was signed as a free agent for his special teams prowess. He lived up to his reputation with a couple of key stops tonight that secured his spot on the 53-man roster. CB/S Jimmy Wilson also made the squad with his effort against the Bucs, if he hadn't already. On the flip side, after he was beaten repeatedly on inside and outside pass rushes, second year player and 2010 third-round draft choice John Jerry might have played his last down for the Dolphins.