WWE
WWE on the Road Again: Is Pro Wrestling Too American?
August 28, 2011
It is a quintessential American cultural icon. The WWE mixes rock-and-roll, Hollywood drama and jock culture together to create sports entertainment. There is nothing quite like it. Millions attend this cartoon pseudo-sport every year to the extent that it is a billion-dollar industry.
All over the world, wrestling organisations exist, but since the collapse of WCW, no one is even in the same galaxy as Vince McMahon's juggernaut, the WWE.
However, in seeking to spread the word, the WWE sporadically goes on the road away from the fair shores of the USA. In the last year alone, the company has gone to Australia, the UK, Mexico, South Africa and hundreds of places in between. It is a truly global brand.
However, is it really a global company? There are fans all across the world and the current roster has a strong depth of talent who are not American, but does its attitude point to something all the more isolationist?
When was the last non-American PPV? When was the last non-American champion other than Triple H's protege, Sheamus? When was the last title change away from American shores?
Maybe it comes down to the almighty dollar that staging a premier event away from American markets is just not feasible. Maybe if a champion is crowned in the UK, the American audiences will feel cheated? Maybe American audiences simply cannot connect to a champion that does not pledge allegiance to the red, white and blue?
Ultimately though, if the WWE wants to be a truly global brand, it needs to take a few risks.
The recent "reality" era was a calculated risk by the WWE. It could have been a disaster. However, it has got people talking again. It may not have caused a revolution, just yet, but CM Punk is the toast of wrestling arenas.
However, imagine, if you will, if the WWE did what has previously been done and taken its shows on the road. Ric Flair against Antonio Inoki in 1995 was witnessed by over 190,000 fans in North Korea. And while this example is perhaps the most inflated example, it nonetheless highlights how powerful American culture can be.
Tapping into the Asian markets in particular has the ability to re-energise support for the WWE. So too in Europe and Mexico. The WWE bandwagon does not always have to come, but if by sending superstars across, especially champions for one-off matches, it can really boost the profile of not only a champion, but the entire federation.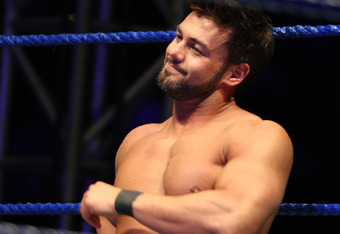 DURBAN, SOUTH AFRICA - JULY 08: Cape Town Native Justin Gabriel during the WWE Smackdown Live Tour at Westridge Park Tennis Stadium on July 08, 2011 in Durban, South Africa. (Photo by Steve Haag/Gallo Images/Getty Images)
I, for one, was slightly frustrated that the WWE did not do this with CM Punk after his victory over John Cena. Imagine the kayfabe appeal of seeing the WWE champion fighting in Japan, Mexico and British wrestling arenas against a local hero. Imagine the press coverage and support he would have gained.
In the end, he simply came back.
However, it remains an untapped market that wrestling federations need to consider.
The other side of the argument relates to the wrestlers themselves. Look at the current crop of superstars and there is a defining quality to the vast majority—they are American.
Justin Gabriel has long been regarded as a potential world champion. His high flying attack is matched with a rare quality, these days, in that he can actually wrestle. However, his biggest stumbling block is perhaps his accent.
Gabriel as champion creates an African market. Combine that with Kofi Kingston as Intercontinental Champion and suddenly Africa is turned on to wrestling. Follow up the success with a tour and millions would come.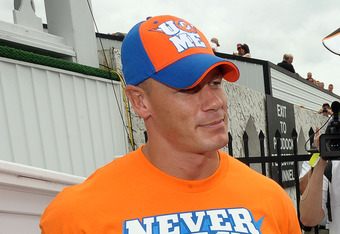 LONG POND, PA - JUNE 06: WWE champion and co-grand marshal John Cena (L) and Joey Logano, driver of the #20 Home Depot Toyota, talk in Victory Lane prior to the NASCAR Sprint Cup Series Gillette Fusion ProGlide 500 at Pocono Raceway on June 6, 2010 in Long Pond, Pennsylvania. (Photo by Drew Hallowell/Getty Images for NASCAR)
It is of course too early for Gabriel to dream of the top prize, but I wonder if he will be allowed to win the coveted prize or even compete for it.
Wrestling needs to realise that tours are popular concepts but not enough. Titles do not change hands because the matches are often the same and so a champion can't drop the belt only to have it back again the next night, to lose all over again.
In the era of two "supposed" shows, although I do not feel SmackDown to be worthy of this title, the WWE should consider a longer term programme of sending one of its shows, or at least some of its competitors to foreign lands/federations.
Imagine the press coverage of John Cena fighting in Japan or Rey Mysterio in Mexico.
It all equates to massive interest in the WWE. And for its shareholders, it means money. And lots of it.
Whether this will ever happen depends on the WWE. Whether it will be bold enough to consider doing another SummerSlam 1992 or copying the Ric Flair vs. Inoki match remains to be seen.
However, in an era of wrestling that is beginning to take risks, perhaps the idea of embracing the world a little more can pay big dividends.
The WWE no longer stands for "Wrestling." It remains "Entertainment," but is it truly "World?"
Like the new article format? Send us feedback!