Liverpool Title Opportunities a Realistic Target After Impressive Week?
August 27, 2011
At the end of last season it wasn't a far fetched prediction that Liverpool could challenge for the Premiership in the 2011/12 campaign. Form wise they were certainly competing with Chelsea and Manchester United, meaning a continuation into the new season could yield a once thought of impossible resurgence right to the top.
The preseason transfer deals however seemed to work against them. Whilst signings such as Charlie Adam from Blackpool and Stewart Downing from Aston Villa were heralded as a step in the right direction, it could not detract from the more spectacular signings at Old Trafford and the City of Manchester stadiums. 
The likes of Ashley Young choosing to defer to United instead of Liverpool on the basis of recent seasons portrayed the greater lure towards Liverpool's rivals. Samir Nasri's deflection to City this week again adds argument to the claims that it will be the Manchester sides who will fight for this seasons league title.
Yet after a confident, consistent and dominant performance against Bolton today, there is vital evidence beginning to show towards Liverpool's claims for a title challenge.
Following on from a collected display at Exeter in midweek, the starting 11 at Anfield against the Wanderers began to show the cohesive structure desired from fans to succeed.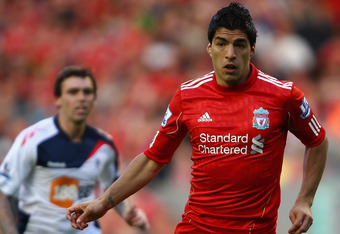 The midfield duo of Jordan Henderson and Charlie Adam joined Martin Skrtel on the score-sheet as all three netted impressively. In what was a truly one-sided affair, the influential presence of Luis Suarez also continued to gather momentum, with the Uruguayan international running riot amongst the Bolton defence.
Where Kenny Dalglish's men proved critics wrong today is through the overall team display. After winning displays from Suarez against Arsenal and Exeter, the team was in danger of sliding into a one-man team direction. The question everyone posed to the side was whether they could get a result without their star striker.
There were definite echoes of recent campaigns, where the same thoughts surrounded players like Steven Gerrard and Fernando Torres. 
With Andy Carroll seeming lost at various moments during the Carling Cup match, and with celebrated Raul Meireles damaging his collarbone in the same fixture, doubts were raised as to whether Liverpool could sustain their promising opening to the season. 
Whilst the team may not encompass the same money spinning and highly regarded transfers possessed by the new boys at City and United, there is a sense that the lesser valued additions to the Liverpool squad could compete at the same level.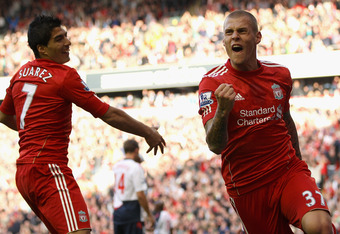 Maybe there is a possibility that the likes of Henderson and Adam need to play at a squad where the expectations upon their shoulders are not as intense. 
When impending fixtures against the main two contenders occur, can Liverpool take the fight to their challengers? 
Defensively there were concerns that Liverpool could and would crack. With City scoring by the bucket-load, there is a definite worry that a similar 3-0 defeat from the early stages of last season could be re-enacted on the Kop side. 
Yet the second string back four including Danny Wilson, John Flanagan and Jack Robinson showed mid-week that Liverpool have credible and youthful backup if required. Their age also means should each remain at the club, then they could break into the first team in future seasons, further strengthening the side. 
Jose Enrique has also been a well received and much needed addition to the squad. His insistent work ethic has ensured chances are created at one end with the opposition kept at bay at the other. 
Besides Carragher's mishandling of the ball in the final minute against Bolton, the side along with Reina's fine form had only conceded one goal in open play before today. We have to remember that this is a side whose stubborn and effective defense has a positive effect on their comeback last season. 
You can't help but feel optimistic when contemplating the victories against Arsenal and Exeter, which overthrew poor results in similar fixtures from last season. This is a changed squad with more depth and a greater confidence to string together a run of good form. 
Whilst Manchester United and Manchester City may still be considered runaway title favourites, Liverpool will now begin to get mentioned as potential challengers a lot more after the opening set of games. 
Early season predictions of a top four challenge must now be thrown out in favour of forecasts for at least a third place finish. This is a side after all with none of the European distractions as their counterparts.