Liverpool
Liverpool Player Ratings vs. Bolton Wanderers
Charlie Adam (second left) celebrates with teammates during the Barclays Premier League match against Bolton at Anfield on August 27, 2011 in Liverpool, England. (Photo by Clive Brunskill/Getty Images)
August 27, 2011
Liverpool came into Saturday's matchup with the Bolton Wanderers winners of nine-straight Premier League contests against the northwest England club, and the 10th victory never really seemed in doubt. 
The game was a tentative affair for the first quarter-hour, but then the Reds settled in and took control with Jordan Henderson opening his Liverpool account with a composed finish past hapless keeper Jussi Jääskeläinen.
Luis Suarez, playing a bit deeper to start the game, sent a searching left-sided cross into the box for Stewart Downing, who opted to attempt a difficult one-timer with his favored left foot, rather than letting it drift across his body onto his right. The resulting effort was parried wide by Jääskeläinen, but only as far as Dirk Kuyt who found Henderson for the goal.
This was just the start of what was Henderson's best day yet in a Liverpool shirt as he constantly probed and tested the left side of the Bolton defense, creating opportunities both for himself and for his teammates. In the 23rd minute he zipped a cross into the box for Kuyt, who was beaten to a touch by Bolton defender Zat Knight, who nipped it out for a corner. 
Moments later it was Daniel Agger's turn to trouble the Bolton defense as he turned a Jose Enrique cross onto goal for a comfortable Jääskeläinen to save. Henderson then slipped a beautiful ball through to Suarez a minute later, but the Uruguayan, perhaps guilty of what commentator Dean Sturridge described as "a bit of showboating," tried to cheekily chip the Bolton keeper rather than go around him or power a shot on goal.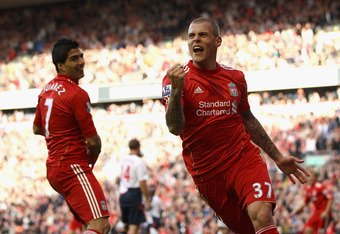 Liverpool's Martin Skrtel (right) celebrates scoring his first goal of the season against Bolton Wanderers as teammate Luis Suarez looks on. (Photo by Clive Brunskill/Getty Images)
Suarez would have to be disappointed with himself at that point, as would the rest of the Liverpool team as well, as they continued to pressure a beleaguered Bolton defense but failed to find the right combination of luck or effort to put the visitors away.
The second-half began on a much brighter note for Liverpool, as six minutes after the interval Charlie Adam saw a decent effort blocked out for a corner. On the ensuing kick he curled a dangerous ball into the six-yard box where Martin Skrtel found just a bit of daylight ahead of Knight, putting Liverpool up by two goals in the 51st minute, his first for the team this season.
A minute later Adam followed up his assist to Skrtel with a goal of his own, taking a Kuyt square ball 20 meters from goal, dribbling onto his weaker right foot past Nigel Reo-Coker, and firing a low liner through the legs of Knight, past a hapless Jääskeläinen and into the far left corner for Liverpool's third goal.
From there Liverpool seemed to ease up the intensity a bit, failing to capitalize on several opportunities presented by a foundering Bolton defense. The lack of focus eventually carried through to the defense when Jamie Carragher misplayed a desperation pass to Martin Petrov into an opportunity for the Bulgarian forward.
Petrov, who earlier in the first half had stung the palms of Pepe Reina, dribbled into the box before a hustling Carragher dispossessed him of the ball before he could strike. The clearance got only as far as Ivan Klasnic, however, and the Croatian slotted it home to ruin Reina's clean sheet and take a bit of the shine off the day for Liverpool. All in all, it was a good performance by Liverpool, but one I am certain they would admit could have been better.
As always, player ratings are presented by position (back-to-front) below, along with voting for Liverpool's Man of the Match.
Pepe Reina was rarely tested but on the rare moments that he was, responded in typical superlative fashion. Had a brilliant save off an equally brilliant attempt by Martin Petrov in the 18th minute and another off a Mark Davies dribbler in 39th minute. The second half saw another easy save before he was undone by Carragher's error in the 92nd minute to mar his clean sheet. Grade 7
Martin Kelly (Skrtel 29') made his second straight start before bowing to a hamstring injury in the 29th minute. Had little to do prior to that. Grade 6
Jamie Carragher was guilty of the occasional long ball out the back and had an uneventful game right up to the very end when he gifted Ivan Klasnic a consolation goal in the 92'. Grade 4
Daniel Agger started a bit shakily with a nervous header off a Bolton long ball but showed good anticipation to break up an early Kevin Davies attack. Had a nice header on goal off an Enrique delivery in the 23rd saved and otherwise displayed composed, intelligent play in defense. Grade 6
Jose Enrique had an uneventful first half with not much to do defensively. Had his quietest day to date in a Liverpool shirt but continues to be a wonderfully attacking option down the left flank. Created a number of opportunities for teammates in the second-half via his typical left-sided crosses. Grade 5.5
Jordan Henderson (Rodriguez 77') cleaned up the Downing effort for his first goal for Liverpool, silencing some doubts (for now). He displayed good overall effort and energy throughout the game and was an ever-present threat along the Liverpool right side, creating several scoring opportunities in what may have been a Man of the Match performance. Grade 8
Lucas Leiva was very steady, as is fast becoming the norm for the former disfavored Brazilian midfielder. His tireless box-to-box play has earned him the support of the Anfield faithful, and today's game was no different.  Grade 7
Charlie Adam overcame a disappointing first half to set up Martin Skrtel for Liverpool's second goal before scoring his own team-debut tally a minute later. Made a beautiful 40-meter diagonal pass in to Suarez in the 21st minute and another 40-meter diagonal to Downing in the second half, who controlled superbly, forcing a handball by Gretar Steinsson on the edge of the Bolton box. Finally seemed settled in the role envisioned for him by Kenny Dalglish. Grade 8
Stewart Downing looked bright, although he failed to make the most of a dangerous Suarez left-sided delivery, opting to one-time the left-sided ball with his left foot, rather than to put it back across his body with the right. Continues to impress with his runs and hustle, but might be a bit disappointed with his own efforts on goal, including an 88' effort high over bar. He continues to be a threat with his pace and intelligent positioning in the final third, creating opportunities for both himself and teammates. Grade 7
Dirk Kuyt another gritty all-round effort for the Dutch utility player. No player in the English game works harder box-to-box and, indeed, endline-to-endline than Kuyt. One moment he can be found in the attack inside the opponent's box; the next, he miraculously appears in his own defensive third, making a crucial tackle or interception. Had a late opportunity to go begging today when he opted to pass rather than shoot with Jääskeläinen seemingly at his mercy at the top of the box. Grade 7
Luis Suarez seemed to begin by playing much deeper and to the right, often picking up the ball in his own half and playing the role of distributor. Made several very nice runs, particularly terrorizing the Bolton right side, including failing to draw what should have been a penalty on Zat Knight. No doubt he regrets not making more of his 1-v-1 chance against Jääskeläinen in the 23rd minute. Grade 6
Substitutes
Martin Skrtel (29') pressed into the unfamiliar role of RB following Martin Kelly's 29th-minute injury, an indicator perhaps of how far John Flanagan has fallen since his opening day start. Did well to lose Knight and get onto the end of Adam's corner in the 52nd minute. Overall did very well playing out of position in defense. Grade 8
Andy Carroll (77') looked disturbingly lethargic after coming on for Luis Suarez, failing to get on the end of a teasing Enrique cross late in the game. Better focus would have surely netted him his first Premier League goal of the season. His movement wasn't sharp, and he never seemed into his 15-minute cameo. Grade 4
Maxi Rodriguez also had a quiet 15 minutes, hustled well in midfield, but, all in all, not much to write home about. Grade 5
Like the new article format? Send us feedback!