Cleveland Cavaliers: Zydrunas Ilgauskas Deserving of Retired Jersey?
August 27, 2011
Bingo Smith, Larry Nance, Mark Price, Austin Carr, Nate Thurmond, Brad Daugherty, and...Zydrunas Ilgauskas?
News of Kyrie Irving's suggested avoidance of No. 11 points to the Cavaliers retiring Big Z's jersey, pointing to a homecoming that will rival that of Jim Thome's return to the Tribe. Loyalty has been associated with Ilgauskas tenure with the Cavs, having played the most games for the Cavaliers with 771, 48 more than Danny Ferry's 723.
Has Ilgauskas truly been loyal to Cleveland, or are fans making the comment to further profess their hatred of LeBron James?
Ilgauskas was selected with the 20th pick in 1996 draft, along with power forward Vitaly Potapenko with hopes of securing the Cavaliers front court for the future. Those hopes were postponed as Ilgauskas missed the 1996-97 season with a broken bone in his right foot.
Excitement for the 7'3" Lithuainian was realized in Ilgauskas' rookie season where he averaged 13.9 points a game, anchored the Cavs to an exit in the first round of the playoffs, and was selected to the 1997-98 All-Rookie Team. The excellent freshman season led to a contract extension in 1998, worth $70.9 million over six years.
Expectations for the Cavs were flying high with superstar Shawn Kemp and Ilkauskas's promising play, but came crashing to a halt following the discovery that Z had a fractured navicular bone in his left foot. Ilgauskas only played in five games during the next two seasons, and the Cavs faltered, failing to make the playoffs until drafting a hot young prospect out of Akron.
The four year stretch from 2002 through 2006 is the foundation of Z's argument for a retired jersey. With major injuries in the past, Zydrunas started and played in 318 games, only missing six games during the four year span, averaging 16.2 points and 7.9 rebounds per game. This period of success concluded with a run to the Eastern Conference Semifinals in 2006, losing to the Pistons in seven games.
The summer of 2005 was a time of uncertainty for Zydrunas, Cavalier coach Paul Silas was fired, and Mike Brown was hired in part to make defense a priority for the Cavs. Brown's preconceived notions of Ilgauskas' place in the team's weaknesses might have been the first sign of a reduced role for the Cavaliers' center.
"I thought that as a team defense, there was some lapse in their play," Brown said. "I don't look at it as 'Z' solely being taken advantage of."
In need of a center during a weak free agency period only offering the likes of Samuel Dalembert and Stromile Swift, General Manager Danny Ferry decided that best option available was to resign Ilgauskas to a contract extension reportedly worth $55 million over five years.
Over the next five years as a Cavalier, Ilgauskas' position with the Cavaliers slowly diminished under coach Mike Brown. Ilgauskas' feasibility as a center to lead the Cavs to a title was put in to question during the 2009 playoff series against the Orlando Magic. Dwight Howard exposed the Cavaliers' lack of athleticism at center, scoring 40 points and 14 rebounds in a Game 6 rout of the Cavs.
Needing to do everything possible to keep the king happy, the Cavs signed Shaquille O'Neal during the summer to provide an answer to Howard in the middle. Ilgauskas' role was reduced to a greater extent, making the Lithuanian expendable in a trade with Washington. Ilgauskas returned to the Cavs for a final playoff run, but played limited minutes in support of O'Neal.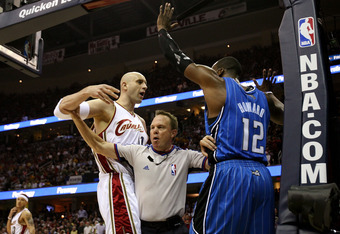 Bereft of emotion following LeBron's departure from Cleveland, fans forgave Ilgauskas' signing with Miami as the most logical thing for the veteran, even cheering Big Z's return to Cleveland. Ilgauskas was desperate for a title and Miami made sense. If he was truly loyal to Cleveland, he would have stayed to usher in the new crop of Cavaliers.
Zydrunas Ilgauskas is the most statistically significant center during the Cavaliers' 41 year history. He persevered through foot and ankle injuries to attain a successful NBA career. His dry humor, three point shooting, and long-tenure has made him a fan favorite, but his loyalty is a misnomer. Zydrunas has made the most logical choices during his career: signing two large contract extensions in alignment with his market value, and choosing to go to Miami to play for a championship in the twilight of his career.
Cleveland fans can hold Jim Thome's place in team history with a clear mind, as his departure to Philadelphia is now a blip on the radar.  Let time heal old wounds and determine Z's position in team history after both he and LeBron are long retired, not now as a message to beach-dwelling former Cavaliers.