UFC 134: Forrest Griffin's Greatest Hits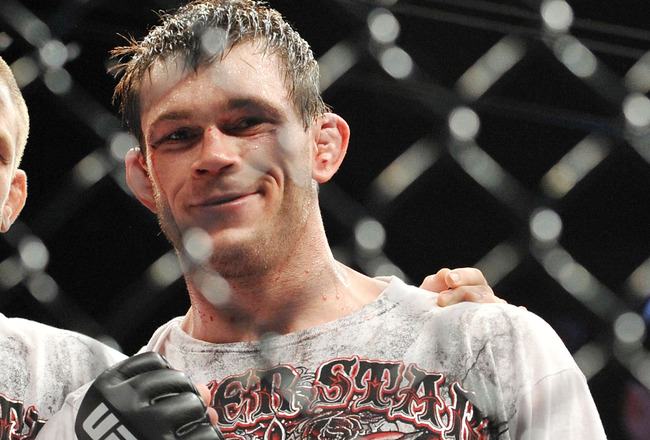 Jon Kopaloff/Getty Images
With UFC 134 going live in just a few short hours, the MMA world is going back on forth on a number of subjects.
Will Yushin Okami be the guy who finally pulls off a stunning upset over Anderson Silva? Will Anderson Silva continue his reign of terror over the UFC's middleweight division? After suffering two back to back losses, has Mauricio "Shogun" Rua gotten his groove back? Is Brendan Schaub going to be able to live up to his hype, and take out yet another legend in Antonio "Minotauro" Nogueira? Which Brazilian native is going to come out of this groundbreaking card as a national hero, and which foreigner is going to play the role of spoiler?
Yeah, there are definitely a variety of different things to discuss going into this awesome card. However, the one fighter people aren't really talking about is Forrest Griffin.
Wait, I take that back. Some people (myself included) are talking about Forrest, but nobody is saying anything good. After his comments regarding his new found lack of passion for the sport, most people are simply wondering how long it will take before he is shown the door by Dana White. His fight against Mauricio Rua is a non-factor, with everyone assuming that "Shogun" is back, and Griffin can't do anything to stop him.
Fair enough.
With all of this negativity surrounding the once popular fighter, I thought it might be a nice change of pace to take a look back at the better times in Griffin's career. Join me, won't you, as we stroll down memory lane for a look at Forrest Griffin's Greatest Hits.
5. Griffin vs. Bonnar II: The Sequel
It's the fight that no one remembers.
Oh, sure, the first meeting between Forrest Griffin and Stephan Bonnar at the first-ever Ultimate Finale has gotten every award possible from the UFC. Not only did it win fight of the night at the time the bout actually took place, but Dana White has gone so far as to call their first meeting the "best, and most important fight in UFC history." It doesn't get much bigger than that.
The second fight, however, wasn't viewed in nearly as favorable a light. It's bound to happen, especially when you're coming in hot off the heels of the greatest fight ever. What's really crazy about this second meeting is that it's actually a pretty exciting fight. It obviously wasn't as important, or quite as wild as the first fight, but that doesn't mean it wasn't great in its own respect.
On their way to a three round unanimous decision that would again go in favor of Griffin, these two pulled off yet another spectacular fight for the UFC. Though Griffin easily won on the scorecards, you can't help but respect Stephan Bonnar's efforts. The guy will never be a champion in the UFC, or at least, it would be tough to imagine at this point. However, I also can't ever see him going the route Griffin has gone lately with regard to losing his passion, and yadda yadda yadda. Stephan Bonnar, while not at the skill level of a divisional champion, has more heart than any fighter I have ever personally seen.
Win, lose or draw, that is to be commended.
4. Griffin vs. Ortiz I
At UFC 59, young Forrest Griffin took on his toughest opponent yet, in former light heavyweight champion "The Huntington Beach Bad Boy" Tito Ortiz.
This fight, like his fight at the Ultimate Finale, was a testament to what a motivated Griffin was capable of. He and Ortiz went toe to toe for three full rounds, and despite losing a controversial split decision, Griffin was able to win over a large portion of the UFC fan base through his efforts.
The two would meet again, down the road at UFC 106, in a fight that Griffin himself would win by split decision. Despite Griffin's victory, and the fact that this is a list of his greatest fights, the second bout simply wasn't as exciting as the first.
After splitting the first two fights, a rubber match was rumored to be in the works, yet never came to fruition. With Tito's career winding down, and Griffin's perhaps doing the same, it's looking less and less likely that the third bout will ever take place. I, for one, would still love to see it.
3. Griffin vs. Rampage: UFC Light-Heavyweight Championship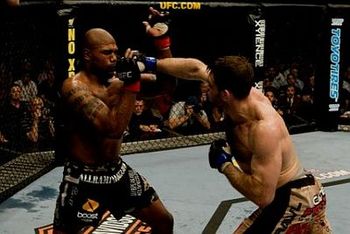 After defeating Mauricio "Shogun" Rua at UFC 76, Forrest Griffin went to the front of the line to face Quinton "Rampage" Jackson for the UFC light heavyweight championship.
Coming off Jackson's demolition of "The Iceman" Chuck Liddell, this was a fight nobody (including me) expected Griffin to win.
This was truly a battle for the ages. The first round did not look promising at all for Griffin, who was floored by a wild uppercut from Jackson. However, the young contender managed to not only make it to his corner between rounds, he also shot out of his corner for the second round, and never looked to be in trouble again.
Griffin utilized a vast assortment of leg kicks, which clearly pained the champion, not to mention showing a far superior ground game that stifled Jackson at every turn. Once again proving that when his heart is in the fight, he's a force to be reckoned with, Griffin won a unanimous decision over "Rampage" to become the new UFC champion.
The decision was disputed in certain circles, but for me, it was appropriate. While Jackson was never in any real trouble throughout the five round fight, it was obvious that Griffin controlled a majority of the contest.
Unfortunately for the newly crowned champion, Griffin would run into the undefeated Rashad Evans in his first defense, where he would get TKO'd in the third round. For obvious reasons, that fight (and especially his later fight against Anderson Silva) will not be a part of this list.
2. Griffin vs. Shogun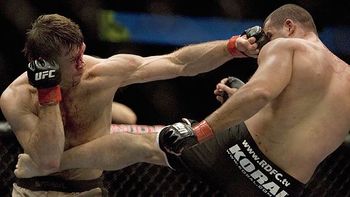 The top story for MMA in 2007 was definitely the UFC's purchase of Pride Fighting Championships. For years, MMA fans argued back and forth about who would win if top stars from the two organizations faced off. In 2007, the fans would have a definite answer to all of those questions.
One of the most highly touted stars of Pride was Mauricio "Shogun" Rua, and rightfully so. Rua was a force to be reckoned with in all areas of a fight, and his accomplishments in Pride were no fluke. It was to be expected, then, that when Rua's first fight in the UFC was set against Forrest Griffin, the fans would automatically assume an easy victory was in store for "Shogun."
One more time, people bet against Forrest Griffin, and one more time, they paid for it.
Unlike a majority of Griffin's fights, which were exciting fights that went the distance, this bout against Rua was to be finished early. However, it wasn't Griffin who was on the receiving end of a knock-out or submission. Instead, it was Rua who was totally outclassed for the entire fight, succumbing to a rear-naked choke in the third round of the fight. Against all odds, Forrest Griffin had just choked out one of the biggest stars in the history of Pride Fighting.
Of course, Pride fans had their excuses. Rua wasn't himself, he wasn't feeling well, etc. You know, those same excuses that were hurled when Jon Jones destroyed him earlier this year. hatever the case, "Shogun" fell short of his expectations on that night, and it was Forrest Griffin who was taking a trip to the fabled pay window.
1. Griffin vs. Bonnar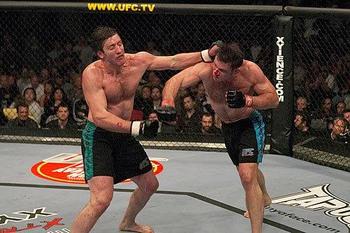 Oh, come on now, what did you expect?
It's sad that, due to the overwhelmingly positive reviews this fight has always gotten, some fans have recently begun to balk at the idea that this was a great fight. Not enough ground work, no submission attempts, no wrestling. Whatever the case, it looks like certain people are tired of hearing about how great Griffin vs. Bonnar at the Ultimate Finale was.
Well, I'm sorry, but for this list, there is absolutely no other choice for number one. Maybe I'm being closed-minded, maybe I'm just repeating what the UFC has told me to believe. or maybe, just maybe this fight was freakin' awesome. Yeah, I'm going with that.
I can still recall sitting at the local watering hole with about 20 of my friends, watching this event on the big screen. Despite being mildly impaired by the time Griffin and Bonnar stepped into the cage, I also remember being absolutely blown away by how fantastic this fight was from start to finish. I've watched it a hundred times since that night, and while it wasn't the greatest technical display of mixed martial arts, the excitement of the fight has never once wavered for me.
This way fighting at its most basic. Two men going toe to toe, blow for blow, for three solid rounds. No breaks, no ground work, no fancy twister submissions, just a 15 minute fist fight. Say what you will about what wasn't happening in this fight, but what was happening was nothing short of a phenomenal display of heart by both men. Griffin walked away with the victory both times, but both men secured a long term job with the UFC as a result. That fact by itself speaks volumes for the fight.
In the years since this bout took place, MMA has come a very long way. However, there is no doubt in this writers mind that this is where it all started.
Which Forrest Will We See Tonight?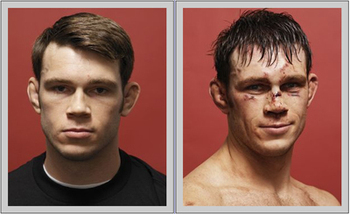 Well, folks, there you have it.
In a week that has been filled with negativity surrounding Forrest Griffin, maybe some of you who took a gander at this slide show will walk away thinking about the contributions he has made to the sport of mixed martial arts, rather than what he plans to do from here on out.
Hopefully, tonight, we'll see the Forrest from these slides, rather than the Forrest who showed up to face Anderson Silva or Rashad Evans. I'm not sure his heart is in the right place any longer, but I'm holding out hope until I see what happens tonight with his rematch against "Shogun" Rua.
If this is the last time we see Forrest in a major fight, I would like to say thanks for the memories, sir. It's been fun.
What are some of your favorite Forrest Griffin moments, fans? Please feel free to comment on that, or on anything I may have glossed over with the slideshow.
Thanks for reading, and we'll see you at UFC 134!
Keep Reading