Oakland Athletics: Will Bud Selig's Stalling Lead to Billy Beane Bailing?
August 27, 2011
This feels like déjà vu writing this article tonight. It seems we touched on this six months ago, and the topic is reminiscent of 2002.
Nine years ago, A's General Manager Billy Beane briefly accepted a job offer to take over as GM of the Boston Red Sox, only to have a change of heart a day later and return to the A's.
The firing of Chicago Cubs General Manager Jim Hendry earlier this week brought us right back down that familiar road, prompting rumors that Beane has emerged as an early candidate to serve as his successor.
The rationale behind the speculation that Hendry's departure from Chicago could trigger the departure of Beane from Oakland is pretty simple.
The A's are strapped financially and have trouble competing with the big market clubs, the delay in the stadium decision by Major League Baseball is frustrating Beane and making it hard to plan long-term and Beane's competitiveness would be better suited in an environment where he has the opportunity to start stockpiling World Series rings with the combination of his ingenuity and the financial resources to capitalize.
Add into the mix the fact that Beane would be on top of the list for any GM vacancy, so long as he were not held back by A's ownership insisting he honor the remainder of his contract, and you have the base for some good speculation to ensue.
The Hendry-firing was not the beginning of the speculation that this could be Beane's final season in Oakland, though, allowing assistant GM David Forst to take over the reigns.
Fox Sports' Bob Klapisch wrote a column back in February speculating that Beane had grown tired of the struggles of running the A's, and based on the opinions of unnamed people connected to Beane, he wrote that Beane should "pass the baton to assistant David Forst and look for a Plan B for the rest of his professional life."
In my own column, I wrote:
Since taking over as general manager of the Oakland A's, Billy Beane has been handcuffed with financial decisions regarding players and the construction of the A's roster.
Although technically Major League Baseball has not made an official announcement denying the A's in their quest to move to San Jose, their 895 days of refusing an answer may wind up giving Billy the incentive to stop waiting patiently.
Speculation has circulated that if Wolfe is not granted permission to move to San Jose, he could place the A's up for sale and move on.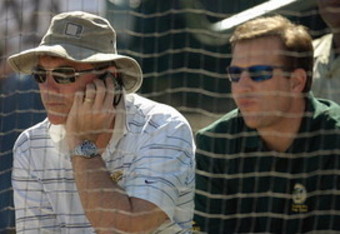 In her column in The San Francisco Chronicle, Susan Slusser echoed this opinion this week.
Slusser writes:
It's no secret that the A's higher-ups are frustrated about the glacial pace of Major League Baseball's panel looking at a potential Oakland move. Within the A's organization, there is concern that if the ownership group does not get approval to build a stadium in San Jose that the team might be sold and that Beane, who has a minority stake in the A's, would head elsewhere.
She also adds that "There is increasing thought among baseball people, including some who know him well, that A's general manager Billy Beane might consider an offer if the Cubs do approach him about their GM vacancy."
A's managing partner, Lew Wolff, did his part to try to crush the rumors that he would sell the team if he is not allowed to build the stadium in his desired San Jose location.
He told John Shea, also of The San Francisco Chronicle, "I'm going to build a new stadium for the A's, and if I'm not, someone will," quickly pointing out that the "someone" reference is not an indication he will sell the team.
Shea then clarifies Wolff's statement by writing:
He was quick to point out he didn't mean he'd move the club or sell to out-of-town interests, instead mentioning his son, Keith (vice president of venue development) as a possible baton receiver.
Wolff would continue to explain to Shea, "We're working every day. If it doesn't happen, we'll go to Plan B, which I don't have."
Also in Shea's article, Wolff comes across optimistic that a new stadium will become a reality during his tenure as A's owner, but states he won't stand in Beane's way if he decides to pursue another GM position.
Shea writes:
"I would never inhibit anybody from bettering themselves because of a contract," said Wolff, who had lunch with Beane on Wednesday and said no team has called regarding his GM. "Billy is fantastic and, to me, indispensable. My hope is he will be here a long time. I did promise Billy and all the guys we would have a venue so they would be able to further execute their abilities, and I think that will happen."
So while Wolff appears to be holding out hope through the words of John Shea, he leaves enough of a crack for the media (myself included) to continue to speculate what this all means for Beane's future with the A's, and thus the future of the franchise itself.
It's important to remember that there has not been any official list of candidates released, and there likely won't be until the conclusion of the 2011 season, meaning this truly is all just speculation at this point.
Even when that list is released, Beane will not be the only name considered.
Brian Cashman, Ned Colletti, Rich Hahn (Chicago White Sox Assistant GM), Andrew Friedman (Tampa Bay Rays Assistant GM) and even Theo Epstein has been mentioned (although I fail to see the incentive for him to ask out of his deal in Boston).
Unless Beane comes out and removes himself from consideration between now and the vacancy being filled, it should be expected that the Cubs will at least reach out to him seeking an interview.
If Beane is offered the position, it is hard to imagine him finding enough reasons to turn the Cubs down in favor of staying in Oakland.
He would finally have the resources to attract top-flight free agents to play for him.
If he brought a championship to the Cubs for the first time in 103 years, he would become an instant deity in the Windy City.
There would be no huger ego-boost than to end the longest championship drought in baseball for the GM that is currently being portrayed by Brad Pitt in an upcoming major motion picture, Moneyball.
Even if Beane is not offered the Cubs job, the speculation won't end there if the Yankee, Red Sox or Dodger jobs open up due to the incumbent GM accepting the position with the Cubs.
All offer Beane more resources to compete than he possesses in Oakland.
While this is strictly just me playing MLB conspiracy theorist, wouldn't it be convenient for Ned Colletti to leave the Dodgers to join the Cubs, opening the Dodger job for Billy Beane?
Why would Beane want to join a team in a total state of disarray? He wouldn't, but remember those Wolff-to-buy-Dodger rumors a few months back?
Beane to the Dodgers, Wolff sells A's and joins his former GM in Los Angeles.
Like I already said, though, that is just me playing the role of conspiracy theorist. There has been absolutely zero speculation of such a scenario unfolding.
Would he consider the Yankees, though, if Cashman takes the Cubs job? The Red Sox, if Epstein were to step down?
My point is only that Beane will have more than just the Cubs job as an option this offseason. 
(Calm down, I am not seriously suggesting an MLB conspiracy to keep the A's down by moving both Beane and Wolfe elsewhere).
On the flip-side, though, Beane is a Bay Area resident who openly admits his love of the area and arguably has more job security than any other GM in baseball if he chooses to stay.
He owns a small minority percentage of the team that employs him, and he has a contract through at least 2014.
If the A's are allowed to move, his ownership stake will become more valuable.
Jumping back to John Shea's column for a minute, he reminds us again why Beane remained in Oakland nine years ago rather than bolting for Boston: "[Beane] liked the challenge (and freedom to wear flip-flops) in Oakland as well as the creativity required to equip David (not Forst) against Goliath."
Although there is a faction of the A's fanbase that would rejoice at Beane's departure, it would signify a major setback in the progress of the team.
David (yes, Forst) will be pit against the Goliaths of the baseball world, and for the first time in his career, his mentor could be one of them.
While I personally believe that Forst will make a fine GM and can pick up where Beane left off, in a perfect world, the transition would happen with Beane being promoted to a team president or simply deciding to retire to pursue other ventures, not by leaving to run one of the 29 competitor teams. 
And so for A's fans already tired of waiting for an answer on the stadium issue, for the next two to three months, all we can do is sit back and watch this new process unfold. 
Excellent Stadium-related Pages and Groups
For those interested in following the stadium issue more closely, check out the NewBallPark.org for the most in-depth coverage of the stadium pursuit. 
BaseballOakland.com represents the pro-Oakland group that would like to see a stadium built in the city that has served as home of the A's since 1968.
Let's Go Oakland, Keep the A's is a Facebook page dedicated to keeping the A's in Oakland. At the time of this writing they are 47,120 members strong. They also have a website.
Pro-Oakland stadium supporters are also arranging an event on Facebook aimed at showing the A's ownership that there is fan support in the city to justify building a new stadium:
If the A's Loved Us Back Day is set for September 20. RSVP for the event. I did.
ProBaseballforSanJose.com is another good source for the pro-San Jose angle.
Baseball San Jose Blog offers a representation of the pro-San Jose group.
If I missed a good source for A's stadium news and social-connecting, please feel free to share the link in the comments. Let's just keep the conversation civil. We are all A's fans, after all.