2011 NFL Predictions: 5 Best Bets on NFL Season Win Totals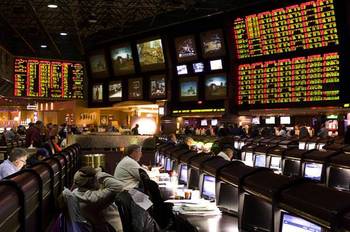 One of the most exciting aspects to being an NFL fan is predicting how the upcoming season will unfold. Who's going to win the Super Bowl? Which QB will lead the league in passing? Everyone has an opinion, and most are willing to share them.
For many NFL fans, another great thing about a fan is being able to wager on their predictions—and hopefully win some money.
Here we'll look at what we think are the five best bets out there right now for you gambling men (or women). For the purposes of this article, we're going to stick to the Over/Unders that have been set for season win totals. Keep in mind, this doesn't include playoff games, only the regular season.
We'll start with the defending champs.
Green Bay Packers 11.5 Wins: Over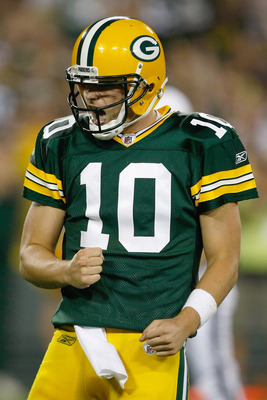 Scott Boehm/Getty Images
Betting on a team to win 12 games seems risky, but we've seen at least 4 teams reach that mark every year for the past 8 seasons. And who is a safer bet than the reigning Super Bowl champs?
Let's look at how this team has changed since last season. We'll start with the bad: they lost Cullen Jenkins, leaving DE as a weak spot on their roster.
That's the only negative we can find.
Sure, this team only won 10 games last year. However, their 6 losses came by a combined 20 points, and two came without Aaron Rodgers. They also went the entire season without Ryan Grant (career 4.4 YPC). Receiving the majority of the carries in his absence were Brandon Jackson (3.8) and John Kuhn (3.2). The return of Jermichael Finley cannot be understated, as he established himself as the teams secondary receiving threat—after Greg Jennings—with 301 YDS and a touchdown through the first four games of the season, before going down with a torn meniscus and missing the rest of the year. With the return of Grant and Finley, the Packers offense should be even more dynamic than last year's.
The scheduling gods have smiled upon the Packers this year, as they have drawn the AFC West—three easy wins and a tough game at San Diego, along with the Rams and the downward trending Giants as their other NFC opponents. They'll have to face the tough NFC South, including a road game at Atlanta. However, they get to play the Saints at home, and they annihilated the Falcons in Atlanta during the Divisional Round last year. Depending on how things shake out, the Packers could be favorites in every game this year. Surely they can win at least 12?
Cincinnati Bengals 5.5 Wins: Under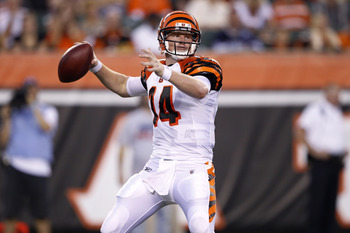 Joe Robbins/Getty Images
With Carson Palmer seemingly forced to retire, this year the Bengals will go with either the rookie Andy Dalton, or the "established veteran" Bruce Gradkowski at quarterback. Yikes. Palmer certainly has been a bit of a shadow of his former self lately, but you'd be hard pressed to find someone who wouldn't rather have him out there than either of those two.
Secondly, their two leading receivers from last year are gone—Ochocinco and T.O; that's over 1800 receiving yards. While no one would argue that AJ Green isn't talented—in fact, it's possible he is better than those two receivers at this point in their careers—he can't replace that production, especially when he has Dalton or Gradkowski throwing to him. Their most proven offensive weapon is now Cedric Benson and his career 3.7 YPC.
Over on defense, they lost one of the top young corners in the league in Jonathan Joseph, and replaced him with a guy who was one of the top corners in the league five years ago, Nate Clements.
It's important to consider that the Bengals won only 4 games last year, and since then have lost one of their best defenders and essentially their entire passing game. Given these setbacks, I don't see how they can improve on that win total this year.
San Diego Chargers 10 Wins: Over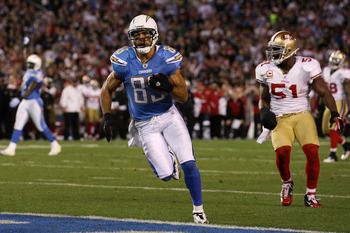 Donald Miralle/Getty Images
Last year, the Chargers were the epitome of a team that played better than its record indicated. They finished 9-7, completely missing out on the playoffs. However, they ranked first in the league in both Offensive and Defensive YPG. That, among some other factors, is a good indicator that they'll have a much more successful season this year.
Considering the injuries they faced, its amazing that the Chargers managed to finish first in Total Offense. Their first round pick, Ryan Mathews, was dinged up for a good part of the season, and their top two receivers, Vincent Jackson and Malcom Floyd, played a total of 16 games between them. That should change this year, as Philip Rivers—unarguably one of the top QBs in the league—will have his top two receivers back, along with Mathews. On top of all that he'll have Antonio Gates and last year's breakout running back Mike Tolbert. This offense will be a force to be reckoned with.
Over on defense, the Bolts have added some veterans—Bob Sanders and Takeo Spikes—to an already strong unit.
The most important factor in our decision to go over on the Chargers is the division that they play in. The Raiders and Broncos are mediocre at best, and the Chiefs are everyone's preseason pick (including ours, as you'll soon see) to underperform this year. They'll also face two of their toughest opponents—Green Bay and Baltimore—in San Diego.
Despite some likely-to-be-tough games at the Pats and the Jets, the Chargers are poised to dominate their division and possibly the AFC, to the tune of at least 11 wins.
Kansas City Chiefs 8 Wins: Under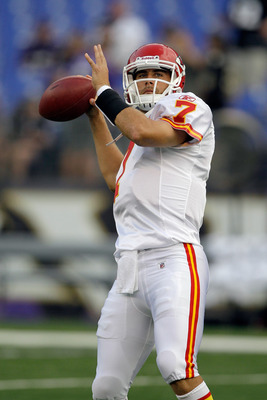 Rob Carr/Getty Images
The Chiefs are the antithesis of their rivals in San Diego. Some may just see the 10-6 record, but look a bit deeper and you'll see signs of a serious let-down this year.
Of their ten victories, just one came against a team who finished with a winning record: their week one win against the Chargers. In that game, which the Chiefs won by a score of 21-14, the Chargers nearly doubled their yardage, outgaining KC 389 to 197. They won largely due to two long plays: a 56 yard scamper by Jamaal Charles and a 94 yard punt return by Dexter McCluster. They weren't so lucky next time they played San Diego: they lost 31-0.
They won't be able to feast on a weak schedule this season. They'll face the entire NFC North, none of which are bad teams. And thanks to their division victory last year, they'll get to face the Colts and the Steelers this year. Aside from their opening game against Buffalo and two games against Denver, every opponent should be a tough one (They actually lost at Denver last year).
KC brought in Steve Breaston and drafted Jon Baldwin in order to give Matt Cassel some receiving options, and that should help. Although Cassel's 93.0 quarterback rating looks good at first sight, his completion percentage was mediocre (58.2%, 26th in the league) and his YPA ranked 19th.
Cassel needs to improve along with his receiving corps, and Charles needs to perform at the same level as last season while shouldering a larger workload, otherwise the Chiefs will be no more than average on offense this year.
It seems like every year we see a surprise division winner or two from the previous season come back to the pack and miss the playoffs the next season. Last year it was the Bengals and the Cardinals, two years ago it was the Dolphins and Panthers, the list goes on and on. Look for the Chiefs to be one of those teams this year, all of the signs are there.
St. Louis Rams 7.5 Wins: Over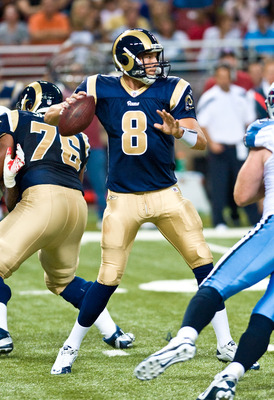 Ed Szczepanski/Getty Images
Last season, the Rams were a member of what was probably the worst division in the history of the NFL. Guess what? It's still the same division this year, and someone has to win. We're betting its going to be the Rams.
Lets start by discussing Sam Bradford. It's tough to find an NFL expert/analyst/writer who isn't high on Bradford, the former number one pick in the draft and Heisman Trophy winner while he was at Oklahoma. His stats last year were just okay, but he was a rookie with a decimated receiving corps.
Enter Josh McDaniels, the Rams new offensive coordinator; while he had a poor showing at his first head coaching gig in Denver, his ability as an offensive mind has never been questioned. St. Louis also has brought in Mike Sims-Walker, and Donnie Avery will return from injury. This is still not a great group of receivers—and it lacks a true star—but it is certainly better than what Bradford had to deal with last year.
The Rams face a tough schedule early in the season, facing Green Bay, Philly, New Orleans, and Baltimore, among others, in the first half of the year. But take a look at their final 9 games. They'll have to go into Pittsburgh, but besides that they'll face each of their division-mates twice, along with Cincy and Cleveland. Let's hope Bradford has worked out the new offense by then, because those are a lot of bad teams for him to exploit.
Remember, we're just asking for 8 games here. While none of the NFC West teams reached that total last year, we'd be shocked if that happened again. And right now the Rams look like the easy favorites to take the division.
Keep Reading