UFC 134 Fight Card: Yushin Okami to Anderson Silva: "I'm Not Chael Sonnen"
August 26, 2011
UFC 134 storms into Rio de Janeiro at the HSBC Center on Saturday, Aug. 27. Highlighting the night's action is a middleweight championship bout between the current king, Anderson "The Spider" Silva, and Japanese star Yushin "Thunder" Okami.
Silva is hands down the greatest mixed martial artist on the planet. With legendary striking prowess and the ability to knockout the greatest of fighters, Silva is on a 13-fight win streak and has not been defeated since a disqualification defeat to the very same Okami back in 2006.
Okami is also riding a wave of momentum coming into Rio. Not the same magnitude of dominance exhibited by Silva, but Okami is 10-2 inside the UFC. 
Both Silva and Okami have challenged the grappler Chael Sonnen in the past. Silva defeated Sonnen with a triangle choke in the fifth round of their matchup. Whereas, Okami was defeated by Sonnen by unanimous decision in their only bout.
Speaking to Tatame.com, Okami discussed Silva's matchup with now training partner Chael Sonnen as well as his fight with "The Spider" this Saturday.
Surprised by Sonnen's success against Silva, Okami told Tatame, "I was expecting that Chael will be able to take Silva down, but never thought he will overwhelm by using his mixed technique of boxing and wrestling," Okami said.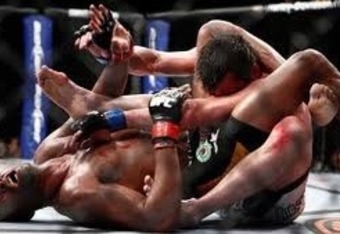 Understanding that he is a different fighter than Sonnen, Okami followed up that statement by stating, "that looked really effective and it is great reference, but I'm not Chael so I should use my own skill and technique which will be able to use my physical effectively."
Silva has developed as a fighter since their initial matchup in 2006. According to Okami, "the biggest change is his experience of defending his title several times at UFC. That must give him a lot of confidence, which I could see from his recent fights. He has atmosphere that controls opponent's performance."
Also developing since their initial fight, "Thunder" stated that he "improved almost everything, especially physical."
A physically strong competitor with a black belt in judo, Okami is a solid grappler inside the Octagon. Ever improving on his stand-up skills, "Thunder" is confident in his abilities to defeat Silva on Saturday.
Understanding that he will need to capture the belt from Silva in his home country, Okami stated, "I always feel the pressure, but this time is a Championship, a lot of fans are cheering for me. It's giving me a lot of power to prepare for the fight and I'm highly motivated. I want to change all of the expectations to positive pressure. I must not compromise in any point and prepare for Aug. 27. I want all of my fans to enjoy the fight and my peak performance."
Okami will have his chance this Saturday to dethrone the king and take over as the current UFC middleweight champion. Tune in to the fight to see if Okami's confidence comes to fruition.
I welcome your comments.