San Diego Chargers: 5 Players to Watch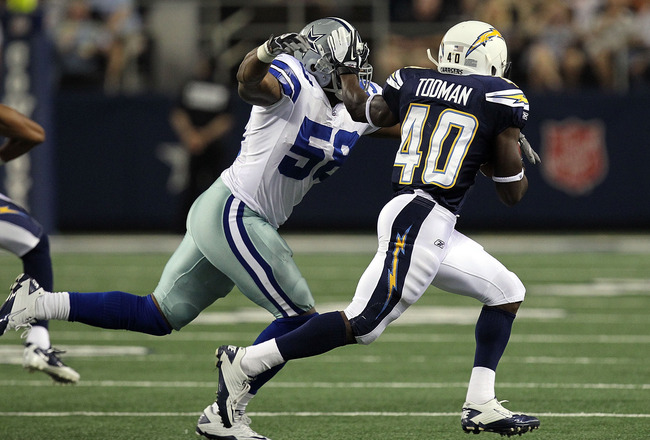 Ronald Martinez/Getty Images
San Diego has looked great so far this preseason. Philip Rivers, Ryan Mathews, Vincent Jackson, Eric Weddle, and many other veteran players have been playing like they usually do. Some new faces, as well as some familiar ones, have been showing their skills this preseason.
With their excellent play, these five players will be looking to make an impact in the regular season. Make sure that you watch them in the next two preseason games. Examine them, and tell m.e what you think of them. Also, comment if you feel there is another player who has been impressive.
So here are the five players that you should keep your eye on for the rest of the preseason.
Corey Liuget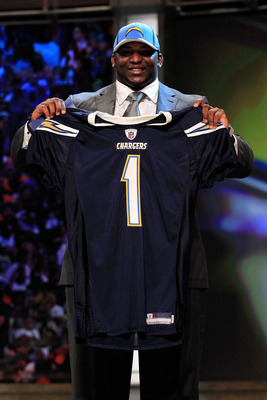 Chris Trotman/Getty Images
This guy is legit, literally. His shortness of practice in the offseason has created little impact on his play. Corey Liuget is a phenomenal pass-rusher, and the reason the Chargers selected him 18th overall is being put at display in the preseason.
In his limited time of play, Liuget has recorded five total tackles, as well as one sack. He also forced a fumble in one of his tackles.
The numbers may not be that impressive, but once you watch the way he gets after the quarterback, you WILL be impressed. Liuget creates incompletions, bottom line. The quarterbacks of the opposing team have had to throw the ball away numerous times because Liuget has been in the backfield chasing them down.
I feel 100 percent confident that he will be on the roster competing for a starting position. The Chargers could have the steal of the draft on their very defense.
Richard Goodman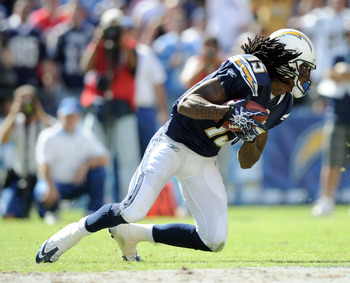 Harry How/Getty Images
Speed. Speed. Speed. Speed. Speed.
That word describes Richard Goodman. He isn't a player that will make a lot of noise on offense, but special teams is where he really shines.
Goodman is entering his second year in the league. Last season, he was on the Chargers roster for kick returning, but was then demoted to the practice squad to free up space. Goodman wasn't needed last season because of Darren Sproles. Now that he's gone, it could be time for Goodman to step up and be the next playmaker.
Speaking of return men, Bryan Walters has already returned a kickoff for a touchdown in this preseason. In my opinion, Walters is a good player to have returning kicks, but Goodman is a great player to have returning kicks.
Devin Hester had a 4.44 in his 40-yard dash.
Goodman had a 4.55.
Yes, .11 can be a big difference, but the 40-yard dash is really overrated don't you think? If a player is having a bad day, do you really expect him to run his full speed in a game? No. Now, I'm not saying Goodman is faster than Hester. I'm just saying that he can be a great returner with the speed and elusiveness he obtains.
Darryl Gamble
Kevork Djansezian/Getty Images
Who? Well, the fans who have watched the last two games, or even follow Chargers representatives on Twitter know who I'm talking about. Gamble is an undrafted rookie out of Georgia. He's an inside linebacker, and has been causing problems for the other teams already.
He finds ways to get around the offensive line men, and get into the backfield. So far this preseason, Gamble has recorded 10 tackles and one sack. He brings the players down behind the line of scrimmage 50 percent of the time. When he gets a tackle, you'll notice it.
He has a very good chance of making the team, and actually competing for playing time. With Stephen Cooper's injury, his opportunities rise.
Vaughn Martin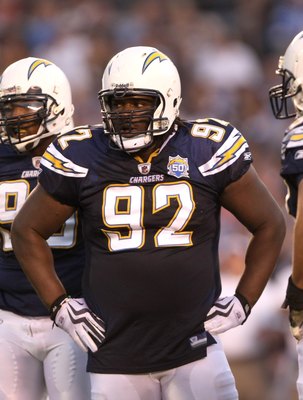 Stephen Dunn/Getty Images
Vaughn Martin is just scary, period.
He's really been active in the preseason. Martin knows that his chances are slowly declining, and he needs to step up, which he has. He's recorded six tackles, including two sacks. Remember this about him, as well as Gamble and Liuget. All three are playing limited minutes with all the other defensive players trying to make the team. There has been 35 players who have made at least one tackle this preseason. That tells it all.
Over his two-year career, Vaughn Martin has played the backup role. I'm sure he's tired of that. With the aging Luis Castillo, and the rookie Corey Liuget, Martin will have the chance to become a starting defensive end.
Let's see how he does in Arizona first.
Jordan Todman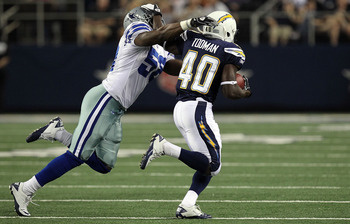 Ronald Martinez/Getty Images
This guy can flat out run. He may not be the third-down back that Darren Sproles was mainly because he's not the best receiver. He can't catch the ball all that well. Once he has the ball though, the story completely changes. In the open field, Todman is very dangerous.
His speed and his vision make up for his inability to catch the ball. Don't get me wrong, he will develop his catching ability, he just hasn't showed it yet. He has caught five passes for 21 yards in the last two games, so he may be improving. Let's hope so.
Todman is a player who you just find yourself rooting for. I believe that he will make the team, no doubt about it. I also believe that if he keeps running the ball the way he has the first two preseason games, he will make Darren Sproles very forgettable.
Keep Reading

San Diego Chargers: Like this team?