NFC West: Preview of the West; There's a New Sheriff in Town
August 27, 2011
The NFC West is shaping up for some interesting story lines this year, as the division some consider the weakest in the NFC has seen some improvements that will surely raise the level of competition.
Last year was about who could squeak into the playoffs and survive long enough, as the level of competition did not rival the other divisions in the NFC.
This year, It seems there is more of the same to come.
Here is a look at the teams that compose the West, and a review of how they'll do.
There's a new sheriff in town with Kevin Kolb's arrival to replace a horrible Derek Anderson campaign from last season.  With the addition of Kolb, the Arizona Cardinals now have a quarterback that is more apt for the west coast offense and on top of that will be able to get the ball to Larry Fitzgerald on a consistent basis. Don't expect pro-bowl numbers from Kolb as he is a great replacement but not yet at the level to really bring this team all the way just yet. 
The running attack of injury prone Beanie Wells will be vital to the offense to take the burden off of Kolb and balance out the attack. However, if Wells goes down with another injury, I don't know if LaRod Stephens-Howling will be able to take on the role as a  lead back in this offensive scheme. 
The receiving corps is led by the awesome Larry Fitzgerald but after that, it's anyone's guess who will step up.  Look for more use of the tight ends in the Arizona passing attack to create more chances for the wideouts.
Defensively, the Arizona linebacking corps and secondary should do enough to keep them in games and I expect an improvement over last year's performance as they shouldn't be as worked as they were last year due to the offense's limited capabilities.  Overall I see the Cardinals finishing 7-9.
San Fransisco 49ers:
This team is one of the most frustrating to understand.  The love affair with Alex Smith has shown despite the fact that he will not bring success to this team, yet they keep insisting that he is the man for the job.  Not pursuing any free agents or veterans to this team is a glaring mistake as will be seen this year again. 
Contract talks with Frank Gore remain painfully slow and the team risks losing this level one running back to free agency. Unfortunately, Anthony Dixon does not have the talent to fulfill the role of Frank Gore for the 49ers.
The receiving corps is led by free agent Braylon Edwards and needs a big contribution from Michael Crabtree and Josh Morgan in order to score consistently. However, I don't see Edwards performing much more than an average receiver as he is highly overrated.
The 49ers defense is very average and will be tired all season long as the offense sputters.
I wish I could write a more positive review of this team, but I can't.  This is a team with serious troubles that start from the General Manager's office and continue all the way down to the practice squad.  Look for this team to finish at 3-13.
Here we find another team with issues at Quarterback.  Tavaris Jackson was brought in from Minnesota to lead this offense.  The question is to where?  Jackson just doesn't have the ability to be the type of quarterback to carry a team on his back, and neither does Charlie Whitehurst.  The difference between the two is simple.  Which one brings the best chances at winning? In my opinion the answer is Whitehurst.  Look for musical chairs at quarterback this season which will cost the team wins.
The running game is another area of concern for me as I don't think Marshawn Lynch will be able to be as effective as he was at times last year.  Leon Washington must be utilized in more of the offensive scheme to offer a change of pace to the running attack and Justin Forsett needs to seize every opportunity to become the lead back.
Wide receiver Mike Williams has some help this year in Sidney Rice, but Rice's ups and downs are something that will plague him again in this offense.  Outside of the top two, the receiving corps doesn't offer much else by way of threats so look for Zach Miller and John Carlson, the tight ends, to be looked to frequently.
Defensively, the team is thin at all positions and I foresee problematic issues for the line backers this year as I don't see them having game changing ability.  The team doesn't have a great run stopping scheme and their corners can be exploited with the proper match-ups.  Look for a lot of games that slip away from the Seahawks as they go 5-11.
I have the Rams as the favorite to win this division as they have the most balanced team in the field.  Look for their main competition to be from the Arizona Cardinals. 
Quarterback Sam Bradford looks to build on his rookie season and avoid a sophomore slump.  Bradford now has a healthy roster of receivers to throw to and the offense in St. Louis is geared toward the air.  Bradford builds off of last year and should be considerably better and is a few years away from being considered one of the league's best if he continues to mature as he does.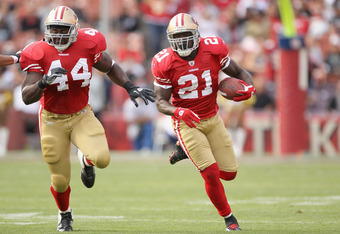 Mike Sims-Walker arrives from Jacksonville to join a receiving corps driven by Danny Amendola and Donnie Avery. If Walker can adjust to his new surroundings his addition will be a welcomed one as it will take pressure off of the other receivers and spread the defense out.  Look for Brandon Gibson to also make a big splash for these guys and elevate the Rams' receiving corps from being just average.
A healthy Steven Jackson and a dose of Cadillac Williams should be an interesting combination for the Rams' running game.  A benefit from Williams' blocking abilities will help Bradford on third down passing plays as well.
Defensively, I see a slightly above average unit that can force some turnovers and should give just enough to keep the Rams in games in which they are mismatched and could steal some from teams that take them for granted.
Overall, I won't be surprised to see this team win the West, but I don't see it being done with convincing fashion.  Look for the Rams to go 9-7.
It may be a while before the West becomes the division we thought of in the past.  This may be the most upside down division in the NFL and although it has the label of being weak, the games still need to be played.
We could see another year of a champion being slightly removed from a winning record, but it remains to be seen.  I'm hoping for a pleasant surprise.