Manchester United vs. Arsenal: Will Alex Ferguson Underestimate the Gunners?
August 26, 2011
Manchester United vs. Arsenal in the Premier League at Old Trafford.  It doesn't get any bigger than this.
The two most consistently successful clubs in the Premier League era.  The two longest serving managers in English Football.  Some of the world's greatest players on show.  An iconic stadium packed to the rafters with more than 75,000 fans.  All the ingredients for a real humdinger.
The two teams come into this game already five points adrift of each other in the Premier League table.  Manchester United have been perfect thus far, winning two out of two, a 2-1 away victory at West Bromwich Albion followed by a convincing 3-0 dismantling of Tottenham Hotspur at home.
Arsenal have been far from perfect in the league, drawing 0-0 away at Newcastle in their opener and then suffering a 0-2 reverse at home against Liverpool.  To make matters worse, Arsenal have as many as seven players ruled out through injury or suspension, in addition to the devastating sales of Cesc Fabregas and Samir Nasri.
Paints a pretty bleak picture, doesn't it?
As in life, in sport too there is opportunity in adversity.  While I agree that on paper, Arsenal are on a hiding to nothing, football matches are not won and lost on paper.  Two aspects will prove decisive: 1) The strategy and tactics adopted by the respective managers; and 2) The attitude and effort of the players.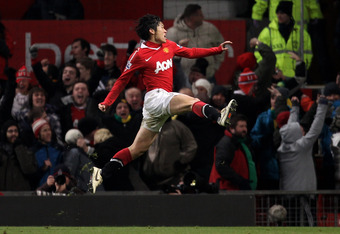 Sir Alex Ferguson normally plays a standard 4-4-2 formation against most teams.  However, in recent seasons, he has opted for a 4-5-1 against Arsenal.  He has tried to crowd the midfield in an attempt to afford minimal space to playmakers such as Dennis Bergkamp and Cesc Fabregas, and has selected workmanlike midfielders like Ji Sung Park and Darren Fletcher in his own lineup.  This tactic has worked extremely well for him in the past, and Park, in particular, has made a habit out of scoring against Arsenal.
This Sunday, however, I predict that Sir Alex will alter his normal course and play a standard 4-4-2 against the Gunners.  This is because it has worked extremely well for him so far this season and also because Arsenal have no outstanding central playmaker of the class of Bergkamp or Fabregas.  
I believe that this decision will hurt Manchester United.  Arsenal may have lost Fabregas and Nasri, but in Aaron Ramsey and Tomas Rosicky they have a creative and hardworking midfield duo, who will relish the extra space afforded to them, more so because both Cleverley and Anderson (United's central midfield duo) both like going forward.  Furthermore, Manchester United will be without Rio Ferdinand and Nemanja Vidic, and the latter, especially, will be a huge miss.  Robin van Persie will certainly not miss the presence of Vidic, and will enjoy the considerably reduced attention he will receive from Phil Jones and Jonny Evans.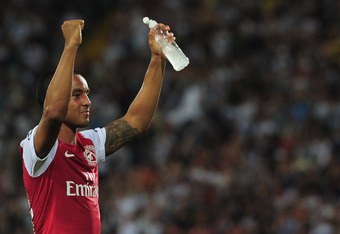 Arsenal play the same system, from the senior team right through to the academy, and if I were Sir Alex, I would play an additional central midfielder in Park or Michael Carrick.  
Most experts are also underestimating the galvanizing effect that Arsenal's Champions League qualification has had on the team.  The way Wenger's young team played, especially in the second half at Udine, was a delight to watch, and the work-rate of the all 11 players was a joy to behold.
Manchester United definitely have the stronger XI on paper, but it has correctly been said that "hard work beats talent, when talent doesn't work hard."  Arsenal, for once, may not be the better team on the ball, but they must ensure that they work harder off the ball.
Arsenal have the odds stacked against them and are the definite underdogs, but I won't be surprised if they fight like cornered tigers, upset the apple cart and come away from Manchester with a win or a draw.
"Sweet are the uses of adversity," said Shakespeare.
Sweet, indeed.