No Respect for MLS Among Top U.S. Sports Websites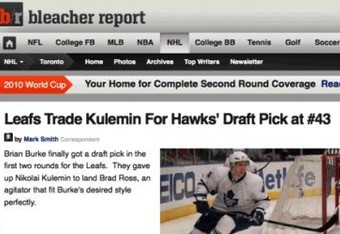 The top U.S. sports websites (most read/most popular) are YAHOO.com, ESPN.com, FOXsports.com, BleacherReport.com, and SI.com.
None of these sites give MLS its own category/webpage on their homepages; MLS is found only in the "soccer" category.
Each of the other "big four" team sports has its own category. One click is all it takes for the big four.
These top sports websites differ slightly in how they approach all the other sports. Depending on season and popularity, other sports get categories to themselves or are grouped with other sports to form another page.
Currently, NASCAR has its own category on all but SI and B/R, although it appears as part of a dropdown menu of the category "Racing" on SI and under "More" on B/R.
College football has its own category on each site, and college basketball has its own on three of them.
UFC has its own category on Yahoo!, B/R, and FOX; is not mentioned on SI's dropdown for MMA and boxing; and is under "More Sports" with one additional click on ESPN.
Golf and Tennis get their own categories on all sites, except for ESPN.com, on which they are found among "More Sports." (Tennis disappears from some of these sites' main categories depending on whether majors are being played. At this time the US Open is being prepared to play.)
Depending on individual events, a category and/or webpage is created for an event, such as Wimbledon, the Kentucky Derby, the Indianapolis 500, and the Masters.
Each site handles the big events differently. All the sites promoted the Champions League final (CLF) between Barcelona and Manchester United. SI seemed to be the site pushing it the hardest.
For a short time last week, Soccer was taken off the main home sports page of Yahoo! and was relegated to the category/webpage "More." It seems this decision was made to give the Miami football story the header instead because Yahoo! broke the story.

On ESPN, MLS is accessed from one dropdown menu, and on SI, it is accessed from two dropdown menus. On FOX and Yahoo!, MLS is accessed after two clicks of dropdown menus and/or category listings.
Where does MLS belong among all of these sites, and how long before they get their own category on the homepages?
It could be a while because so many U.S. soccer fans follow club soccer from other leagues around the world, so the website engineers try to encompass all of soccer together as a category.
But, there could come a time when "MLS" becomes distinguished from "Soccer" on these homepages.
MLS could get its own category right after the other four major sports, and all of the rest of world of soccer could fall under its own category.
What would that category be called?
Maybe "Futbol" or possibly the same, "Soccer," or maybe "World Soccer."
This article is
What is the duplicate article?
Why is this article offensive?
Where is this article plagiarized from?
Why is this article poorly edited?