Should MLS Play All Its Matches at Night?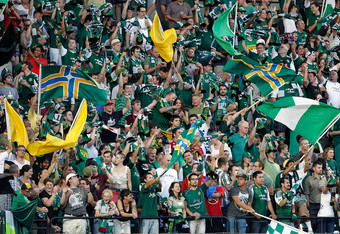 Portland fans cheer on the Timbers at night

MLS is in a constant battle for relevance with the 'big four' (basketball, football, baseball and hockey), and must consider all angles to growing the sport's popularity. All sports must compete for the sports fan's attention.
Without excitement among sports fans, the financial bottom line is at risk. Dollars are won and lost according to how the spotlight is divvied up, and the spotlight is determined by which sport has the fan's attention.
Right now in America, soccer is trending up, while arguably, basketball, baseball and football are trending down in popularity.
So much of the trend depends on what is seen and viewed on television. Sports fans can't ignore the excitement of a full and frenzied ballpark, nor can they ignore the dullness of an empty seats.
How sports fans see other sports fans on TV has never mattered more than it does today.
How a sport translates to the television screen is less important today than it was in the past. Now the atmosphere at the stadium also plays a key role in drawing fans' attention.

Many American sports fans are not familiar with soccer. Once fans fully accept the game, it will be considered mainstream–a reality that may only be 2-3 years away.
Ultimately, media coverage determines whether a sport is in the mainstream. That coverage is a direct result of advertising dollars, which in turn is a direct result of fan support.
Each media outlet will likely increase soccer's coverage. Too much money is at stake to risk ignoring soccer's increasing popularity. Soccer analysis, events, scores, highlights and interviews will become much more prevalent.
Of course, MLS must consider all possibilities to capitalize on its rise in popularity. One thing to consider is to schedule a much higher percentage of its games at night, possibly all of them. Highlights of matches at night are more exciting than those during the daytime.
Fans are coming in bigger numbers and their presence at nighttime matches adds a luster not seen at day games. Fans at night rock the stadiums with more chants, more standing and more general raucousness.
If the hometown team scores that late goal to win, the nighttime crowd provides an added boost; the nighttime atmosphere is euphoric. You want to be there, or at least watch the game on television.
Not every stadium is displaying frenzied nighttime crowds. But enough of them are to indicate that nighttime is the right time for MLS right now. MLS must schedule more nighttime matches so that more highlights of jubilant crowds can be seen as often as possible.
Addendum: Promo for MLS on NBC Sunday Night Football on August 21 was nighttime oriented and looked great.
This article is
What is the duplicate article?
Why is this article offensive?
Where is this article plagiarized from?
Why is this article poorly edited?