Floyd Mayweather Sr. and the Ugliest Men in Boxing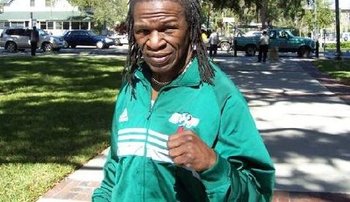 Traditionally speaking, lists compiling ugly celebrities or athletes focus on condemning these less fortunate aesthetic specimen for our amusement and delight. But you end up feeling a little guilty about it afterward.
Rather than condemning The Ugliest Men in Boxing, I've found a singularly satisfying way to celebrate and cheer on gruesomeness, surly demeanor, and a complete absence of any photogenic quality.
It's all about context.
What the reader might find as useful, as I did in assembling these heinous, walking cautionary tales, is to go back to high school in your mind and think of someone who immensely annoyed you or picked on others you cared about. There's always some world class ball breaker during one's tenor in junior high who could drive the screw in.
Can you visualize him yet? Good.
Now imagine this guy has just fallen in love with the perfect woman for him. This woman redeems every aspect of his life and promises nothing but happiness for his future. There's just one minor catch: She had the most passionate night of her life with one of our 10 ugliest men in boxing.
So, please think on these 10 witheringly ugly men from the boxing world not as something to gawk at, but as people so committed, giving everything they had with their ugliness, to contribute a Statue of Liberty-sized obstacle to the contentment and well-being of a sworn high school enemy.
Just look at Floyd Sr. pointing that thumb back at himself as if to guarantee his night with that special lady made all the difference...
10. Tommy "The Duke" Morrison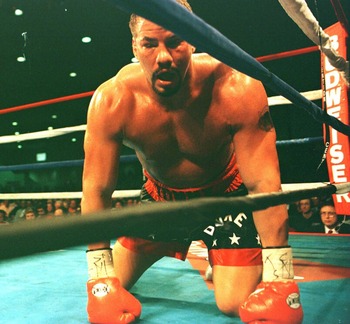 Simon Bruty/Getty Images
Yes "The Duke" has fallen on hard times of late. From drug addiction, a slew of STDs, copious steroid abuse, suffering some of the most savage blows ever seen in the heavyweight division, unnecessarily creative use of facial hair, Tommy Morrison's physical charms have gone steadily downhill for well over a decade and hit just about every bump imaginable along the way.
However, it's turned him into what charitably might be referred to as "the grateful type." Keep this in mind when considering his value on our all-ugly list. Also, keep in mind the distinct possibility that Morrison may have slept with Rocky's wife Adrian while working on set with her and how that curse might still affect him in the future.
It's hard not finding at least a dozen things to cheer Morrison on about after you've discovered your high school enemy's Juliet was romanced by the juiced-up wreckage of the failed great white hope.
9. Floyd Mayweather Sr.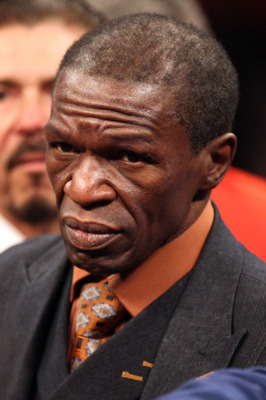 Jed Jacobsohn/Getty Images
If a woman were looking for a man in constant need of demonstrating his worth through bling, obscenely humiliating self-aggrandizement, stolen credit for anything possible, and just an overall creepy, surly demeanor that would scare off most hardened pimps, Floyd Mayweather Sr. is your guy. And we're just talking about his fetching character and charm.
Strung-out homeless men after a natural disaster would not be caught dead with some of the hair styles Floyd has sported.
Also, the fact that Floyd Sr. remains in remarkably good shape adds something to his particular brand of loathsomeness.
Despite Mayweather Sr.'s boxing career being concluded, his antics with his son and at press conferences has strengthened his claim to being not just one of the most vile appearing men in boxing, but also with an equally heralded personality.
8. Tony "Two Ton" Galento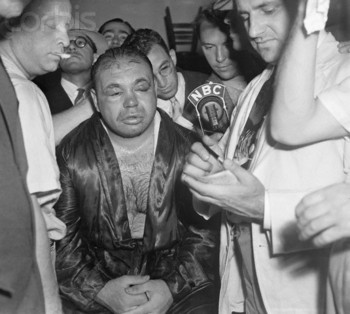 Perhaps that special hypothetical lady we've been discussing has a fetish for boxing history. Well then, Tony "Two Ton" Galento, most famous for enduring a hellacious beating from Joe Louis, might fit the bill.
Galento is slovenly, hairy, looks as if he'd roll a grandmother for a dime, and, perhaps most impressively, he once fought a 550-pound bear and wrestled an octopus.
If he's eager to tussle with some of nature's most vicious beasts, imagine the kind of enchanting evening he'd love to share with a special someone. Try to conceive of the delightful odor wafting off the hair on his chest. Ample interviews attest to one of the sloppiest speakers in boxing history.
All these delightfully qualities secure "Two Ton" a high place on our candidate list for ugliest men in boxing.
7. Francois Botha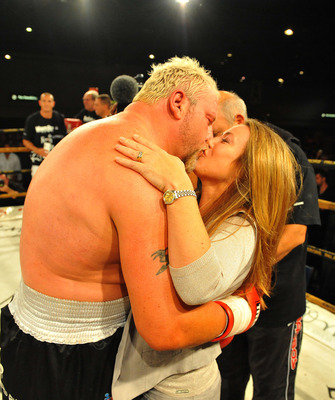 Gallo Images/Getty Images
No list of the ugliest men in boxing could be complete without a nod to the "White Buffalo."
Look at that preview package Botha is offering in the photo of his softer side. If that doesn't suffice in winning over a woman, he has many other softer, fleshier, oozing-over areas on his physique to display.
Francois Botha was another in a long line of boxers to wow women with his creativity demonstrated in both facial hair and body art prowess. Never content with just throw-away, ass-scratch-worthy tattoos, Botha never detoured from the meaningful, thoughtful, contemplative works he displayed.
Likewise, bleaching his head and facial hair bespoke a man firmly in touch with his roots in South Africa, esteem for Oprah Winfrey's career, sympathy for the victims of Hurricane Katrina, and his assertion that Apple will remain a viable company despite Steve Jobs stepping down.
How anyone could support so many causes with just the bleaching of facial care attests to the majesty of everything Botha brings to the table when he puts on the moves with a lady who catches his eye.
He's his own man, but never fails to be a man of the people.
6. Nikolai Valuev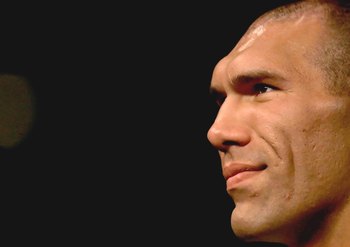 Donald Miralle/Getty Images
Personally, I would have an easier time getting over finding out my mother had slept with the entire cast of Jersey Shore than her having one dazzling evening with Nikolai Valuev. I guess it's a bit like trying to consider the advantages of having the electric chair or being gassed as a means of execution.
His face alone should come with a government warning. Brows that size would have neanderthals condescending to him.
Then there's the matter of his size: A whopping nine feet tall and 723 pounds (if he were announced back in the WWF days).
I feel comfortable suggesting that after a fight, his body hair could accumulate enough sweat to solve water crisis in at least two or three badly suffering nations.
At first glance, Valuev might be the most arresting specimen of ugliness ever to enter a boxing ring. For raw ugliness I'd say he takes the cake. But he simply doesn't do enough with his personality to maximize his full potential.
5. Bob Arum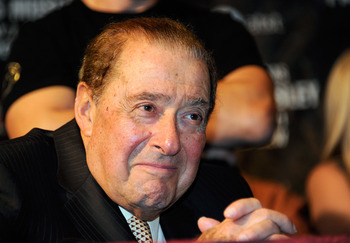 Ethan Miller/Getty Images
Perhaps our lady has a thing for significantly older, amoral, melted-candle physiqued, Harvard-educated men.
For literally hundreds of thousands of years, Bob Arum has been driven not just to assert his dominance over Don King for supremacy in boxing, but also to gain a place in boxing's ugliest men.
Despite his endless millions, Arum's hair dye looks like it fell off the shelf at a local deli. Never content to do a half-ass job, even those eye brows painted brown do a masterful job at illustrating the vitality and youthful vigor of the 245-year-old promoter.
You could be sure Bob Arum would bring all his sleaze, phony gravitas, duplicity, girth, and decrepitness to the table on a date with any female, along with enough viagra to kill an indigent, worldweary pack mule.
4. Roberto Duran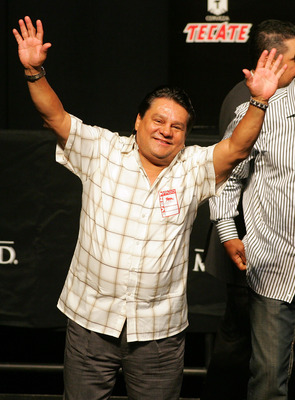 Ethan Miller/Getty Images
"Hands of Stone" has added hundreds of pounds worth of flesh just to drive home one point: There's more of me to love. Who could argue?
Who but Duran could pull off completely throwing in the towel and just letting himself go with total abandon?
You can close your eyes and imagine the frightening Panamanian animal clutching his crotch after victory against Leonard or you can open your eyes to the doughy, amorphous mound of flesh he is now. Either way, you're with a perennial contender to the throne of one of the ugliest people ever to lace up the gloves.
3. Peter McNeeley
Holly Stein/Getty Images
That mullet, the voice, the excessive-despite-being-trimmed-down body hair, those teeth, the horribly misguided personality that seemed to suggest he'd remain famous, the drug addiction, or even just the facial expressions Peter McNeeley routinely employed in the lead up to his fight against Mike Tyson.
If you found out your girlfriend had slept with McNeeley, your entire family might never find a more dire reason to be placed on 24-hour suicide watch.
Imagine the inner-workings of McNeeley's mind attempting to consider his romantic equivalent of wrapping up a girl in a "cocoon of horror." Can you see him grinning about it to himself as the "Hurricane" calmly reaches down and gives himself a scratch or two.
For this image alone, McNeeley claims a dominant position on our list.
2. Don King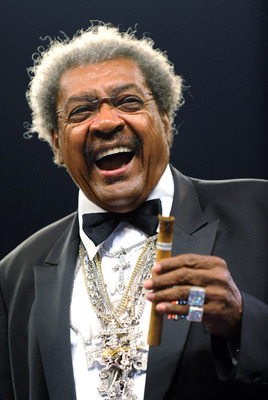 Harry How/Getty Images
Now what could Don King be smiling and laughing about? Just maybe it's a little known fact about him, that when it comes to suave, dashing, Shakespeare-quoting prowess with the ladies, King is as much a kingpin at 80 years of age as he ever was ruling over boxing in the 80s.
The reptillian King's cackle, finger-in-the-electric-socket hair, the Mr. T jewelry, rap sheet of crimes that include ending two people's lives, the rotund frame, the wonderful digestive system he must now have after being repeatedly stomped by Mike Tyson--any of these features add up someone vying for the top spot on boxing's all ugly list.
Amazingly, Don King might be less ugly at 80 than he was at earlier periods. I'm not entirely sure how this was achieved, but I sense it. It doesn't appear to be plastic surgery, but perhaps I'm wrong on that score. Everything Don King has ever stood for is ugly, and his appearance and personal sense of style has reflected this every slither of the way.
1. Jorge Luis Gonzalez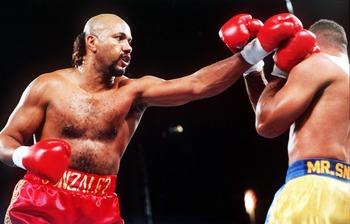 Holly Stein/Getty Images
No man in boxing has ever come close to the 6'7" Jorge Luis Gonzalez in sheer monstrous ugliness.
He is to ugliness what Donald Trump is to tackiness. Whatever hype there was to his career that went up in smoke, the hype that accompanied it about what a hideous, freakish mess he was to have a gander at, more than lived up to expectations.
Even in the Cuban's famous horrific hairdo one found a pleasant distraction from the concentrated burst of gruesomeness that the rest of him embodies.
Jorge Luis Gonzalez operates on my list as a kind of towering Cuban King Hippo of inhumanly disgusting possibilities, when considered sharing a candlelight evening with the future wife of a bitter enemy from high school.
When I first imagined the face of my list of boxing's most ugly men, Jorge Luis Gonzalez's face came to mind as he reacted to Bowe's thunderous dismantling of him.
Keep Reading