NASCAR Sprint Cup: Bristol Smackdown, Brutal Points Battle and the Clinchers
August 25, 2011
The upcoming night race at Bristol Motor Speedway may play out more like a WWE Smackdown with race cars as paybacks come to the forefront, point gains are critical and a win may be mandatory for some.
Time is running out and tempers are ready to explode as drivers attempt to secure their slot in the Chase and the fight for the wild card slots needs to get settled.
Only three races remain until the Chase field is announced following the race at Richmond. The short track racing at Bristol has not been the crashfest that it was known for in recent years, but that may well change in the upcoming race.
The top eight drivers in the NASCAR Sprint Cup Series point standings could numerically clinch their berth in the Chase lineup.
Those drivers would be Kyle Busch leading, followed by Jimmie Johnson, Kevin Harvick, Carl Edwards, Matt Kenseth, Jeff Gordon, Ryan Newman and Kurt Busch.
To secure a spot in the Chase, these drivers would have to leave Bristol with a 97 point lead over the driver in 11th place.
Kyle Busch has mastered racing at Bristol with five wins including last year's sweep of three races in NASCAR's top series in one weekend. Momentum is on his side with four wins this season including last week at Michigan.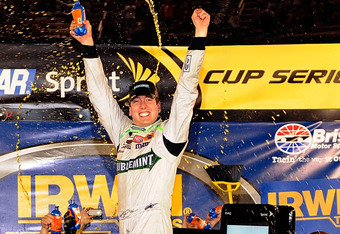 The older Busch brother, Kurt Busch, is also a five-time winner at BMS as is Jeff Gordon, though his last win was in 2002.
Sibling rivalry with the Busch brothers could easily come into play with the younger brother matching the 23 wins of his older brother at Michigan. Both brothers are anxious to be the first to get a 24th win.
Denny Hamlin's season has been lackluster compared to the eight wins he had last season when he finished second to Cup champ, Johnson.
Hamlin is 14th in points and his one win currently has him as the contender for the second wild card slot behind Brad Keselowski who is 12th in points with two wins.
Greg Biffle is desperate for a win with little to lose as he sits 13th in the points. A win by Biffle in the No. 16 3M Ford could temporarily lock him in ahead of Hamlin, should the driver of the No. 11 have more bad luck at a track not known to be especially kind to him.
Clint Bowyer is another driver desperate for a win that could take him from his 11th place in the standings to a slot ahead of Dale Earnhardt Jr. and Tony Stewart.
Bowyer really can't afford to points race in his RCR Chevy, while Earnhardt Jr. and Stewart have yet to win and really need to take the checkered flag or at least finish in the top 10.
Bristol is the worst track for Stewart where his average finish is 17.0, so it is not looking good for Stewart to even make the Chase the way things are going for him in this winless season.
Short track races are always great places to settle scores with those paybacks that drivers never forget. The tight racing makes for retaliatory moves to come disguised as racing incidents.
There are many story lines playing out as the NASCAR preseason heads for the 10-week finale known as the Chase for the Sprint Cup.
The drivers may not only play rough on the track, but it would be no surprise to see some nasty post-race confrontations because so much is at stake with tight points and tough competition.
It's Bristol Baby!