La Liga Preseason Power Rankings: Barcelona Is Clearly No. 1
August 25, 2011
Finally, La Liga is back. After a strike postponed the first week of the schedule, the players union and league officers agreed to a deal on Thursday and the first-division season will begin this Saturday, as reported by ESPN.
So, this seems to be a good time to post my first weekly power rankings for the Spanish League.
The power rankings are not a stat, rather they are a combination of recent performances, position in the table, perceived strengths and the opinion of yours truly. So, yeah, you might not agree with the order in the list, but we can discuss that in the comments section below.
Starting next week, you can find La Liga power rankings here every Tuesday.
20. Granada
Position in 2010-11: Fifth in the second division (won promotion playoff)
At least for now, Granada is the top candidate for relegation for obvious reasons.
They are one of the newly promoted teams (they did it via a promotion playoff) and most of their players have no experience in the first division.
Despite making many signings, the squad looks very weak to be competitive in La Liga.
19. Racing
Position in 2010-11: 12th
Six months ago, Racing's future looked bright after Indian entrepreneur Ali Syed bought the team and promised to take care of its debts and transform it to a league contender.
Syed turned out to be a fraud, the team is still looking for a new buyer and most key players from last season are gone.
Coach Héctor Cúper is back in Spain to lead a really weakened squad in their quest to stay in the first division one more year; the task looks very hard to accomplish.
18. Rayo
Position in 2010-11: Second in the second division (promoted directly)
Another team with severe financial issues, Rayo has made some interesting signings in the past two weeks, but they are mostly washed-up veterans or unproven youngsters on loan.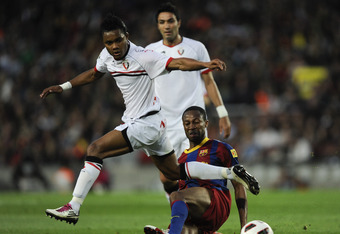 Many things will need to work well to keep Rayo in the first division. 
17. Levante
Position in 2010-11: 14th
Levante lost their best player (Felipe Caicedo) and their new coach is a manager with no experience in the first division.
With a very weak squad, it seems Levante's highest hopes are just to repeat the 14th place of last season.
16. Zaragoza
Position in 2010-11: 13th
Zaragoza is another team restrained by severe economic problems, but coach Javier Aguirre is a specialist in working with these kinds of squads, as he proved with Osasuna, a team he turned from relegation contenders to Champions League qualifiers in four seasons.
The additions of Mexican Internationals Pablo Barrera and Efraín Juárez will be a big boost for this team, but it will be only be just enough to avoid relegation, not much more.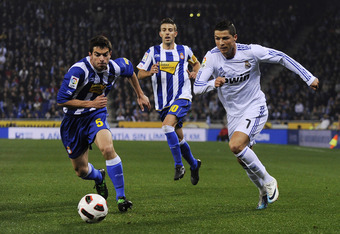 15. Sporting
Position in 2010-11: 10th
Sporting was one of the biggest overachievers of the past season, but they will be back in the relegation battle this time around.
They didn't make many moves in the offseason. Let's see if coach Manuel Preciado can keep his team in La Liga for the sixth-straight year.
14. Betis
Position in 2010-11: First in the second division (promoted directly)
Remember the Copa del Rey series against Barcelona? Despite losing, Betis was praised for their great performance against Los Culés, showing they were a first-division side trapped in the Liga Adelante.
Betis are good enough to stay in the first division, although they didn't strengthen the squad enough to think about competing for a Europa League spot.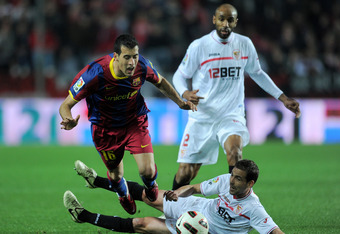 13. Osasuna
Position in 2010-11: Ninth
Another overachiever in the second half of the season, Osasuna could stay in the middle of the pack this year.
The core of the team stayed and the biggest departure (left-back Nacho Monreal) was well covered with the signing of Raitala.
However, a slow start could put their season in danger.
12. Getafe
Position in 2010-11: 16th
Getafe is one of the new Dubai toys, although not in the level of Malaga's new ownership.
New arrivals like central defender Lopo, anchorman Juan Rodríguez and attacking midfielder Diego Castro, should help Getafe to stay clear from the relegation battle, but this team still needs a lot to become a contender.
11. Mallorca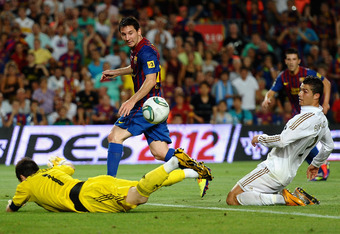 Position in 2010-11: 17th
Mallorca was a big disappointment last year, escaping from relegation in the last minutes of the season.
Despite that, coach Michael Laudrup remains in charge and should do much better this season; Mallorca's squad this year is built to compete for a Europa League spot, not relegation.
10. Real Sociedad
Position in 2010-11: 15th
Real Sociedad stayed near the Europa League zone during most of the season, but they faded in the last weeks of the schedule.
However, the potential is still there—the team is virtually the same as last season, and young additions like Mariga and Carlos Vela could help this team take a step forward this year.
9. Espanyol
Position in 2010-11: Eighth
Los Periquitos were very close to qualifying for the Europa League, but they fell short in the last games of the previous season.
They will be in the fight again, but they'll need a bit of "help" from a couple of squads to reach the top seven.
The return of left-back Didac and the signings of central defender Héctor Moreno and support striker Juan Ángel Albín are good boosts for the squad, but they also lost important players like Callejón, Osvaldo and Iván de la Peña.
8. Atlético
Position in 2010-11: Seventh
Atletico's top stars in the previous years are gone: Sergio Agüero, Diego Forlán and David de Gea departed this summer and those will be very big shoes to fill.
Newcomer Colombian star Radamel Falcao is the biggest hope Los Colchoneros have to repeat in the European competition spots; however, it seems clear they won't be a big menace for Barcelona and Real Madrid.
7. Malaga
Position in 2010-11: 11th
Malaga is trying to become the Spanish version of Manchester City; nobody has spent as much as this team in 2011, but they are still a work in process.
Big names like Ruud van Nistelrooy, Santi Cazorla, Jeremy Toulalan, Nacho Monreal and Joaquín will definitely help to make this side a contender.
However, let's see if coach Manuel Pellegrini can form all those names into a team before we place them in the title picture.
6. Sevilla
Position in 2010-11: Fifth
Sevilla just got eliminated from the Europa League, which could be a blessing in disguise for Coach Marcelino, who will now focus on La Liga in his first season in charge of the team.
Los Andaluces are still trying to sign Giovani dos Santos, who played for Marcelino last season in Racing; this signing would give them a better chance at returning to the Champions League zone.
5. Valencia
Position in 2010-11: Third
Los Chés have been Spain's third-best team in the past decade, but their financial issues have forced them to sell too many players and that could be very costly this season.
After Mata's departure to Chelsea, Valencia has no big stars in the squad. They should, however, remain in the pack that reaches the Europa League.
4. Villarreal
Position in 2010-11: Fourth
Santi Cazorla is gone, but the core of this powerful squad remains and we can always count on one or two players from Villarreal B to emerge per season.
Villarreal got a really tough group in the Champions League, which could prevent their best starting XI from getting some rest, but they should still be in the top 5 of La Liga.
3. Athletic
Position in 2010-11: Sixth
Athletic has a terrific squad, so the team made just two signings: Coach Marcelo Bielsa and midfielder Ander Herrera.
After his excellent work with the Chilean National Squad, Coach Bielsa will lead a very talented young team that has been making steady progresses in the past two years.
Ander Herrera was the missing piece for Athletic. He is a playmaker that can complement the work youngster Muniain accomplishes in the left side to assist striker Llorente, one of the most coveted players in the transfer market, who has preferred to stay with the team.
2. Real Madrid
Position in 2010-11: Second
At times coach Jose Mourinho seems more focused on creating controversy against Barcelona, but we have to admit Real Madrid looks closer to their bitter rivals this season.
This time there was no huge signing, but the arrival of players like Nuri Sahin and Coentrao make Los Merengues a more solid squad.
1. Barcelona
Position in 2010-11: First
What else can we say? There is no discussion; this is the best team in the world.
However, there is still some debate about whether Barcelona is the best team ever or not—they'll need to keep winning titles to settle that controversy.
Follow me on Twitter: @luisrha