Notre Dame, Texas A&M and Other Teams on the Rise in College Football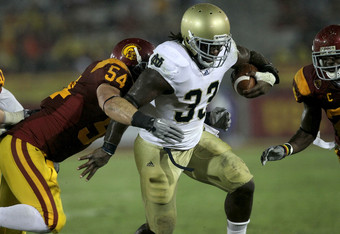 Every year in college football, there are teams who burst onto the scene seemingly out of nowhere, but there are some very real factors that can predict who these teams will be. Those factors can be separated into the following three categories:
The right leadership: This one can overcome all other factors and it refers not only to the right coach, but his assistants, athletic director, school president, etc. Having said that, the coach is where it starts and the right coach is effective as a CEO, tactician, recruiter, and fits the culture of the school that he coaches. Another issue is whether or not the program can keep the right leadership or will the coach and/or assistants soon be on the move to a more lucrative destination.
History: This one speaks for itself and should not be underestimated. Schools like USC, Ohio St. and Texas have so much history that they often overcome a lack of leadership and that history is the reason some schools only dip so far and will always return to the top.
Mitigating circumstances: This one is more difficult to put your finger on but it pertains to some outside factor that affects the success of a program. For instance, while Michigan is enjoying some improved recruiting because of having a new leader, one can't overlook the impact of the troubles surrounding Ohio St. Another example is the rise of Boise St. while Washington and Washington St. boast a combined record of 65-127 since 2003. With Washington and Washington St. down, Boise St. was free to steel talent from its neighbors.
So having listed those criteria, here are five teams on the rise:
Notre Dame: While Notre Dame struggles to keep up in the College Football arms race, they have the history and now the right leadership to start making strides forward.
Arkansas: Arkansas has strong history, but it had almost become too distant to help, they now have the right leader in Bobby Petrino to bring them back to relevance on the College Football landscape.
Michigan: It's too early to say if the leadership is right, but the change comes at a good time. Ohio St. is taking a momentary dip and the history is too great for them to stay down for long.
Florida St.: This team proves that the right leadership is not constant. Bobby Bowden, along with a great cast of assistants including Mark Richt, were the right leadership in the 90's. By 2009, Bowden was no longer the right man for the job. Jimbo Fisher seems to be the leader to right the ship and that along with history says this team is on the rise.
Texas A&M: A&M has a ton of history going back to Bear Bryant and John David Crow, and seem to have the right man for the job. Sherman fits the culture and seems to be an efficient and professional CEO.
Gong forward, I'll be using these three criteria to keep an eye on these teams as well as others who might make the list in the future.
This article is
What is the duplicate article?
Why is this article offensive?
Where is this article plagiarized from?
Why is this article poorly edited?

Notre Dame Football: Like this team?