Analyzing the Champions League Draw: Why the Group Stage Should Entice Fans
August 25, 2011
The Champions League draw took place today at the Grimaldi Forum in Monaco, France.  The world watched in anticipation as the world's greatest clubs were eager to see what respective groups they were drawn into.  Familiar faces were present, with the likes of Manchester United, Arsenal, Barcelona, Real Madrid and Bayern Munich all featuring and getting a Pot A seed.  Others, like newcomers Manchester City, were looking for a favorable draw.
As the drawings concluded and the groups were set, many of the clashes look very intriguing.  Just like every tournament, there is a group of death, and there are also teams who drew better than their rivals.
A couple groups stick out in particular—for good and bad reasons.
Let's start off by taking a look at Group A, which I will tag as the "Group of Death."  While one can make an argument for Group D and Group E as Groups of Death, Group A stands out just a bit more.  Bayern Munich, Manchester City, Villareal, and Napoli were all drawn into group A. 
Manchester City are first timers in Europe's prestigious club competition, and what better way to welcome them than putting them in the toughest group.
Bayern Munich has had the most success in the competition out of the 4 teams, taking home European glory on four separate occasions.  While they boast an impressive record, do not expect Napoli, Manchester City and Villareal to go down lightly against the Bavarians.  Napoli were frontrunners for the Serie A title throughout all of last season; Villareal turned in some impressive performances en route to a fourth place finish in La Liga.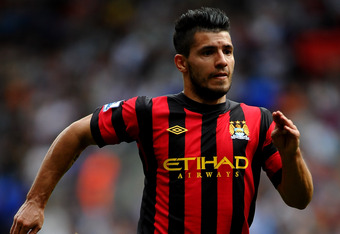 Manchester City will hope that the burden of being in the Group of Death will play to their favor.  Having no experience in the competition, this will allow Roberto Mancini's men to play with minimal pressure.  The Citizens have also gone out and strengthened their squad immensely in preparation for the competition.  Bringing in Samir Nasri and Sergio Aguero—both with extensive Champions League experience—will help ease City's fears and bring flair and experience into the squad.
While the Group of Death will be the talk of the draw, it is worthy to note that some giant clubs drew fairly weak groups. Such clubs are hoping to fly under the radar into the knockout rounds without exerting too much effort.
Manchester United and Inter Milan, who have each won the competition recently, should have no problem topping their groups and advancing to the knockout rounds as group winners.  With all due respect, Trabzonspor and Otelul Galati do not appear as serious contenders, so it will be no surprise when Inter and United run out as group winners. 
Selecting a "Dark Horse" in this year's competition proves to be more difficult than years previous.  A team like Porto, who won the Europa League last season, should have momentum going into the tournament, and will have an extra confidence boost as they were seeded in Pot A as a top seed. 
It is not to say that they have strengthened from last year though, as the world will be fixated on how Porto copes with the loss of their manager Andres Villas-Boas and their top marksman Radamel Falcao.
Another potential Dark Horse is Borussia Dortmund, winners of the most recent Bundesliga title.  The youngest team in their league, Dortmund flashed and sped their way to the title, providing clutch scoring and timely defense.  It will be interesting to see how Dortmund—led by terrific young center backs Mats Hummels and Neven Subotic—match up against the speed of Arsenal and Marseille.
As the groups are set and each squad prepares for their Champions League endeavors, fans of Europe's top club tournament will have plenty to be excited about. 
Are the same contenders going to be the teams running away during the group stage, or is Europe set to see new faces emerge into the knockout stages?  Regardless, this year's tournament is expected to be thrilling and fans of the beautiful game will not be disappointed.